Dear List Members,

I am thrilled to announce a major development - Von Cello, Inc. has signed a deal to distribute the music of Aaron Minsky directly through the largest music retailer in America - J.W. Pepper!
TEN SUITE VARIATIONS (on the Bach Cello Suites)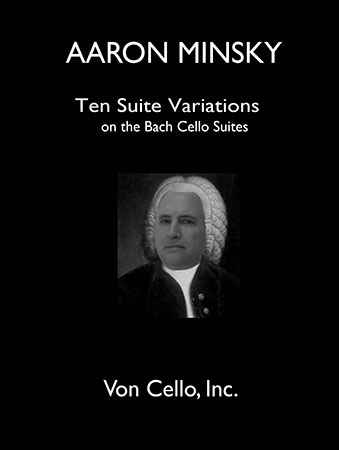 Here is the cover of my new book, Ten Suite Variations on the Bach Cello Suites. (Yes that's me on the cover!) It is the first music book that I have ever published directly. And it is a fitting first book because it sums up my approach to cello composition. My solo cello music has always been influenced by Bach. In Ten Suite Variations, for the first time, I actually take music from Bach's Cello Suites and create variations based on styles such as classical, rock, pop, jazz, blues, country, continental and more. The result is a fun but respectful twist on these traditional masterworks guaranteed to make both performer and audience smile. Find out more at the Pepper website and check out the sample pages and a sample audio clip. Enjoy!
LOOKING FOREWARD
From the Foreward of Ten Suite Variations:
My music has always paid homage to the classics. Some say it walks a thin line between popular and classical music. I like to think it erases that line and follows in the tradition of earlier composers who borrowed liberally from the popular music of their day... I believe these variations will not only increase the popularity of the Bach Suites (as popular as they are) but will create a new level of engagement. I also hope to inspire musicians to explore the connection between classical and popular music and the improvisatory possibilities of combining the two. I believe this will lead to the creation of a new style of music!
BLACK FRIDAY, CYBER MONDAY, CELLO SUNDAY!
With the holidays approaching what better gift is there for the cellist in your life than Ten Suite Variations? If you are a cellist, why not reward yourself? Buy it now at the reduced price of $9.99 or £6.65!
TRUCKIN' THROUGH THE SOUTH
This summer I will be truckin' once again through the south, this time to Savannah! I was invited back to give classes to string players with Strings Without Boundaries! SWB Savannah will be a three day festival with two main teachers, violinist and founder Julie Lyonn Lieberman and yours truly. It will take place July 25th - 27th. If you live in or around Savannah, or can get there by car, bus, boat or plane, sign up now and get a $25 early bird discount! Just write STRINGS on your check or put that code into the discount box on PayPal. Hope to see you there! Check out the details here:
WHAT ABOUT OUP?
To those of you who know my music through Oxford University Press, do not fear: all of my music currently published with OUP will remain available.
I have had a long and fruitful relationship with Oxford, which will continue, but in order to get more of my music out there in the fastest, most direct way possible
J.W. Pepper is the perfect solution. Keep an eye out for new publications in the upcoming months and years!
THE MISSING LINK
Speaking of OUP, I love this playlist of Oxford scholars.
Somehow I got on the list! (See #10.)
I am once again honored to be included in the syllabus of ABRSM, the Associated Board of the Royal Schools of Music. See grade 8: Truckin' Through the South and Laid Back Devil!
Under the heading of the coolest thing to happen recently, I was asked by Doug Makuta to make a guest appearance in his video for his new album produced by famed producer Timbaland!
Check out the fully updated Von Cello website with tons of new pictures and videos and the latest biographical information:
THE ENDPIN
We are in the Thanksgiving season so it is most appropriate that I thank several people for their hand in the creation of Ten Suite Variations. First I thank my parents (to whom the book is dedicated) for their support of my music career since I was a kid. Their example taught me to appreciate both classical and popular music, a concept which underlies this book. I credit my wife for years of encouragement in the sometimes difficult field of music; and I credit her for the idea for the cover photo of me in Bach's wig. I credit Lisa Ratner (of Traxfast Music) for her expertise in formulating the book. And I give a shout out to Stephen Chin of Everything Strings for introducing me to the good folks at J.W. Pepper. Stephen has been with them a long time and has quite a collection of pieces on the site. Of course I must also credit my cello teachers and other music teachers for giving me the tools to become the musician I am today. I also credit Pablo Casals for helping me appreciate the greatness of Bach whom he called, "the god of music". And, finally, I thank Bach himself for all of the years of inspiration I have received from his music. I trust that somewhere he breaks into a grin whenever I play my Ten Suite Variations on his music! Now it is up to you to buy, learn, teach, perform and promote this music. I thank you. Bach thanks you. And most importantly, your audience will thank you!