What better way to end the 2011 swim series than with another record-setting swim? That's just what we got as Evan Morrison broke the Ederle Swim's Sandy Hook, NJ-to-Manhattan course record with a time of 5:24:53. This was not, however, before Mother Nature mixed things up yet again, as forecasted heavy winds out of the north-northeast and small craft advisory on October 1 caused the swim to be postponed for a day. Luckily, nearly all of the swimmers were able to accommodate the change in dates, and our great network of volunteers both on and off the water rallied to provide the necessary support.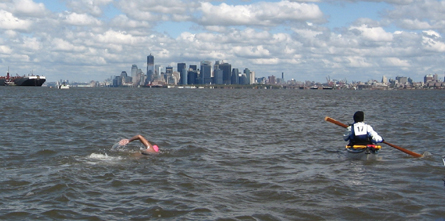 A morning squall delayed some boats, but eventually all of the swimmers made it down to the Sandy Hook, NJ, start. The swim itself was blessed with mostly sunny skies and water temps in the high 60s. 19 swimmers spread out across the 17.5-mile course, navigating shipping buoys alongside gigantic freighters, and pushed their way northward. However, by the time they got close to the planned South Cove finish, it was clear that a combination of chop, fast currents and debris was going to require a final adjustment for the participants. Finish times were taken at the north end of the cove, then swimmers continued another half-mile up to exit at North Cove Marina.

And what a finish it was, as Evan Morrison, who took third in the 2011 Manhattan Island Swim, smashed the previous course record by more than 40 minutes. Clocking in just over 11 minutes later, Emma Otto-Moudry, one of our standout 19-and-under swimmers, was second overall and the first female to cross the finish.

Congratulations to all of the swimmers in this year's event and our deepest thanks to the boaters, paddlers, race officials and land volunteers who not only arrived in the wee hours of the morning to start this record-setting day, but who also mobilized to ensure positions were covered after the rescheduling. Top male and female finishers are listed below and full results from the event can be found on our website.

You want to swim around Manhattan? That's great! Enrollment for the 2012 Manhattan Island Marathon Swim is coming up in less than a month; here are some things to keep in mind to maximize your chances of successfully being accepted to swim.

The June 23, 2012, event is limited to solo swimmers and 2-person relays; the Manhattan Island Relays event for 4- and 6-person relays, is now scheduled for August 4, 2012, will have its own similar but separate application.

The application process for both events is thorough and time sensitive. Policies and procedures for the 2012 events will be posted on our website next week. In the meantime, we recommend that prospective applicants study the 2011 application policies and procedures to get an idea of what will be required. You may create a profile and start uploading information at any time, although there are some portions of the application that can only be completed once enrollment opens (November 1 for most solo swimmers and two-person relays, or a bit early for Swim Free fund-raisers and frequent participant applicants).

Applicants who have met the qualification requirements prior to enrolling have a greater chance of being accepted, as do applicants who complete the enrollment form quickly and thoroughly. We encourage you to pre-enter as much information as possible before enrollment day.

If you're not ready for a solo trip around Manhattan, we have 2-, 4- and 6-person relay options. Individuals are responsible for putting together their own teams, as we do not match potential teammates, and should organize their teammates well before enrollment opens.
RCN: PRESENTING SPONSOR OF THE NYC SWIM SERIES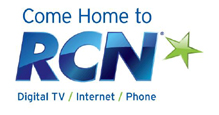 RCN Corporation is proud to present the NYC Swim Series. RCN, a leading provider of video, data, and voice services to residential and business customers, is excited to partner with NYC Swim and to assist in presenting competitive swim events and raising the public's awareness of the waters around NYC. The Swim Series would not be possible without assistance from RCN and our other sponsors. To learn more about all of them, please see each issue of Cross Currents and visit our sponsors page.