George Forbes — Swimmer of the Week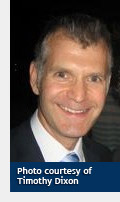 Off-Broadway and Off-Shore
If you've been to New York City, there's a good chance you've been to a Broadway show. The glitzy theater district is home to about 40 large venues that present some of the biggest names in show business. But the smaller theaters, known as "off-Broadway" houses, represent a thriving part of the city's world-famous arts culture, premiering new works, giving up-and-coming performers a place to hone their craft, and even being an artistic haven for established performers. Off-Broadway theaters are often situated literally "Off Broadway," with some of them located quite a way from the Theater District, but they are nonetheless shaping the Big Apple's artistic persona.
The Lucille Lortel Theater, on Christopher Street in Greenwich Village, is certainly one such cultural force. Founded by actress-turned-producer Lucille Lortel, the theater's colorful history began in 1955, with its inaugural production of Berthold Brecht and Kurt Weill's The Threepenny Opera (which won the 1956 Tony for Best Off-Broadway show), and has continued with works by everyone from Eugene O'Neill to Wendy Wasserstein. The luminaries who have appeared onstage at the Lortel include Richard Burton, Richard Dreyfus, Helen Hayes, Bernadette Peters, Elaine Stritch, and countless others.
Nowadays, the Lortel is home to several not-for-profit theater companies, principally the Manhattan Class Company, which presents risk-taking work by new and emerging playwrights, and Theaterworks USA, which presents free summer productions for children (this summer's show is Skippyjon Jones). Lortel passed away in 1999 at the age of 98, but the vision of "the Queen of Off-Broadway," as she was known, is carried out by a small staff headed up by George Forbes, who has been executive director of the theater, as well as the foundation that shares Lortel's name, since 2000.
George is quick to point out that the theater and the foundation are actively involved in supporting off-Broadway, and not just in the financial sense, though that is part of the picture. The Lucille Lortel Foundation makes grants to about 50 small- to mid-sized theater companies in NYC, as well as in non-urban areas of New York and Connecticut. The foundation also maintains the Internet Off-Broadway Database, an online repository of show information that is a nod to Lortel's interest in archiving the history of Off-Broadway theater. "Preserving history was important to Lucille," says George, who worked closely with Lortel for 10 years prior to her death. "The history of off-Broadway is very interesting and ephemeral. The shows come and go so quickly, and the companies don't always have a lot of resources. The history gets lost, and we're trying to prevent that."
It seems that George could be a one-man theater archive himself, based on the number of shows he sees each year. He tries to see at least one show produced by each of the Lucille Lortel Foundation's grant recipients — that's 50 shows right there! And in 2011 there were 91 shows eligible for the Lucille Lortel Awards, "the Tonys of Off-Broadway," and George needs to see as many of those as possible. In his final estimate, he attends about three shows each week, totaling approximately 150 per year.
Despite his demanding theater schedule, George swims NYC Swim events, participates in triathlons, and manages to train six mornings a week, averaging two days each of swimming, biking, and running. He works with a coach who lives in Colorado Springs, using video, e-mail, the web, and also occasional visits to keep himself on track for upcoming events. He also trains with the New York University triathlon team, an association that led him to NYC Swim.
"Some of my teammates (Lori Carena, Leigh Behnke, and Jonathan Wells) were involved and were so positive, encouraging, and wonderful," George says. "They told me, 'You have to do this; you would really like this.'"
George's first NYC Swim event was the 2011 Great Hudson River Swim, which he enjoyed so much that he followed it up with the Brooklyn Bridge Swim and the Little Red Lighthouse Swim, the latter of which intimidated him, in part because of the daunting 10.2-kilometer distance.
"I finished and was really happy and proud," George says. "It was the hardest thing I've ever done. It was the distance, it was the coldness of the water. The mental challenge of it was just as hard as the physical challenge. I kept telling myself, 'I'll just swim to this next buoy, and then if I'm tired, I'll wave a boat over and get out.' I'd get to the buoy and feel OK, so I'd keep going."
In terms of something to work toward, George says he's seriously considering the "huge challenge" of a Manhattan Island Marathon Swim two-person relay.
When asked what keeps him coming back to open water swimming, George said, "It's just a beautiful perspective of the city. Every time you do it, it's different. Even if it's the same body of water, it's never the same. The tides are different, something is different. It makes it an adventure. You're making it up as you go along." Open water swimming is, after all, a largely unscripted, real-life drama.