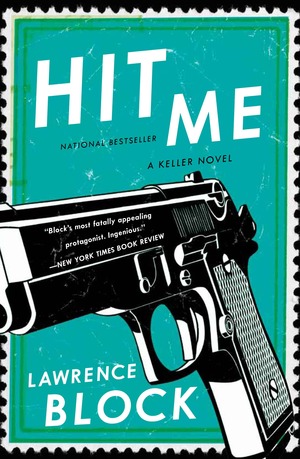 It's that time of year, isn't it? Leaves turning, pumpkins ripening in the field, and children creeping like snail unwillingly to school. I was going go treat you to a picture of a pumpkin patch, one that puts a nice seasonal spin on the notion of crop circles, but Vertical Response furnished this properly autumnal template, and not for the first time I chose to take the Easy Way Out. (It's a character defect, and I'm working on it.)

My publishers at Mulholland are celebrating the season with an early release of the Hit Me paperback, and they've tricked it out in a stunning cover—a complete departure from the hardcover dust jacket, though equally philatelic. Hit Me, you'll recall, is the fifth book about Keller, who's a passionate stamp collector and a curiously dispassionate assassin.

You say you've already read Hit Me? You own it in hardcover? Better still, you were lucky enough to acquire a copy of the Limited Philatelic Edition before it was fully subscribed? That's good news, but what about your friends? Don't you want to pick up a batch of the paperbacks to stuff some Christmas stockings? And that Philatelic Edition's altogether too valuable to read, so wouldn't it make sense to treat yourself to a paperback?

See? I have your best interests at heart. Trust me.

I also have some news on diverse topics, so let's move on...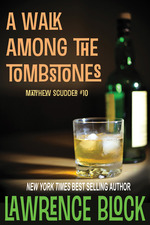 1. A Walk Among the Tombstones. Scott Frank's adaptation of the tenth Matthew Scudder novel, filmed this spring here in New York, is in post-production, and as soon as I wrap this newsletter I'm dropping by to see how it's coming. The audience loved an early cut at a sneak preview a few weeks ago, and everyone agrees that Liam Neeson is flat-out brilliant as Scudder, so much so that one question Scott and I will be discussing in a few hours is which book to tackle next. So it's all good—with two slight hitches. One is that you won't get to see the movie until a year from now; the studio execs like it so much that they want to do right by it, and that means a full-scale theatrical release next fall. (While you're waiting for the movie, you might want a fresh look at the book that inspired it. I'm especially pleased with the new trade paperback edition.)

And—brace yourself, Bridget—my cameo, wherein I was able to put years of real-life preparation into my role as Man in Bar #3, wound up on the cutting room floor. So it goes, and just one more reason to hope there's a sequel.

2. A new book for Christmas! The Tombstones film's in the last stages of post-production—and it still won't be in theaters for a year. The Hit Me paperback is landing on bookstore shelves precisely two years after I finished writing the book—and that's hardly atypical. But some of us have a preference for instant gratification.

Whenever I finish writing a book, I have a strong desire to leave my desk, go outside, walk around the corner, and see the book I just finished, sitting front and center in a bookstore window. That's how it ought to work. Alas, it never happens quite that way, does it?

But it's about to come close. As you may recall, I wrote a book this summer aboard the MS Veendam, on a five-week cruise of the North Atlantic. In the ordinary course of things, you'd have a chance to read that book sometime next fall—or, very possibly, not until early 2015. (And that'd be eBook or hardcover; the paperback would follow nine months to a year later.)

Well, the hell with that. Now that I've reached the age where a prudent man no longer buys green bananas, I'll be damned if I'll sit around for a year. The handful of people who've read the manuscript agree that it's my best book in a long time, and I don't feel like waiting, so why should y'all have to?

So I'm rolling the dice and publishing it myself. It'll come out on Christmas Day—yeah, this Christmas—in eBook and trade paperback. And there'll be a deluxe signed-and-numbered hardcover edition as well.

I'd love to tell you more about the book, but you'll have to wait two weeks. October 23's the date of the big announcement, at which time I'll Reveal All. And a week after that I'll make it Show & Tell, when I pop up on CBS on The Late Late Show with Craig Ferguson.

You know, I've been writing books for something like 55 years. And, for the first time in a long time, I'm genuinely excited. It's a nice feeling.

3. Signing on Sunday. Gary Lovisi's 25th annual Collectible Paperback Show will be held this Sunday, October 13, at the Holiday Inn on West 57th Street between Ninth and Tenth Avenues. I'll be there from noon to 1pm, and will be happy to sign books that you bring from home or acquire at the show. My usual signing rules apply: I'll sign three of your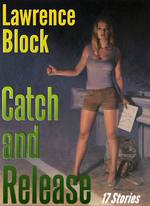 books for each new book you buy from me. I'm not sure just what titles I'll bring, but I'll certainly have copies of Hit Me and the just-released trade paperback of Catch and Release. Speaking of which...

4. ...Catch and Release deserves its own number. The book's been getting a strong reception, with brisk sales and buoyant reviews; Tom Callahan's rave at bookreporter.com is especially cheering. If you look hard, you can probably find a copy of the magnificent Subterranean Press hardcover edition; they're still in the pipeline, although the publisher's stock is gone. Check with your mystery bookseller. Mysterious Bookshop's copies are all sold, but other specialty stores still have copies.

Even if you've got the hardcover, you might want the eBook or paperback. For, like, reading. The hardcover became an instant collectible the day it rolled off press. You don't really want to smear peanut butter and jelly all over those pages, do you? I didn't think so. Or pre-order the Dreamscape audiobook and read those stirring stories with your ears.

5. Duh, what color are pumpkins? It's not a trick question. They're orange, and I guess tomorrow might as well be Orange Wednesday. Of the 18 John Warren Wells titles, only one remains restricted to Kindle Select. (All of the others are now available for Nook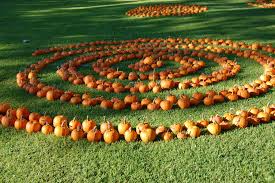 as well as Kindle.) The lone holdout is. as it happens, the very first book by JWW, published by Lancer Books back in 1964. The title is Eros & Capricorn: A Cross-cultural Survey of Sexual Attitudes and Techniques. Like the other JWW titles, it's ePriced at $4.99, but for several days starting at 3am Wednesday eastern time, it's free. (Outside the US, go to your regional Amazon site—Canada, UK, France, Germany, Spain, Italy, Brazil, Mexico, Japan, Antarctica...wherever. It'll be free there, too.) If you like Eros & Capricorn, share your enthusiasm with an Amazon review, tell your friends, and pick up some of Mr. Wells's other titles. (If you don't like it, keep it to yourself.)

Okay, that's enough. More than enough, really. I blogged the other day about the manner in which the desire to avoid essential work spurs the production of no end of less-than-essential work. Go ahead and have a look—esp. if you have something more important that you really ought to be doing.

Cheers,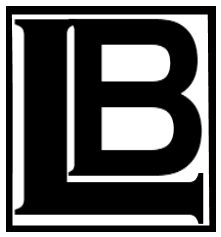 LB's Bookstore on eBay
LB's Blog and Website
LB's Facebook Fan Page
Twitter: @LawrenceBlock

PS: As always, please feel free to forward this to anyone you think might find it of interest. And, if you've received the newsletter in that fashion from a friend and would like your own subscription, that's easily arranged; a blank email to lawbloc@gmail.com with Newsletter in the subject line will get the job done.