Courses beginning in June with openings available
| | | | | |
| --- | --- | --- | --- | --- |
| Course | Instructor | Start Date | Start Time | Location |
| Personal Writing for Cancer Survivors | Christine Flagler | June 4 | 10 a.m. | StoryPoint; Craft Room |
| Running From Cable Kicking and Streaming | Harold Watkins | June 5 | 9 a.m. | College of Health and Human Services; Room 1093 |
| Burke, Hare and Knox, From Death to Resurrection | James Wright | June 5 | 2 p.m. | Walden Woods; Clubhouse Classroom |
| Introduction to Steampunk Literature | Katherine Cowley | June 6 | 9 a.m. | College of Health and Human Services; Room 1087 |
| The Serpent Hisses Where the Sweet Birds Sing | Stephen Tod | June 7 | 1 p.m. | College of Health and Human Services; Room 1057 |
| Yes Virginia, There is a Johnny Appleseed | Jennifer Clark | June 11 | 11 a.m. | College of Health and Human Services; Room 1093 |
| Exploring Community Resources: WMU Unified Clinics | Carol Sundberg | June 14 | 10 a.m. | WMU School of Medicine Unified Clinic; 3rd and 4th floors |
| The Bees' Knees and Bee-Yond | Charlotte Hubbard | June 19 | 9 a.m. | Schoolcraft Community Library; See reception desk |
| The Journey to a Safer You Starts Here | Jake Biernacki | June 19 | 6 p.m. | StoryPoint; See reception desk |
| Exploring Community Resources: Wolf Lake Fish Hatchery | Jo Arnold | June 21 | 10 a.m. | Wolf Lake Fish Hatchery |
| "As You Like It" at London's Globe Theatre | Ruth Heinig | June 26 | 1 p.m. | Friendship Village; Kiva |
| The History and the Literature: Lincoln in the Bardo | Stan & Diane Henderson | June 28 | 10 a.m. | The Fountains at Bronson Place; Auditorium |
| Exploring Community Resources: Kalamazoo County Metro Transit | Maggie Slocum | June 28 | 10 a.m. | Walden Woods; Clubhouse Classroom |
To register, call our office at (269) 387-4200 or register online at
wmich.edu/olli/courses
. Registration is
required to attend.
---
Membership Corner
3-Way Winner for You, a Friend, and OLLI!
Are you taking an OLLI course or trip this summer, or maybe just thinking about it?
Invite a friend who isn't yet a member of OLLI to sign up for the same course and join OLLI. You will enjoy having someone you know participate with you, your friend will find out about the joys of being part of OLLI, and OLLI will gain a new member. Better yet, give them the gift of membership
.
They will be able to take courses this summer and all of next year. The membership year for OLLI extends from July 1 through June 30. However, if your friend signs up this June, they will be getting an extra month of membership free. A bargain!
Signing new members is especially important right now because we need to boost our membership by the end of June to qualify for a renewal of our $25,000 capacity-building grant from The Bernard Osher Foundation.
So, don't pass up this opportunity to have some summer fun with OLLI and a friend as well as giving a needed boost to our program! Go to wmich.edu/olli/membership and get with the program!
---
Curriculum Corner
Make an Investment in OLLI: Be a Curriculum Committee Volunteer!
The curriculum committee is charged with developing and offering about 125 courses per year. We expect courses to be stimulating and of interest to many OLLI members. At its May meeting, members of the OLLI curriculum committee decided to reorganize and do something different. After seven years of meeting monthly as a "committee of the whole," we have decided to work in small groups related to interest areas for the first part of every meeting. Those areas are:
HUMANITIES - Music, languages, literature, philosophy, linguistics, art, theater, classics, religion, media, culture


CONTEMPORARY ISSUES - Government, civics, law, legislation, social justice, voters, public policy, international relations, race, gender, institutions, politics


SOCIAL SCIENCES - Psychology, sociology, economics, communications, education, anthropology, history, anthropology


NATURAL SCIENCES AND TECHNOLOGY - Chemistry, physics, earth science, biology, astronomy, mathematics, geography, climate change, engineering, research, life science, computers, internet


ENRICHMENT – This is the "everything else" category: health care, hobbies, avocational development, photography, aerobics, Medicare/Medicaid, insurance, sports, athletics, physical activity, aging, life styles, character development, retirement, cognition, memory, genealogy, miscellany, whimsy
So, if your interests are reflected in one or more of the above areas and you want to find out more about the inner workings of the committee and what your responsibilities would be as a member, please contact Jo Arnold (jsphnrnld@gmail.com) or John Geisler (John.Geisler@wmich.edu) or plan to come to our meeting on Wednesday, June 6 at 9:30 a.m. at First United Methodist Church downtown. We meet on the first Wednesday of every month for 1.5 to 2 hours. We are looking for 8-10 new members to expand our 12 member committee.

Save the date: OLLI Instructor Workshop, July 18, 1-3:15 p.m.
If you are one of those people who has been toying with the idea of teaching a course for OLLI, you may want to sign up for this event. The workshop will provide a brief orientation to OLLI and information and tips on developing successful OLLI courses. Dr. Ramona Lewis, a faculty specialist II in the Educational Leadership Department at WMU will lead the workshop. You might say that Ramona wrote the book on teaching for OLLI as she is the author of the "Instructor Handbook" that you can find online
here
. Call the OLLI office to register at (269) 387-4200.
OLLI participants experience the wonder of the Black River Preserve, a review from Jo Arnold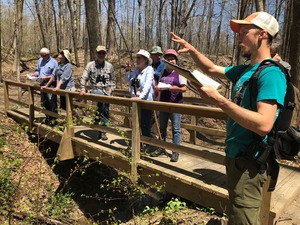 OLLI at WMU participants explore the great
outdoors, led by instructor Mitch Lettow.
On Saturday, May 5, I was one of the lucky OLLI members to take a walk in the woods on a perfect spring day. We were participants in the "Eco Systems of Southwest Michigan" course. Mitch Lettow, who works for the Southwest Michigan Land Conservancy and was the course instructor, introduced us to the Black River Preserve near South Haven and pointed out land features, trees, wildflowers, and the many streams that are part of the Black River watershed. We learned what an oxbow is and had glimpses of a spotted sandpiper and two types of thrushes. To tell the truth, we heard more birds than we successfully identified. With the trees not yet leafed out, we enjoyed patches of trillium, spring beauties, ramps, buttercups, swamp marigolds, may apples, violets, and other spring wildflowers. We were out on the trails for over two hours and ran into only one other small group enjoying the preserve.
The Southwest Michigan Land Conservancy maintains 18 public preserves in nine southwest Michigan counties. Preserves are free and open to the public from dawn to dusk. There are no playgrounds, no picnic tables, and no toilet facilities, so trips need to be planned accordingly. Details and directions to the various preserves can be found at
swmlc.org
.
---
Travel Corner
Reviews and Previews of OLLI at WMU trips
By the time you read this edition of OLLI news, four of the six OLLI spring trips will be complete! The following are just a few comments from the surveys; we hope you were able to join in the fun!
"Superb and sublime."
"Food was especially delicious and our first experience at DeVos and an opera were great!"
"Everything from beginning to end was absolutely wonderful."
Speaking of summer trips…have we got a line up for you! Some destinations come directly from your requests and others are entirely new and unique. We kick off July 11.
Denso - High Tech to High Tea, July 11
We are excited to bring to you a one-of-a kind tour of the high tech, cutting edge manufacturing facility, DENSO Manufacturing Michigan, Inc. (DMMI). This will be a unique look at what manufacturing looks like today and the challenges awaiting the current workforce. We also will learn more about Battle Creek's successful industrial park followed by a wrap up at Greencrest Manor, a hidden-away treasure for sure!
Down the Old Saulk Trail with OLLI at WMU celebrity, John Geisler, July 26
July 26 provides us with an opportunity to take a look back to earlier times with John Geisler. He promises to take us along on another storied tour to explore the Sauk Trail from White Pigeon to New Buffalo.
Mark your calendars for our August 9 trek to Midland, Michigan
OLLI has received repeated requests to view the stunning Dow Gardens and tour the unique Alden B. Dow Home and Studio. The Dow Gardens and the Dow Home promise travelers an experience consistently rated in the top tier of Michigan tourist attractions. The beauty and the architectural education will be enriching in every way!
Go to Monroe Michigan, August 20
Gary and Rita Swain, who many OLLI travelers know from the Gettysburg and Springfield, Illinois trips, have returned to take us to Monroe, Michigan. What for, you say? Amazingly enough, General George Armstrong Custer has deep ties to the city, and Gary and Rita know exactly how to create a very special foray into this mysterious history! Check the catalog or website for special sign-up instructions on this August 20th trip.*
*Note: the Monroe trip requires registration directly with the Swain's as outlined in the summer catalog.
Explore premiere historical sites at Greenfield Village on September 12
We have a full day of sites and adventures planned. Greenfield Village has continued to improve and enhance this historical extravaganza! Keep this on your radar and register soon!
Look to the Summer OLLI catalog or the website for all the details including pricing and walking levels, but don't delay as registrations are off to a fast start! Contact Stephanie at AAA today at (800) 887-4971.
---
Editor's Note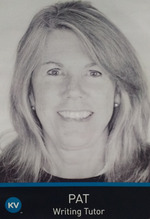 New OLLI at WMU newsletter editor, Pat Sulier
Greetings! My name is Pat Sulier, and I am the new editor for the OLLI at WMU online newsletter. I am taking over the duties of editor from Mike Wenninger, a most competent and experienced former journalist, editor, and newspaper publisher who, for the last three years, has made sure OLLI members had access to what was going on within the organization. It is on a happy note with which I say that Mike will still be in Kalamazoo and part of OLLI; however, he has other duties now in regard to home and family. Mike has been generous with his time in getting me "geared up" for my new job, and the OLLI team and I wish to say
thanks
for his expertise and the care he gave to this position.
Now, I have been encouraged to say something about me. I will tell you that I am a graduate of Western Michigan University having gone here when the mature trees on the main part of campus were just saplings. I was a social worker for a number of years, and now as I am considering full retirement, I am working at Kalamazoo Valley Community College part time as an english/writing and study skills tutor. I truly enjoy working with students on a one-to-one basis.
I have had prior experience with newsletter writing and editing before, and I am very pleased to assume this new role as volunteer editor. I want anyone who is a member of the organization to feel free to contact me with ideas for stories, their own articles, and anything that they would like to see changed or introduced. I cannot guarantee that your ideas will be used, but they will always be appreciated and responded to.
I look forward to meeting all OLLI at WMU volunteers and members.