Save the Date!
OLLI at WMU Fall Kickoff
Aug. 2, 2 to 4 p.m.
First United Methodist Church, Kalamazoo
THIS EVENT IS OPEN TO THE PUBLIC
Please be thinking about nonmember friends you would like to invite!
At this event you will have the opportunity to:
Meet the instructors.
Learn about the fall courses, trips and activities.
Meet the OLLI director and volunteers.
Socialize and meet other members over refreshments.
Participate in exciting learning activities.
Bring your donations for the Kalamazoo Literacy Council.
The email to register will be sent out mid-July. Check July's newsletter for more information on the event
---
Coordinator Corner
It's time to renew your membership
Most OLLI memberships expire July 1, 2017, if you have not already renewed, it's time to renew. Be ready for the next year of trips, courses, events and benefits. Take advantage of this opportunity to make new friends, learn something new, do something different, or travel someplace uniquely interesting. Invite a friend to join with you. An annual membership costs $35 and begins July 1. You can send in the registration form from your catalog, join online at
wmich.edu/olli/membership
or call (269) 387-4200.
Catalog corrections
The new member price listed on the registration form is incorrect at $17.50, it should be $35.

The Fall Kick Off listed on page 5 as being August 3 is incorrect. The Fall Kick Off is August 2. See the box above for additional information.
Courses that still have openings
As is now becoming the norm, many courses have filled during the early bird registration period. However, there is still space in the following courses:
A Pair of Theatre Courses
Black and Blue: The Story of Gerald Ford, Willis Ward and the 1934 Michigan-Georgia Tech Football Game
Coming to America
Fitness to Drive
More Than Just a Game: The Social History of Baseball
My Grandmother Had One of Those!
Protest Song Art: The Songs of Freedom from Oppression in the Amerikkkas and Colonial Africa
Racial Healing and Transformation
River room Writers
West Michigan Beer Tours: Agriculture & Beer
West Michigan Beer Tours: Science of Brewing—A Tasting & Pairing
Western Michigan University: The First Fifty Years
Some of these courses only have two or three openings, if you are interested please register soon!
---
Osher National Conference
Interesting facts about OLLIs
We are all proud of our Osher Lifelong Learning Institute at WMU but did you know that we are one of a family of OLLIs across the country? In fact, there are 120 others and we are one of the most recently organized ones (118). Here are interesting facts about our OLLI family:
The majority (94 out of 120) are affiliated with public universities.
The median number of members in an OLLI is 1,192. We have a little ways to go before we reach the median, we currently have 908 members, but we are one of the youngest OLLIs. In all, there are 160,125 OLLI members in our family.
A recent survey of 12 well-established OLLIs found that the majority of members are female and the majority of the members are between 65 and 75 years of age.
Most members of both genders are married/partnered.
5.24 percent identified as nonwhite, the majority of whom are African-American.
Just under 90 percent of OLLI members have a bachelor's degree or above and two-thirds of these have a master's or doctorate degree.
The average OLLI has 194 volunteers.
Most respondents in this survey said the biggest barrier they faced in participating was time. There's not much time on the hands of OLLI members!
More than 50 percent of all participants under the age of 85 use smartphones and more than 50 percent of those under age 80 use a tablet or iPad. There was a substantial increase in use by all age groups in a previous survey conducted in 2014 by the Osher National Resource Center (Osher NRC).
There also was an increase in the number of OLLI members who reported taking some online learning.
The shared values that were noted by respondents were localism and autonomy; volunteerism; respect for elders; honoring the academy; social learning communities; creativity, collegiality and curiosity.
*Data is from a survey conducted by the Osher NRC of the Bernard Osher Foundation and was presented at the Osher National Conference.
---
Upcoming at OLLI
Get a taste of Kalamazoo's brews

As you know, the Kalamazoo area has become known for its craft beers and breweries. OLLI is offering two courses in July that will introduce us to the agricultural basis for beer brewing and the science of brewing. We will visit a tap room, a farm, a brewery and an academic brewing program and also have the opportunity to enjoy tasting and pairings. We will travel in a bus provided by West Michigan Beer Tours, our host for these courses. Snacks and water will be provided. As a member you can attend one of the following two trips for just $73 ($83 for non-members), or both for $146 ($166 for non-members)!

OLLI members, John Geisler and Karen Sandoval,
enjoy their beer samples.

West Michigan Beer Tours: Science of Brewing – Thursday, July 13, from 2 to 5:30 p.m.

Leave from Gilmore Theatre Complex parking lot at 2 p.m. First stop is KVCC's new sustainable Brewing Program for a tour and seminar followed by beer tasting from 2:15 to 3:45 p.m. The second stop at Zazio's includes food and beer pairing from 4 to 5:15 p.m. Two beer tastes and two food samples will be served. Arrive back at the Miller Auditorium parking lot at 5:30 p.m.

West Michigan Beer Tours: Agriculture and Beer – Thursday, July 20, from 2 to 6 p.m.
Leave from Gilmore Theatre Complex parking lot at 2 p.m. on a bus provided by West Michigan Beer Tours. First stop is Texas Corners Brewing Co. tap room and family farm, with tours and full pour (a pint), 2:30 to 4 p.m. The brewery uses fresh ingredients including apples from the family's orchards! Second stop is Bell's state of the art Comstock Brewery featuring a tour and history focusing on the malt farm, along with samples, from 4:30 to 5:30 p.m. We will return to Miller Auditorium parking lot at 6 p.m.

Three summer courses at Kalamazoo Valley Museum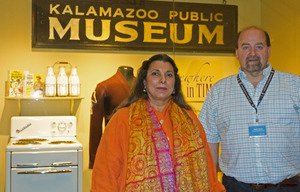 Elspeth Inglis and Mark Reed stand by a display that includes a
sign used by the predecessor of Kalamazoo Valley Museum.
Our OLLI Trips often include visits to museums, but this summer three courses will take registrants to the Kalamazoo Valley Museum (KVM) right here in Kalamazoo. The first course, "Fossils: Storytellers from the Past," will have one session, from 1 to 3 p.m. Thursday, June 22.

KVM planetarium manager Mark Reed will explain how fossils are formed and what we know about the ancient environments and life that once existed in Kalamazoo and lower Michigan. Reed said, "I like to provide a new lens for looking at something in front of you. What can these things tell us? What was Michigan like at different times?" Participants will also see the museum's animatronic dinosaur exhibit and watch a planetarium show titled "Did an Asteroid Really Kill the Dinosaurs?" This course has filled, but you may call the office to be placed on a waitlist.

For 29 years, Reed was a school teacher in Jackson, where he still resides. He taught courses in astronomy, geology and other physical sciences. His special interests are dinosaurs, astronomy and history.

The next course at KVM, titled "My Grandmother Had One of Those!" will have two sessions, the first from 1 to 3 p.m. Tuesday, July 11, and the second on the following Tuesday. "This will be a hands-on experience to answer the question 'What does the museum actually do?'" said Elspeth Inglis, KVM's assistant director for programs. "Some of our staff will explain their different specialties. It's going to be fun." Students will learn what the KVM collects and why, and how it cares for its collections, both in storage and on display. Participants will tour behind-the-scenes areas not open to the public.

Inglis has worked at the Kalamazoo Valley Museum since 1993. She earned her master's degree in the Cooperstown History Museum Studies program.

The third course at KVM is titled "Eclipsed! Understanding Sun and Moon Eclipses" and it will have Mark Reed as the instructor again. It is another one-session course, Thursday, July 27, from 1 to 3 p.m. Topics such as eclipse types, frequency, safe viewing, and common misconceptions will be addressed as well as the solar eclipse that will occur Aug. 21. A planetarium show and the new exhibit "Science on a Sphere" will be part of the course. This course has filled, but you may call the office to be placed on a waitlist.
---
Volunteer Corner
Do you know somebody who could teach an OLLI course?
Although the fall catalog is not yet at the printer, members of the OLLI Curriculum Committee are already busy planning for the winter/spring semester. This committee of roughly 15 members is charged with developing more than 100 courses per year – no easy task!
OLLI instructors come from every walk of life. Some may have a background in higher education and others are retired teachers, but we have also had ministers, musicians, scientists, judges, people from the nonprofit world, business men and women, writers and others. We are looking for people who love to learn themselves and enjoy sharing what they have learned. That said, can you help identify people who could teach:
Courses about poets such as Emily Dickinson or Robert Frost or Maya Angelou or …
Practical courses on subjects such as small home repairs
A humanities course on "Coming to the Promised Land: Literature of Immigration"
The 1960s: Divisive Decade that Shaped a Generation
The Confluence of Rivers and Civilization
A History of the Overland Trade Routes
ISIS: Birth and Rise of a Terrorist Organization
Maybe you know someone who can teach another topic. Please do not feel limited to those listed above. Talk to friends and acquaintances and if they are interested, please have them contact the OLLI office.
Volunteers make OLLI successful
April was National Volunteer Appreciation Month and OLLI at WMU took the opportunity to celebrate with members of the Advisory Board and the committees who organize and work so hard to help keep our OLLI running smoothly.
Each year we have honored different groups of volunteers. We always appreciate everyone's contributions and want to thank each OLLI member and instructor who gives time and energy to make our program such a vibrant community of learners.
We had a lovely luncheon at Martell's Restaurant with entertainment by the incomparable John Geisler, himself the model lifelong learner. John gave a talk about traffic signs and we found out how much we didn't know! The event was a good time to catch up with friends in a social environment and for the OLLI administration to express its appreciation for the thousands of hours donated by volunteers. Extended University Programs Associate Provost Dawn Gaymer and OLLI Director Shirley Swanson had kind words to say about the work done by volunteers.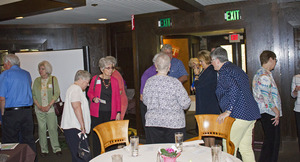 OLLI Advisory Board, committee members and
OLLI staff enjoyed a luncheon to thank volunteers.
(photo by: Mike Wenninger)
---
Travel Corner
OLLI's Arab-American Experience

Once again it's been proven that OLLI travel experiences can make a difference in our overall knowledge and understanding of the world. On each trip, our venue hosts put out the welcome mat. They are thrilled we have come with open hearts and minds in search of knowledge and to share in the enthusiasm that only curiosity can foster. Thanks to all OLLI travelers for being gracious participants.

The following report from our committee escorts for the recent Arab American trip says it all:

We rode in a bus to Dearborn, not on a magic carpet but two groups of OLLI travelers were transported to a place where we could learn about a culture and faith that are unfamiliar to most of us. Dearborn is home to about 40,000 Arab-Americans, ranging from new arrivals to families who have lived there since the late 19th century, and who identify as Muslim, Christian and Jewish Americans.

Our tours started at The Islamic Center of America, a beautiful mosque, where we heard a talk about the Muslim faith and then had time to ask questions. Our travelers had many questions, which our host answered fully and with great patience.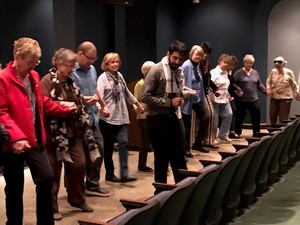 OLLI travelers learn a new dance on a trip to Dearborn, MI.
(photo by: Mary Anne Elsener)
Lunch at the Al-Ameer restaurant followed, with a delicious spread of Middle Eastern dishes that were enjoyed by all. Next we went to the Arab-American National Museum to hear a talk about comparative religion and the culture of Arab-Americans. We wrapped up with a Debka dance lesson where we learned how to do a line dance that has variations traditional in all of the 22 Arab countries. We had time to look around the museum before starting home from our day of learning about this group of fellow Michiganders.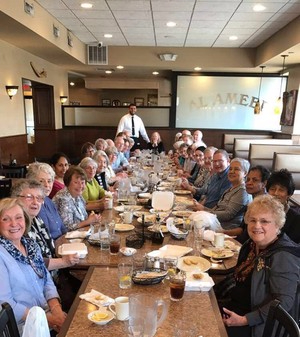 The group enjoyed a wonderful lunch at
Al-Ameer restaurant.
(photo by: Joyce Stout)
The OLLI Travel Committee offered this day trip in October 2016. It filled rapidly and had such a large waiting list that a second trip was organized for April this year. Our travelers received a warm and gracious welcome at each of the venues. A word to others who might be interested: they have all invited us to come back.
---
Testimonial Corner
Praise for the climate change course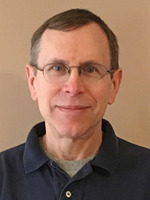 This review is brought to you by
OLLI
member Dr. Charles Hodgman.
I completed the OLLI course "Climate Change: Causes, Consequences, and Solutions" [offered last winter]. It is a review of the known scientific facts of climate science and a review of the basis for future climate change predictions. It covers the economic and social impacts of a changing climate and practical solutions.
All the presentations were well organized and were presented by WMU faculty from the departments of biology, physics, sociology, economics and political science. There were six two-hour presentations. The final session also included a presentation from Citizens' Climate Lobby.
I highly recommend this course for people who would like to learn current scientific facts about climate change and the basis for predictions of future climate change. It is appropriate for individuals without a science background seeking to learn more about this critically important topic and for individuals who are already familiar with the science of climate change.
OLLI Brain Health Conference was a major success
After the conference May 3, organizers received this message from Sarah Wick, one of the attendees:
"What a great, successful conference! I marvel at the expertise that was assembled for all to learn from and enjoy. The location was perfect. My heart is always thrilled when the incredible research work done at WMU is presented to the community at large. The session led by Dr. Roth on music and the brain was astounding. I am very biased toward the incredible healthy benefits of music. Choosing what sessions to attend was difficult because all topics were timely and important. Often WMU does not get the recognition that it deserves. I also had a lovely chat with the reception desk student who is in the OT program. Just being on campus can stimulate my brain (oh dear!). This would be a good half-day conference to repeat every other year. I saw lots of smiling, interested faces and observed lively conversations at the end."
Sarah's comments were echoed in the evaluation that 60 percent of those attending filled out. People liked the format and being able to choose the breakout sessions they wanted. They thought the speakers were good to excellent. Some liked the opportunity to socialize with other OLLI members before and between sessions; others thought there was too much free time. Several commented that the vendors added another interesting dimension to the event but thought we should have given them more space. Many people would have liked more time devoted to Q & A and less to the talks by speakers. OLLI members like to interact!
We learned that the half-day format was enjoyed by the majority and that we should plan other events centered on one topic as half-day events. Many thanks to all who attended and for the great suggestions for future events.
---
Community Events
You can walk and learn history at the same time

Lynn Houghton, a frequent instructor for OLLI, will lead a summer course titled "Let's Go Downtown," a course that has already reached capacity! If you are interested in the course you may call the OLLI office to be put on a waitlist.

Houghton is a longtime leader of informational walks in the greater Kalamazoo area and this summer she will again head the Gazelle Sports Historic Walks (a program separate from the OLLI course) cosponsored by Gazelle Sports and the WMU Archives and Regional History Collections. Houghton is the regional history curator for the Archives and Regional History Collections. She is co-author of "Kalamazoo Lost and Found" and she teaches Michigan history for WMU.

Walks will take place rain or shine unless severe weather is predicted. There is no charge for any of the Gazelle Sports Historic Walks. You can see the entire schedule at http://gazellesports.com/wp/gazelle-sports-historic-walks/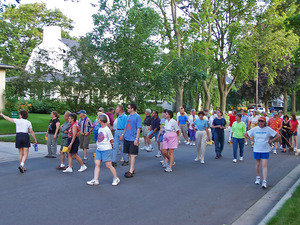 A group on a walking tour visits the Westnedge Hill neighborhood of Kalamazoo.
For June, the Friday morning walks start at 8 a.m. and they include:

June 2—Haymarket/Arcadia Creek
Meet at Gazelle Sports, 214 S. Kalamazoo Mall

June 16—Oakwood Park (new)
Meet at Oakwood Elementary School, 3140 Laird St.

The Thursday evening walks start at 6:30 p.m. and for June they include:

June 8—South Downtown
Meet at Gazelle Sports, 214 S. Kalamazoo Mall

June 29—Short Road/Long Road
Meet at Wheaton Avenue and Short Road

"Activate Midwest" invites OLLI members to readings of new plays

The WMU Theatre Department hosts a new plays festival called "Activate Midwest" every year in June. Selected plays are given readings by WMU theatre majors. Mark Lierman, associate professor of theatre and head of the B.F.A. Acting Program, has invited OLLI members to attend these free readings.

The keynote speaker (still to be announced) will talk Thursday, June 15. The person always is a nationally recognized playwright and there will be a reading of his/her play. Readings scheduled are:

Friday, June 16, 7:30 p.m. – play #1 "Blood Moon Baby"
Saturday, June 17, 4 p.m. – play #2 "Brooklyn Baby" and 8 p.m. – play #3 "Boxstep"

All plays are free and will be performed in WMU's York Theatre. There will be a short audience-response time with each playwright.

Free Film at Celebration Cinema

"Age of Love"—Monday, June 5, 6 to 8 p.m.
Celebration Cinema, Crossroads Mall

The "Age of Love" follows the humorous and poignant adventures of 30 seniors in Rochester, N.Y. who sign up for the first-of-a-kind speed dating event exclusively for 70-90 year olds. From anxious anticipation through the dates that follow, it's an unexpected tale of intrepid older adults who lay their hearts on the line.

This free event is sponsored by the Portage Senior Center and New Friends Memory Support and Assisted Living Facility.