Good Day!
Welcome to Reindl Bindery's third issue of our e-newsletter, Cutting Edge. Our goal is to keep you informed about our company and the types of services we can provide you. Based on the great response we received from our previous newsletters, we decided to send you our e-newsletter on a quarterly basis instead of bi-annually.
If you'd like to visit our website, click on our logo above.
If you do not want to receive further mailings from us, unsubscribe by scrolling to the bottom of this email and clicking on the unsubscribe link.
---
Word from the President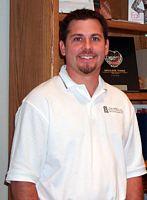 30 years in business...what an accomplishment. Things have really changed over the years. Many new faces, better equipment, different kinds of binding all are obvious when you compare February 1978 to February 2008. One thing that hasn't changed is our motto, "First in Quality, Bound to Last."
Those six words are the cornerstone of our business. From the day we opened our doors we have been committed to giving our customers the best possible product. We know that our customers trust us to provide them with the highest quality and best delivery. We strive every day to do just that.
All of us at Reindl Bindery look forward to the challenges we will face in 2008. We would love the opportunity to help you with yours.
David C. Reindl
---
The History of Reindl Bindery
Even though Reindl Bindery was officially incorporated in February of 1978 there were roots that had been in place long before. Charles Reindl, Vice-President, had worked for 43 years for a company known as Boehm Bindery. During this period of time, "Charlie" had reached the position of Plant Superintendent. Dale Reindl worked for this same company while attending high school and then college during weekends, holidays and summer vacations. In 1977, the entire country was in a depression and it affected the printing industry as well as other manufacturing industries greatly causing many companies to either scale back operations or go out of business entirely. In this case, Boehm Bindery's owners decided to scale back its work force and they put Charlie on a permanent lay off situation. Charlie was not ready to retire so it was suggested that we start our own bindery and we would do small binding jobs and do book repair for bibles and text books. With this, Reindl Bindery was born.
In February of 1978, the official corporation papers were filed and the company began. We had our meager start on the second floor of the building that was owned and occupied by Dillon Bindery. Charlie was a friend of Roy Schroeckenthaller, owner of Dillon Bindery. It was during the next year that some of the customers that Charlie had dealt with through Boehm Bindery came to Charlie and said that they might be able to send us some work if we had certain different pieces of equipment. With this in mind we began to purchase a few smaller pieces of used equipment that we could use to manufacture different types of books. At that same time, Dale was teaching school after graduation from college. Charlie would make contact during the day and Dale would work a second shift to manufacture the needed products. During the next year Charlie suffered from a heart attack and Dale took a leave of absence from teaching to run the company full time. Dale eventually resigned from his teaching job. In 1980, Reindl purchased the assets of Boehm Bindery, Charlie's former place of work, and moved to a new location on North 3rd Street. At that point in time Reindl was now able to produce case bound books as well as doing other operations making us a more versatile and complete trade bindery. Sadly, Charlie passed away in 1984 but Reindl Bindery continued to grow. In 1988, Reindl purchased a 60,000 sq ft building in Elm Grove, WI and moved for the second time. New developments within the industry allowed Reindl to be even more aggressive and after several machinery purchases Reindl found itself competing nation wide and developing more new niche markets. In 1998 Reindl moved again to a 200,000 sq ft building forced by the continued growth of its bindery offerings and customer base.
As we look at the future, Reindl has sold the current building that they are in and will be looking to move again. January 1, 2007 found itself under new ownership. David and Steven Reindl are now the new President and Vice-President respectively. Dale is now the Chairman of the Board. Reindl Bindery is continuing in its ways of developing new niche markets as well as continuing to serve the industry in the conventional binding needs.
---
Employee Bio Series - Jodi Radmer
In an effort to better serve the people we work with, we wanted to take the opportunity to introduce to you the people who work at Reindl Bindery. We thought we'd start out our Employee Bio Series with one of our seasoned Customer Service Representatives. We hope you enjoy the opportunity to meet our staff and get to know a little bit about those people who you may talk to every day or those people working on your projects.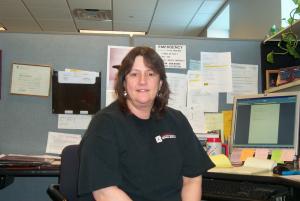 Jodi Radmer is a Wisconsin native and has been with Reindl Bindery for 19 years. She is one of our Customer Service/Account Representatives. Jodi has hands on knowledge of all operations in the shop. When asked what she enjoys about her job, she immediately says the diversity. Every day brings different experiences and each customer has different needs making for an exciting day every day.
Jodi wasn't always a CSR. She started out working in the shop as a general helper and eventually moved up to a small machine operator. After mastering the machines, she became a Production Coordinator and then a First Shift Supervisor before making the move to the office. With such an expansive working knowledge of our bindery equipment and the workings in the shop, Jodi is able to provide our customers with that first hand understanding of their projects. She is able to educate each customer to help make every project a successful one.
Anyone who has worked with Jodi knows that she is great with everyone she talks to. When asked what her approach is in working with our customers, she said "I try to give the kind of service I expect". This is definitely a theme for our staff in general. Our people know the value and need for good service and that's exactly what they strive to provide.
When Jodi isn't working hard for Reindl Bindery she enjoys spending time with her grandchildren. She loves to read and spend summers in the garden or out camping.
---
Fun Facts - What Was Happening in 1978?
Cost of Living in 1978:
Interest Rates for the year end were 11.75%
Average Cost of a new house is $54,800.00
Average Income per year is $17,000.00
Average Monthly Rent is $260.00
Cost of a gallon of Gas is 63 cents
Events of 1978:
Worldwide Unemployment rises after several decades of near full employment.
Gold reaches an all time high of $200.00 per ounce.
Sweden becomes the first nation to ban aerosol sprays that are thought to damage the earth's protective ozone layer.
Serial killer, David Berkowitz, "Son of Sam", is sentenced to 25 years to life in prison after terrorizing New York for 12 months.
The first Susan B. Anthony dollar is minted.
The cult leader, Jim Jones, instructed 400 members of his church, "People's Temple", to commit suicide.
Israel attacks on southern Lebanon following bus hijacking in Tel Aviv.
A powerful Magnitude 6.5 earthquake hits Thessaloniki, Greece.
Pope Paul VI dies at the age of 80 and Cardinal Karol Wojtyla becomes John Paul II.
Worlds Population estimated at 4.4 billion.
Technology of 1978:
Illinois Bell Company introduces first ever cellular mobile phone system.

Space Invaders launches craze for computer video games.

The first computer bulletin board system (BBS) is created.

89% of all American homes have a television.
Popular Films in 1978:
Greece
Saturday Night Fever
Close Encounters of the Third Kind
National Lampoon's Animal House
Jaws 2
Heaven Can Wait
Star Wars Episode IV: A New Hope
Revenge of the Pink Panther
The Deer Hunter
Popular Musicians in 1978:
Bee Gees with "Night Fever" and "Staying Alive"
Paul McCartney and Wings
John Travolta and Olivia Newton-John
Rolling Stones
Commodores with "Three Times a Lady"
Boomtown Rats
Popular TV Programs in 1978:
Happy Days
Little House on the Prairie
The Rockford Files
Good Morning America
Saturday Night Live
Wheel of Fortune
Charlie's Angels
Quincy, M.E.
The Muppet Show
Chips
The Love Boat
Three's Company

---
Please feel free to forward to your friends and coworkers. Forward this message to a friend