Good Day!
Welcome to Reindl Bindery Company's first issue of our e-newsletter, Cutting Edge. Our goal is to keep you informed about our company and the type of services we can provide for you.

If you'd like to visit our web site, click on our logo below.

If you do not want to receive further mailings from us, unsubscribe by scrolling to the bottom of this e-mail and clicking on the unsubscribe link.
---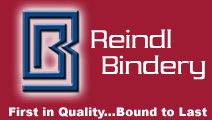 ---
Introduction
Our quality and service have been the hallmark of Reindl Bindery and are reflected in our long-standing relationships with our customers.

We have a sense of pride in our work and a philosophy of caring about our customers, because we know that what Reindl does affects your businesses. Since being founded in 1978, meeting minimum standards has never been good enough for our company. We've strived to realize excellence in our work and have established a reputation for award-winning quality, responsive service and innovation.

The Reindl "family" of employees is committed to the quality of our work and everything that "goes out the door." We guarantee that we will provide you with the highest quality binding products and unmatched customer service.

With a diverse range of capabilities, Reindl can offer solutions for your most unique binding needs. You can always depend on Reindl for reliable service, knowledgeable staff, and friendly support. Explore the possibilities and discover why Reindl Bindery is "First in Quality...Bound to Last."

Reindl takes great pride in its long-term business relationships and would like to welcome you as a Reindl Bindery customer. Call/fax your specifications, complete a quote form on our web site for a prompt quote, or call to arrange a plant tour.

To our existing and past customers, we say thank you. To those we haven't served, give us the opportunity to do so – you won't be disappointed!


---
What can we do for you?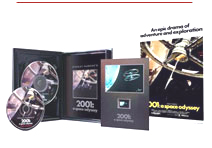 • Novels • Educational Books • Specialty packaging of CDs and DVDs • Coffee Table Books • Children's Books •
High-End Reference Books • Religious Publications • Anniversary Books • Text Books • Paperback Novels •
Instruction Manuals • Catalogs • Annual Reports • Music Scores • Computer Manuals • Cookbooks • Calendars • Notebooks • Training Manuals

Reindl produces single or multiple panel covers for use in case binding, Wire-o and for other applications such as game boards. Cover materials, whether printed and laminated, cloth or coated, are wrapped around the board that best suits your job.

Innovative approaches to binding have propelled the company into non-traditional bindery markets, to include the specialty packaging of CDs and DVDs.

Our distinctive book style is coffee table quality and securely stores valuable software for years to come.

We've worked with leading publishers, software developers and entertainment companies to develop packaging that will best suit their needs for protecting the integrity of their product, security from theft, and high-impact appearance for point of purchase sales. This includes developing prototypes for customer evaluation and for test marketing products. Reindl would like to work with you in designing your next media packaging project.

Reindl also offers an extensive selection of other finishing services to complete your project. Often times, many of our clients have the necessary equipment to begin or complete their project, but due to limited capacity or ease of administration, they turn to Reindl to get the job done.

 Cutting  Busch Die Cutting  Kluge Die Cutting  Folding  Drilling  Foil Stamping  Shrink Wrapping  Gathering  Tipping  Tab Cutting
 Round Cornering  Eyeleting/Grommeting  Side Stitching


---
Celebrating Safety Milestone

On April 3rd, Reindl Bindery celebrated 360 days without a lost time accident. The entire team celebrated with a meal from Bucca Di Beppo. Our Workman's Comp company provided desserts and joined us in our celebration. Gifts were given to the entire staff to thank them for their efforts. Since then we have exceeded our previous record of 373 days and are now at 401 straight days without a lost time accident. We at Reindl Bindery are quite proud of this accomplishment as we continue our outstanding safety record.
---
Fun Facts - Milwaukee Baseball

Did you know that in April of 1970, the American League team, the Seattle Pilots, became the Milwaukee Brewers? The name was a tribute to the city's long association with the Brewing industry.

The Brewers played their first game on April 7 as a member of the American League West before 37,237 enthusiastic fans at County Stadium - they lost 12-0 to the California Angels.

The Brewers then won against the White Sox, 8-4, in Chicago on April 11th for the team's first win.

The 69-year-old Milt Mason, as "Bernie Brewer", goes into a trailer atop the stadium scoreboard in late June, vowing not to descend until the team draws a home crowd of 40,000, which occurs on August 16.

Brewer, Tommy Harper becomes the first American Leaguer to hit more than 30 homers and steal more than 30 bases during the same season with totals of 31 and 38, respectively.

Not bad for their first year in Milwaukee!

---
Thank you for being a loyal Reindl Bindery Member. We will continue to provide you valuable information and updates on a bi-annual basis. We hope you enjoyed our first e-newsletter!

Please feel free to forward to your friends and coworkers.
We'd love to hear from you - feedback is always welcome.

Sincerely,
--The Team at Reindl Bindery Company