Good Day!
Welcome to Reindl Bindery's fifth issue of our e-newsletter, Cutting Edge. Our goal is to keep you informed about our company and the types of services we can provide you.
If you'd like to visit our website, click on our logo above.
If you do not want to receive further mailings from us, unsubscribe by scrolling to the bottom of this email and clicking on the unsubscribe link.
---
Word from the President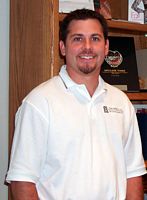 Our economy is hitting some pretty hard times. Gas prices are out of control, the cost to feed our families is rising quickly, the cost of health care is absurd, and people are loosing their jobs.
These are the most important times for our businesses. Bad decisions on our part as business owners and operators could lead to even tougher times in this lean year.
We all have to be sure that we make every effort to accommodate our customer's needs. The relationships we build now will all but carry us through until times get better. Even though "loyalty" in this industry isn't what it used to be, we can't forget that ultimately we are still dealing with people. People remember when others help them out of a jam and that is the best sales tool any of us have.
All of us at Reindl Bindery will continue to look for creative ways to help our customers with the challenges they face in this tough business environment. We look forward to the opportunities that we will be facing throughout the rest of the year.
David C. Reindl
---
What does it mean to be 'Green'?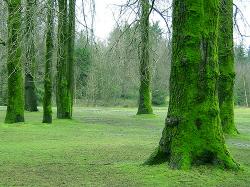 Seems like the color has become an industry catch word in the last year. Recent political groups have taken on the color as a symbol of environmental protection and social justice, and consider themselves part of the Green movement. This has led to similar campaigns in advertising, as companies have sold green or environmentally friendly products. Green has become the symbolic color of environmentalism, chosen for its association with nature, health, and growth.
WhatTheyThink.com, a printing industry blog, has conducted a couple webinars recently on the subject (http://members.whattheythink.com/WebCasts/webinars.cfm) Most of the companies surveyed have plans in place to start a sustainability program. If you're interested in learning more, check out their website and look for It's Good to Be Green, featuring Barb Pellow - 04/30/2008 and Sustainability is the New Green - 06/25/2008. They have also launched a new special interest section called "Going Green". Check it out! You'll find a list of helpful websites on the subject as well. Also check out a series of webinars by Target Marketing and Printing Impressions - http://www.piworld.com/.
As a bindery working with printers, it is certainly something we've taken notice of. The environment has taken center stage among consumers. In many cases it is becoming a criterion for doing business. So what does this all mean.....it means being responsible for what happens in our environment, protecting the safety of our employees and customers, and supporting the communities we do business in.
Because consumers are looking more at purchasing items made from 'Green' practices, companies are looking for ways to cost efficiently provide these products, and the government is providing quality standards all in an effort to improve the impact we have on our planet. Reindl Bindery believes everyone can do a little something to assist in these efforts. We are rolling out education to our own staff on the importance of recycling and paying more attention to energy usage. With gas prices rising, energy is on the mind of everyone. All paper and chipboard that we use in creating the finished product for our customers has a percentage of recycled material. We also recycle all of our own paper. In addition we carefully monitor our energy. Office personnel make sure all computers are properly shut down when not in use. Bins are provided to separate cans, plastic, and paper.
Just as it is important to us to provide quality work and excellent service, we are committed to being apart of this new trend called 'Green'. Stay tuned for more information as Reindl Bindery works to be 'Green'.
---
Employee Bio Series - Doug Jenquin
Continuing our Employee Bio series, we would like to introduce you to one of our seasoned Estimators. We hope you enjoy the opportunity to meet our staff and get to know a little bit about those people who you may talk to every day or those people working on your projects.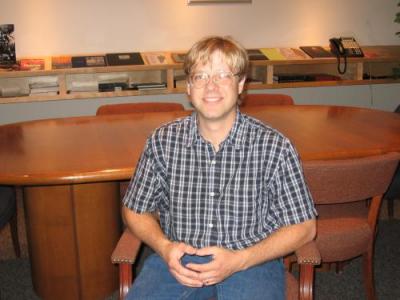 A native of Wisconsin, Doug Jenquin has been with Reindl Bindery for 13 years. He is one of our Estimators. But that's not all Doug does for Reindl Bindery. He also handles our network, computers, phone system, web, and email system. When asked what he enjoys about his job, he says the fact that everyday brings something different. With the variety of what he does, he definitely has something different to look forward to each day.
Doug has a Bachelor of Science in Industrial Technology with a concentration in Graphics Arts Management from UW-Stout. In his role as an Estimator he works with customers to assist them in coordinating their projects including materials needed, scheduling, and of course, the estimated cost to do the project. Doug loves working with customers who are open to suggestions to make a better quality book or to best utilize the equipment to get better turnaround times.
When asked what his approach is in working with our customers, he said "I try to stop problems before they get to production. I am not afraid to take the time to educate customers on our processes and different bindery materials". It's this approach that has turned out some of the best projects for our customers.
When Doug isn't working hard for Reindl Bindery he enjoys spending time with his family. With a third little one just added to the mix, Doug and his wife are quite busy.
To our current and future customers, Doug says "If you will be in the area, definitely call and set up a tour. It will be a big help in understanding all our capabilities and different binding processes."
---
Facts - Gas Prices :(
I was sitting in traffic the other day thinking of the money going out the window as my car expended the very expensive gas I just filled the tank with and wondered what were we paying years ago. According to FuelEconomy.gov, here is what I found:
In 1980 the national average was $1.25

in 1990 the national average was $1.16

in 2000 the national average was $1.51

in 2007 (just last year!) the national average was $2.80

July 2008 the national average is $4.10
What is the outlook for prices? Not great. The website is forecasting that the average for gas prices will remain over $4/gallon at least until 4th quarter of 2009.
So - what are we paying for?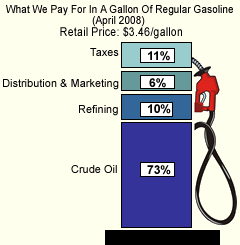 hmmm.........guess I'll have to continue planning a big chunk of my budget for filling my gas tank. There are a few little tips to try based on some advise given by AAA. They have fuel calculators and pump comparisons so you can preplan any road travel. They also suggest planning your errands so that you eliminate driving too much.
Whatever your plan is......looks like we'll have to live with higher prices for a little while. Hey, did I just see $3.85 down the street? Better quick go fill up!
-Jenny Stone
---
Quick News -
As mentioned in our previous newsletter, we are in process of making changes to our website. Definitely keep checking back to see some changes that will hopefully be more user friendly and provide even more information.
A new addition coming to our website shortly, will be a blog called "Reindl Way". Stay tuned as you will get the chance to comment on industry news, good service, frustrations, or just communicate with various staff members. Everyone here is excited for the chance to continue to build our relationship with our customers and vendors.

---
Please feel free to forward to your friends and coworkers. Forward this message to a friend