Good Day!
Welcome to Reindl Bindery's fourth issue of our e-newsletter, Cutting Edge. Our goal is to keep you informed about our company and the types of services we can provide you.
If you'd like to visit our website, click on our logo above.
If you do not want to receive further mailings from us, unsubscribe by scrolling to the bottom of this email and clicking on the unsubscribe link.
---
Word from the President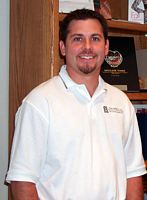 "Is this job for our most important customer?" was the question I was asked when passing through the folding department. This simple question really got me thinking. How do our employees perceive each of our customers? How do I perceive each of our customers?
Of course it would be easy to say that our biggest customer is our most important. But are they really? Obviously any customer with high sales volume is critical to any business. But, what happens if that relationship ends for some reason? How does the customer with the least amount of sales fit in to the big picture? What about all of those customers in between?
It became clear to me, that the best way to think about our customers is that each is critical to the success of our company. We need them more than they need us. We need to willingly do more than what is asked of us. We need to view our company as an extension of our customers.
As this industry changes and faces new challenges none of us can afford to change the most basic ideology. Take care of each of our customers as if they are the most important. Treat their job as if it is the most important to them. And continually strive to exceed the expectations placed on us.
I'd like to thank each of our customers and potential new customers for giving Reindl Bindery the opportunity to quote and/or produce your work. We all very much appreciate it.
David C. Reindl
---
Exciting Times at Reindl Bindery
As part of an ever growing and exciting company, Reindl Bindery continues to be a leader in innovation and development of bindery processes that are used throughout the entertainment and education phases of the printing industry. Reindl Bindery has developed some automatic and some semi-automatic processes for manufacturing high end turned edge packages that incase many CD's and DVD's for some of the most popular and recognizable television and movie titles.
We are able to accommodate both large quantities and small quantities in the process together with extremely quick turnaround times. Some of the processes include the wrapping and lining of covers, casing in book blocks (either saddle stitched, perfect bound or sewn book bodies), mounting SBS pockets and mounting a variety of plastic CD or DVD tray configurations all at high speeds.
If you have a special request for something out of the ordinary and most certainly something dealing with CD or DVD packaging, be sure to contact one of our trained and experienced estimators or Customer Service experts.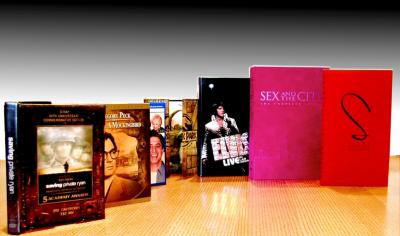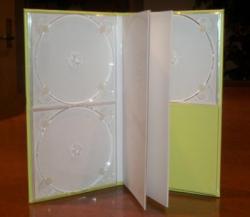 ---
Employee Bio Series - Judy Kahkonen
Continuing our Employee Bio series, we would like to introduce you to another one of our seasoned Customer Service Representatives. We hope you enjoy the opportunity to meet our staff and get to know a little bit about those people who you may talk to every day or those people working on your projects.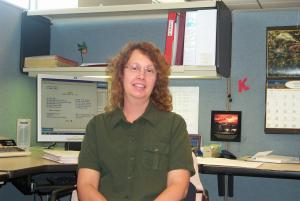 Judy Kahkonen is from the Upper Peninsula of Michigan originally and has been with Reindl Bindery for 17 years. She is one of our Customer Service/Account Representatives. When asked what she enjoys about her job, she says working with people and unusual books & projects.
Judy started out as Receptionist and Payroll Queen. Then worked in the HR department before making her transition to customer service. In her role as an Account Representative she works with customers in all aspects of the job from estimating, planning, manufacturing, and invoicing. She says she is always learning something new and tries to pass that to her customers.
When asked what her approach is in working with our customers, she said "I try to give the kind of service I expect from anyone I deal with in the customer service field. I try to listen before I react". Judy says her approach to good customer service is simply to use common sense. She feels over communicating and treating the customer the way you want to be treated has always been her philosophy. She says "If you can keep the customer happy - keep in contact and do the best job you can, everything will fall into place". This is a philosophy that definitely seems to work because all of her customers as well as coworkers love working with her. People know she will do her best for them and will always keep them informed.
When Judy isn't working hard for Reindl Bindery she enjoys fishing, gardening, and walking.
To our current and future customers, Judy says "We will always strive to give our customers the highest quality product possible and the quickest turnaround. Keep the work coming!"
---
Facts - Memorial Day History
(Resource: History.com)
Memorial Day is much more than a three-day weekend that marks the beginning of summer. This day, which has a history stretching back all the way to the Civil War, is an important reminder of those who died in the service of their country.
Memorial Day was originally known as Decoration Day because it was a time set aside to honor the nation's Civil War dead by decorating their graves. It was first widely observed on May 30, 1868, to commemorate the sacrifices of Civil War soldiers, by proclamation of General John A. Logan of the Grand Army of the Republic, an organization of former sailors and soldiers.
In 1966, the federal government, under the direction of President Lyndon Johnson, declared Waterloo, N.Y., the official birthplace of Memorial Day. They chose Waterloo-which had first celebrated the day on May 5, 1866-because the town had made Memorial Day an annual, community-wide event during which businesses closed and residents decorated the graves of soldiers with flowers and flags.
After World War I, observances also began to honor those who had died in all of America's wars. In 1971, Congress declared Memorial Day a national holiday to be celebrated the last Monday in May.
Today, Memorial Day is celebrated at Arlington National Cemetery with a ceremony in which a small American flag is placed on each grave. It is also customary for the president or vice-president to give a speech honoring the contributions of the dead and lay a wreath at the Tomb of the Unknown Soldier. About 5,000 people attend the ceremony annually.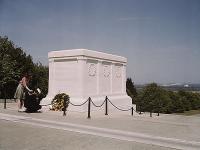 Tomb of the Unknown Soldier, May 1943 (Photo Credit: National Archives)
---
Call to Action -
We need your help. We are in process of making changes to our website, and we would like to hear from you as to what you would like to see. A message board perhaps as an outlet for conversation, maybe more pictures, or news links to other sites in our industry. Please email your suggestions to jennifer@reindlbindery.com. We will take a look at your suggestions and try to create a fun and informative site for all who visits. Keep checking back for more exciting changes!

---
Please feel free to forward to your friends and coworkers. Forward this message to a friend