November 13, 2012

Dear Welcome Project friend,
Last week's presidential election highlighted how the nation's shifting demographics are changing the face of politics. President Obama garnered only about 40% of white voters nationwide, but his lopsided support from from people of color in general and a growing Latino population specifically fueled his victory.
Suddenly, there appears to be renewed political will to address comprehensive immigration reform. Even as the votes were being counted on election night, in Boston's Goverment Center and in cities across the country, immigrants and allies were rallying for reform. In words and actions, our increasingly diverse population is sending a message to political leaders that it is time for change. And political leaders may finally be awake to the winds of change.
Back home in Somerville, many immigrants -- documented or not -- face big barriers that can make life very difficult. But in many ways, in Somerville we are ahead of the national curve with our immigrant communities. And while the nation still struggles with acceptance, we're already focused on the next step: building a truly intercultural city. For despite hardships, I hope you agree there are many signs of hope. This month's newsletter features a few of these stories:
This month's newsletter also announces free Welcome Project
yoga classes for all
, new
office hours for walk-in help
, and opportunities to help shape and produce the
2013 YUM: A Taste of Immigrant City
, which returns to the Armory on
Thursday, April 25
. As always, thank you for all you are doing and for your
contribution
to help strengthen our intercultural city.

Warren Goldstein-Gelb
Executive Director
---
Immigrant parents use their voices in schools to support their children's learning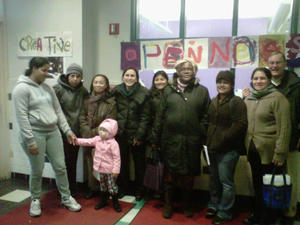 On October 3, four newly hired Parent Liaisons from the Somerville Public Schools came to meet with immigrant parents in the Welcome Project's ESOL class, "English for Helping Your Child in School."
The liaisons -- Meghan Bouchard, Martha Soto, Adriana Guereque and Marguerite Hicks -- met the students, listened to their questions and talked about what their jobs are in our schools. The Parent Liaison is a new position in Somerville.
Parents told the liaisons they would like their help in several ways: 1) help us communicate with teachers; 2) help us with interpreting if we find it difficult to communicate in English; 3) help us understand if there are important ways for us to help our children learn and behave better.
The Parent Liaisons told the students that they want to connect parents and schools and to help families have positive learning and social experiences. When asked for questions, two parents described situations that worried them in school for their children.
One parent was worried that her son's teacher was not correcting his homework. She wanted to set up a meeting with the teacher to explain that her son was thinking that doing his homework was not important. A second parent was concerned that an adult who knocked on the window of her daughter's school bus many days was scaring her third grader. The Parent Liaisons from the schools involved thanked the students and told the class that they will check at their schools and try to help the situation. They gave the class a list of all Somerville Parent Liaisons with their school names, phone numbers and email addresses.
Our students later told us that the Parent Liaisons did investigate the situations students asked about and did call them back. The first student met with her son's teacher and was very pleased that the teacher did change her practice with marking homework. The second student had a response from her daughter's teacher, although the parent will follow up as the daughter is still anxious.
The class was very glad to meet and learn about Parent Liaisons. In fact, the parent liaison at the nearby Healey School hosted our class for a visit to the Healey. The class met with the Parent Liaison, Marguerite Hicks, Principal Jill Geiser, Nurse Lynne Chamalllis, Secretary Marie Baxter and visited two classrooms. Students in "English for Helping Your Child in School" are using their voices to advance the education of their children.
---
ESOL students see Stars on Broadway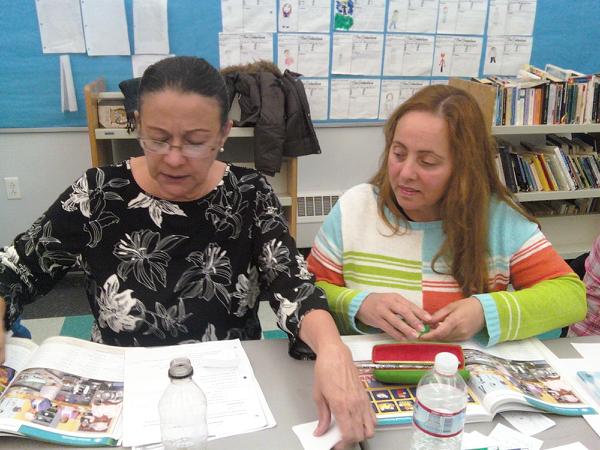 What should become of the long-vacant Star Market building on Broadway in Winter Hill?

This fall, ESOL students in the class called "English for Helping Our Communities" have been learning the language to consider the question and make their voices heard in English.

First, the class had a visit from a neighborhood group that wants to see the empty building transformed so that it meets the needs of the community. The neighborhood group is active with the Somerville Community Corporation, with whom The Welcome Project is partnering for this topic-based class.
During class, students brainstormed possibilities for the property, ranging from a factory to a job training center. The consensus, however, was an affordable supermarket. Many students pay higher prices at the El Valle de la Sultana, since there are few other options in the neighborhood, and public transportation to the Market Basket in Union Square takes a very long time.
A couple of weeks later, several ESOL students attended a city hosted meeting, "Winter Hill Revitalization," during which the Star Market space was discussed. This was the first community meeting of any kind that these students had attended and they were interested in many of the proposed design ideas. They reported back to the rest of the class. Because this is an English class of adults wanting to engage with community members in English, students did not ask for or use language interpretation. Instead, their teacher interpreted from fast English into slow English -- a method that is more about simplifying the language than about slowing down the English.

---
A top notch team teaches English...
and plays with fidgets

One Sunday a month, our team of 15 dedicated English teachers gather to actively explore how to better serve the needs of the students. All of the teachers, except for Lisa Gimbel, our ESOL coordinator, are volunteers!

At the October gathering, teachers had a hearty debate over the value of testing students. They also discussed a common challenge: How do we work with students who can speak comfortably, but who do not have proper grammar structures and writing skills on which to build?
Fortunately this year, most classes have two teachers. They work together to meet the wide range of students' needs as best as they can. By working together, the teachers have become comfortable and successful in building community in their classrooms.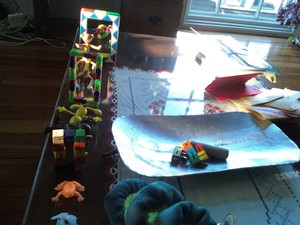 Teachers have also integrated basic stress management tricks into the classroom, like providing students with 'fidgets,' -- small objects that can be pulled, squeezed or moved around with your hands or fingers while paying attention and looking at the teacher. Fidgets help kinesthetic and other learners to engage more actively.

More than halfway through the semester already, we're confident to say we've got a top notch team of teachers! Our special thanks to: David Taber, Malquísua Novais Silva Sousa, Bob Mendolsohn, Becky Sarah, Ana Maria Nieto, Tim Groves, Erika Perez, Anna Larson, Josh Snider, Mary Hansen, Umang Kumar, Elizabeth Eastwood, Kelly Burton, David Neto, and Christa Lambard.
---
LIPS youth off to a great start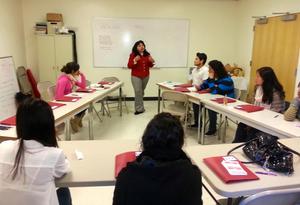 On Saturday, November 10, the multipurpose room at the Mystic Activity Center was filled with language and culture as nine bilingual high school students -- speakers of English, Spanish, Tibetan, Nepali, Portuguese and Haitian Creole -- filled the room.

They were there for an intensive 5-hour language interpretation training that officially kicked off the 2013-14 edition of LIPS -- The Liaison Interpreters Program of Somerville.


Andrew Jerger, a certified medical interpreter and instructor from CrossCultural Communications, Inc., led the training. Zarita Araujo-Lane, the president of the company, provided an introduction. Zarita and CCCS have been working with LIPS since its beginning four years ago. Since then, more than fifty Somerville High School students have received interpretation training through LIPS. Several have successfully earned a medical interpretation certificate after graduating high school.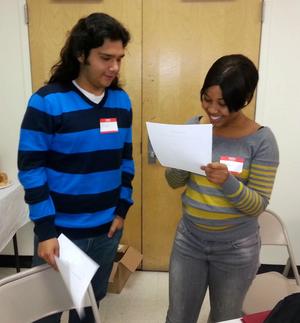 On Saturday, our high school students learned some of the basics of interpreting as they shared their backgrounds with each other. Some were born in the US, others in their parents' home countries of Mexico, Nepal, India, Haiti, El Salvador, and Brazil. Many of the students have experience privately interpreting for their parents and family members. Now they will learn the public skills that will help prepare them to eventually become professional interpreters.

The nine students will be joined by returning LIPS students from last year as regular training and interpretation practice gets underway. In the last few years, LIPS youth have practiced their interpretation skills in a variety of community settings, as they have helped limited English speakers participate more fully in the life of the city. Topics included tenants issues at the Mystic and Clarendon Tenant Associations, the Green Line Extension, park planning, education meetings at the Somerville Schools, and numerous immigrant health fairs sponsored by the Immigrant Services Providers Group. Welcome to our new LIPS interpreters!


---
Mystic resident earns her US citizenship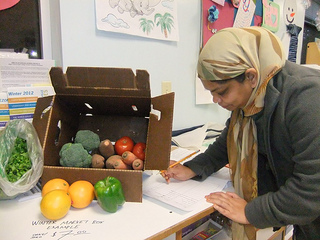 On October 18, Somerville resident Kawsar Jahan became a United States citizen. Originally from Bangledesh, Kawsar came to the US with her family eight years ago. She has lived at the Mystic Housing Development since 2010.

"I won the [immigration] lottery in 2004 and came with my whole family--my husband and my three children" she says. "My country is poor. Education is good, but it is expensive."

Most Saturdays over the last two summers, you could find Kawsar at the Mystic Market, where she has worked for The Welcome Project and Shape Up Somervile to help make affordable, healthy foods available to public housing residents. This summer the mobile market expanded and traveled to several sites across the city. At the market, she has managed the sale of fruits and vegetables, helping residents from all over the world gain access to healthy food.

Kawsar says she has enjoyed her work at the market for two reasons: "I like to work with people and I have some experience with accounting."

In fact, a high priority for Kawsar now that she is a citizen is to complete an accounting degree at Bunker Hill Community College.

"Life is different if you have an education," she says. "Education gives you power. You know more about America and you can get a better job."

Two of Kawsar's children -- ages nine and seven -- are students at the Healey School. A third child is in 11th grade at Somerville High School. She says that they all are doing well.

Now that Kawsar is a US citizen, she reflects on the journey that started in Bangledesh eight years ago.

I heard when I was in my country that this is every kid's dream country," she says. "This isn't a dream country, but it is good. There are a lot of opportunities for jobs and education."

Kawsar didn't vote this election day because she became a citizen one day after the voter registration deadline. She was disappointed to not be able to participate. "Voting is a responsibility for American citizens," she said. Kawsar will be voting in the next election.

How does she feel about her new status as a U.S. citizen? "I'm excited," she says. "Now that I am a citizen, no one can force me to go back to my country. I can live here for the rest of my life."

---
Events and announcements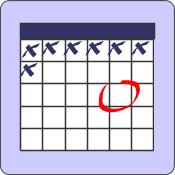 Yoga classes are every Monday from 11:30 – 1:00 at the Mystic Activity Center. The simple, gentle, and free yoga classes are taught by Erica Bronstein, a teacher at TriYoga Boston. We welcome anyone to come! email welcome@welcomeproject.org for more information
The Welcome Project now has office hours from 10:30 – 12:00 on Wednesdays and Thursdays. ESOL and LIPS students or other people involved with the organization can get help filling out papers, applying for assistance, and searching for jobs. This is made possible through a partnership with the Boston University School of Social Work.
The YUM Event Committee invites you to join in the effort to produce our annual YUM: A Taste of Immigrant City event. As a YUM committee member, you'll get to explore Somerville's immigrant-run restaurants as you help shape a fun celebration that is The Welcome Project's annual benefit on April 25, 2013. For more information, email warren@welcomeproject.org. The committee will be meeting in mid-November.

---
Kudos corner:
Immigrant youth show the power of words
On October 25, the Somerville Board of Aldermen unanimously passed a resolution "discouraging the use of the term 'illegal' to describe any person and affirming the positive contributions of new immigrants as a valuable asset to the city of Somerville." The resolution was brought by youth from Centro Presente and Committee on Refugees from El Salvador (CORES).
Congratulations to the young people who worked hard to make a change and for the adult elected officials who supported it. As one Somerville High School student who is active in CORES said, "The word 'illegal' is very insulting and rude to our people, it makes us feel discriminated. I was born into a family of two undocumented human beings, I have always wanted my parents to be treated fairly. My parents have the right to not feel ashamed, discriminated and belittled by being called illegal."
Because of the work of Somerville students and the organizations they work with, our community has taken a stand against dehumanizing language and for the strengths and value we each bring.
---


INVITE FRIENDS AND FAMILY TO OUR E-LIST...
VISIT OUR WEBSITE AND SIGN UP FOR FUTURE EMAILS...