Grant Award for Adapted PE!

New Scholarships

COM Alumnus

Nursing Celebration

Accreditation

About COM Advancement

Upcoming Events



---

UpComing Events


Upcoming Fine Arts Gallery Exhibit, October 2-26, 2017

"In Conversation: Lucie Noel Thune & Hadi Tabatabai"

Tabatabai's work is combination of drawing, painting and sculpture and has been shown in London, Turin, Bonn, and widely in the United States. Lucie Noel Thune's sculptural installations are based on objects and materials of everyday life and have been shown in Paris, Oslo, Berlin and in the United States. Visit the Fine Arts Gallery website for more details

---

COMmon Read

Join us for a year-long college-wide celebration of Hidden Figures, the inspiring true story about African-American female mathematicians at NASA who played a pivotal role in the space program. COM will offer book clubs, lectures, and special events open to the everyone. Find out more about COMmon Read!

---

A week of events celebrating the life of Jimmy Carter on his 93rd birthday!
A Road Not Taken

Film Screening
October 2, 2017
7 - 9 pm

Showcase Theater

Marin Center

The Little Prince
Pre-show Reception
Dunn Theatre Lobby
Saturday, October 7th
6:00-7:00 pm


The Advancement Office is teaming up with the Drama Program to do another fun pre-show event for alumni and friends. Come by for dessert before the performance in the James Dunn Theatre. Check out the COM website for more information about the 2017-18 Drama Season and purchasing tickets.

---

About College Of
Marin Advancement

COM Advancement is responsible for creating awareness and generating support for College of Marin's educational mission and strategic goals. Advancement seeks to instill well-deserved pride in College of Marin's accomplishments, strengthen awareness and support among alumni and friends, and build a culture of philanthropy.

Charitable gifts from alumni, friends, corporations, and foundations enhance academic and career technical programs, create scholarships for students, and secure the means to allow COM to offer the best education possible. Contact the advancement office at 415.485.9563 or visit our website for more information
---
---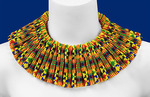 The Fiber Sculpture class taught by Carole Beadle changed my life. I entered the class casually but learned so much about fine art, fabric and fiber that it has truly enriched my retirement and changed the way I look at things and the way I travel. Carole taught us versatile fiber techniques but even more importantly, critical thinking about any piece of art.

My research project on Indian saris led to travel that was no longer just being a tourist but led to participating in study tours in India, South Africa and the United States where I could meet with artists, designers and collectors. Now I serve on the Board of Directors of the San Jose Museum of Quilts & Textiles which has a highly developed collection of California made fiber art. Thus, I have gone full circle and have become a stronger supporter of the arts. The fiber art necklace, pictured, is a piece that I admire greatly for its bold colors and design.

COM Alum? We would love to hear from you! Tell your COM story.
---