Save the Date for the National Dialogue Awards Nov. 16th in DC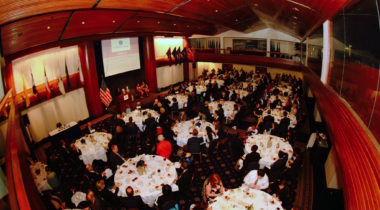 The Sustained Dialogue Institute and Rear Admiral Susan Blumenthal, MD, Gala Chair, invite you to The 2017 National Dialogue Awards with Honorees Former Congresswoman Gabrielle Giffords and Astronaut Mark Kelly, Ambassador Ray and Shaista Mahmood, and Esther Coopersmith.
Thursday, November 16, 2017, 6.30 p.m.
The National Press Club
Washington, D.C.
Currently involved on campus? Want to nominate a student, advisor, or alum for work within the Sustained Dialogue Campus Network? Please reply to this email requesting the nomination form. Nominations are due
August 21st.
An Interview with Bachelorette Contestant & SD Alum Anthony Battle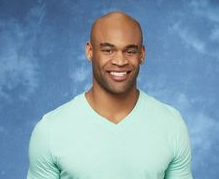 Did you know that recent Bachelorette Contestant Anthony Battle is an SD Alum? Check out our interview with him about how he used his SD moderator skills in the Bachelorette house and during his now-viral speech about race!
We recently sat down with him to talk about his experience on both reality T.V. and in dialogue. See his dialogue skills in action on his viral clip on a recent "Men Tell All" episode
here
. See below for our conversation. Read an excerpt from the conversation below or learn who would play Anthony in a movie of his life by reading the full interview
here
.
Q: What stands out to you as memorable or important from your time in SD?
A: Years ago from my first time as a moderator, I noticed a participant willingness to engage in topics. I also noticed the need to have those conversations. Those conversations are not happening if they are not moderated and structured. I realized how important having those students have those conversations was.

Q: Of course we have all seen the "Men Tell All" clip, can you talk a little bit about what was going through your head while you said that? How did your experience with SD inform your speech?
A: That was the only thing I said during the whole episode. I didn't want to speak about menial drama. When the race conversation came up, I thought it was important. I waited for it to heat up. I felt compelled to just jump in on how I thought Lee was addressing race. I thought the deeper race dynamics were not being addressed. Sustained Dialogue made me feel very comfortable addressing the topic. It gave me the vocabulary to address it in a way that involved not attacking Lee and bended towards learning and understanding for everyone.

Read more of the conversation here.
Sustained Dialogue Institute Awarded $200,000 Grant from the Carnegie Corporation of NYC
We are excited to announce continued support from the Carnegie Corporation of NYC. This grant will continue our international work around U.S.-Russian relations, started by our founder Dr. Harold Saunders. This grant will expand participation to domestic partners in the United States by creating a truly new Sustained Dialogue amongst those who influence public thinking on Russia from a range of perspectives across the nation. The Institute hopes to break down polarization on the critical question of "What might it take to create a coherent and viable constituency for a new approach to our global partner and competitor, Russia?"
2017 Campus Network Annual Report: Strong Participation, Impact
Over 400 SD participants from 17 different campuses completed the 2017 Sustained Dialogue program evaluation, and the following findings showed statistically significance. After participating in Sustained Dialogue programs on campuses across the United States - ranging from weekly meetings to academic courses to multi-day retreats, respondents:
Think about themselves in a new way

Respondents were more likely and/or able to: Examine the strengths and weaknesses of their own views; Talk about their experiences and identities with others; Resolve conflicts involving bias, discrimination, and prejudice; Lead a group of people with different backgrounds.

Think about other people in a new way:

Respondents were more likely and/or able to: Think critically about the experiences of others; Try to better understand someone else's views; Have conversations across religion and economic background.

Think about their world in a new way

Respondents were more likely and/or able to: Raise awareness about local issues; Organize others around local, campus, state, national, and global issues; Explain the persisting college climate issues around diversity; Perceive urgency to improve relations around ability/disability, gender, international students, mental health, and race/ethnicity.
Respondents were less likely to: Rate their college as welcoming to all students.
Not only that, but:
83% are likely or very likely to recommend participating in Sustained Dialogue.
Nearly half of all respondents are considering changing their major or career path because of SD.
Some highlights from respondents include:
"I found myself finding common ground with people I've always shut out before."
"I learned from people who felt differently from how I did, and rather than dismissing them as uninformed or wrong, I was able to listen deeply to really understand where they were coming from and why they felt the way they did."
"Sustained Dialogue really changed my perspective on life and the world I'm living in."
"Sustained Dialogue has changed my entire life and prompted me to think critically and carefully in my day to day life about my own biases and beliefs. I have been challenged to listen harder when I disagree, not just in dialogue, but everywhere."
For more in-depth information, download and enjoy the executive summary of the 2016-2017 Sustained Dialogue evaluation data! For those who'd like to see all findings, please reply to this email requesting the larger report.
Summer
2017
Newsletter
News, Reads, & Opportunities
Best Wishes to Our Outgoing Team Members Tania & Jenna!
Our team is always growing thanks to the talents of individuals. While our next newsletter will introduce you to our new team members, Katie Griffin-Hand and Laura Alexander, we want to take the time to acknowledge our outgoing team members.

Thank you to Augustana College student Jenna Dolan on an amazingly successful summer at the Sustained Dialogue Institute as she heads back to school!

We also wish the best for outgoing Program Assistant, Tania Pruitt, as she embarks on new journeys in Panama.

Each of these team members made outstanding contributions to our work and were a joy to work alongside. We will miss them both!
Initiate a campus program or hold a workshop
We would love to share the work of SD with our community. Reply to this email to learn more about bringing SD to your campus or learn more about
how SD can look on your campus
.
DC Book Signing, Aug. 9th
Theo Brown from The New York Avenue Presbyterian Church &
Nelson Watkins from The Faith & Politics Institute
INVITE YOU TO A BOOK SIGNING AND CONVERSATION!
Join Author Milagros Phillips (Author:
11 REASONS TO BECOME RACE LITERATE,
8 ESSENTIALS TO A RACE CONVERSATION)
Wednesday, August 9, 2017
5:30 pm to 7:00 pm
Drinks and appetizers will be served
The Thurgood Marshall Center for Service & Heritage
1816 12th Street NW, Washington, DC 20009
For more information call:
Summer Leaders' Summit held in DC in Late July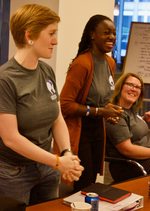 Want to see the fun/work produced at the 9th annual SDCN Summer Leaders' Summit?
View all photos here
.