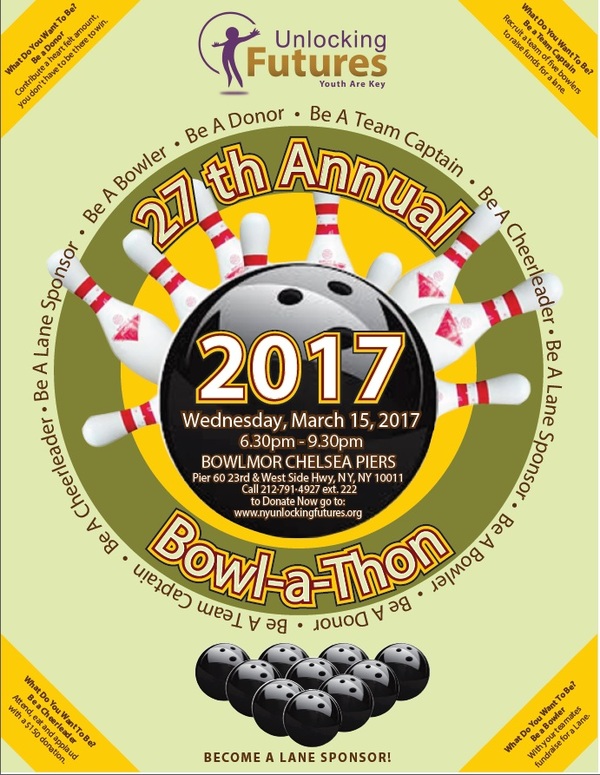 Dear Supporter,

Believe it or not, Unlocking Futures, Inc. is hosting its 27th annual Bowlathon fund raiser on March 15th. Each lane supports a youth through the program for a year.

Please support this extraordinary work.

There
are
five
ways
to
play
the
game:
1) Be a Team Captain, get a team of 5 people, plus yourself (6 including you) and commit to
raising $1,200 / $3,600 ($200/$600 each).

JUNIOR LANE CAPTAIN: First time Team Captain will raise $1,200 per lane.
SENIOR LANE CAPTAIN: You are a PRO! You will raise $3,600 per lane.

2) Be a Bowler on a team and commit to raising $200/$600

3) Be a Cheerleader, raise $150 and just come, hang out, eat, cheer, have fun and enjoy the
environment

4) Can't come, don't want to bowl, no problem, be a donor and make a financial contribution
(
http://yar.secure.force.com/Donate/UFDonationPage
)
5) Be or Create a Corporate Sponsor

To indicate that your payment is going to the Bowlathon, please do the following:
Select Frequency: Once
Select Event Type: Annual Bowlathon
On behalf of: Type: Online
All donations are tax deductible and Unlocking Futures is approved by most company's gift matching programs.
Want to know more, check out our website:
http://nyunlockingfutures.org
Reply to this email to let us know what you choose to do.

All the Best,

Claudette C. Faison
CEO & President

Phone: 212.791.4927
Fax: 212.791.7566
Brenda@nyunlockingfutures.org