Twitter helps us maintain our affordable housing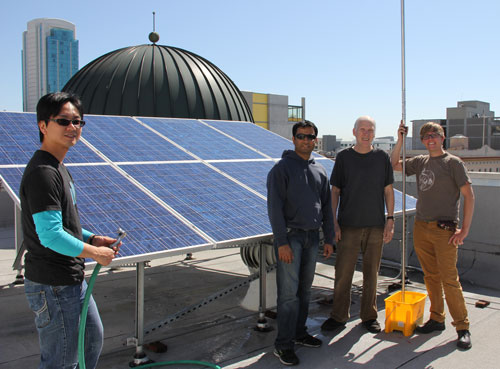 We were eager to work once again with Twitter on another #FridayforGood, their company-wide day of community service. On April 17, three "Tweeps" arrived at 518 Minna Street, one of our inclusionary apartment buildings. The site had previously been a drug-infested park that was later razed for our affordable housing project. Two dozen families now call 518 Minna home.

Caroline Barlerin, Twitter's Head of Community Outreach & Philanthropy, recently wrote in her blog, "People work at Twitter because they are passionate about changing the world, and one way we do this is in our communities by volunteering with local organizations." The Tweeps who came to 518 Minna did just that, helping to clean the building's solar panels (which power 80% of the common areas), a process that usually took resident manager Bob Calvert several hours. They also cleaned each resident's door, so they would come home through a brightened door. Bob was very touched and thankful for the help. "The enthusiasm displayed by the Twitter employees was awesome," he said. "They really went full steam into this project. On a warm day, the roof can be very uncomfortable. They cleaned the solar panels up there like pros. In fact, it was difficult to get them to slow down! My sincere thanks to these guys, Twitter and ASIAN, Inc. for arranging this project."
Google's Supplier Diversity Program headlines summit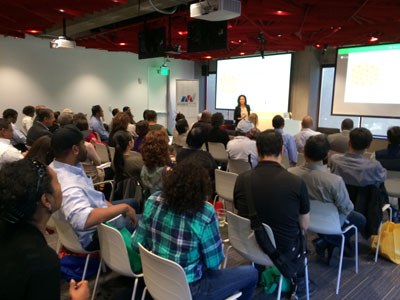 ASIAN, Inc. and the Minority Business Development Agency (MBDA) Business Centers it operates welcomed over 70 of their business clients to Google's YouTube campus in San Bruno for the first-ever Google Tools Summit for Small and Midsize Businesses. The crowd was treated to an overview of the Google Tools suite and learned how they could participate in Google's nascent Supplier Diversity Program. After the main session, the group broke into small groups for workshops on Google for Work and AdWords (which was also offered in Mandarin).

After the summit, attendee Liz Tsuji posted this on our Facebook wall: "Attended the Google Tools Summit for Small Business co sponsored by ASIAN, Inc. and MBDA Business Centers. Can't tell you how great it was to pick up practical business tips from Google and hear their Diversity Manager was honest and helpful. Wow - thank you for a great program. Hope you can offer this to others."
Hear us speak on Chinese radio about 1400 Mission St.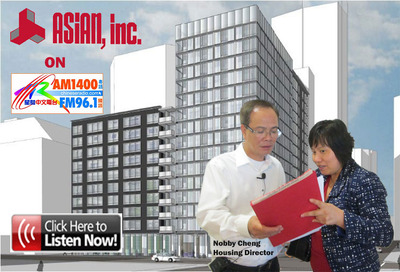 Our Homeownership Program Manager Nobby Cheng was recently interviewed on Sing Tao 1400AM Chinese-language radio to spread the word about the new below-market-rate (BMR) housing units being built two blocks away from our San Francisco headquarters. The new 1400 Mission Street project will have 167 BMR housing units ranging in price from the high-$100,000s to the low-$300,000s. All of these new units will be made available for purchase through Mayor's Office of Housing BMR lottery.

If you or someone you know would like to register for our Chinese-language homebuyer education workshop (which qualifies one for the 1400 Mission Street BMR lottery and other assistance), call us at (415) 928-5910
.