Infographic: The Cost of Watering
Young trees need 10-15 gallons of water per week to thrive through the summer months.

Sound like a lot? You might be surprised.

To put it in perspective, we compared this to another regular water use — flushing the toilet —in this infographic. View the numbers




Kid tree inspectors get the job done
If you see two kids with clipboards getting up close and personal with street trees this summer, it's probably these guys: Avery, 8, and Ian, 6.

Along with their grandmother, they're just three of the 152 trained volunteer Summer Inspectors who are checking up on the trees we planted last season. These two young tree lovers take their job seriously. Read their story




Connect your workplace with nature
Short of planting your desk in a park, the best way to connect your workplace with nature is through EarthShare Oregon.

We're proud to say that Friends of Trees has been a part of the EarthShare Oregon network since 1993! Since then, you've donated nearly $200,000 through ESOR at work—many of those contributions doubled by your employers. Find out how it works





Friends of Trees
503-282-8846
www.friendsoftrees.org

Photos: Maggie Chandler, istock/andorapro, studio3music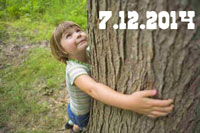 ​
Break the world record, again!
Mark your calendar July 12 as we defend Portland's Guinness World Record for the largest tree hug at Hoyt Arboretum. RSVP for the hug

​
Tree care with the Timbers
Join in the fun Friday, June 20 at Brown's Ferry Park. View event calendar

​
All Hail the Queen!
The 2014 Rose Festival Princess is none other than FoT Crew Leader of the Year Emma Audrey Waibel! See Queen Emma


Johnson Creek Award
Friends of Trees is the proud recipient of a 2014 Riffle Award from the Johnson Creek Watershed Council for supporting their mission. Way to go, team!