AGF News
AGF welcomes new CEO Laurie Liles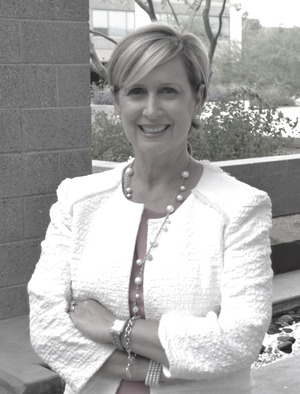 This month, Laurie Liles joined AFG as president and chief executive officer. Liles brings more than two decades of association leadership and advocacy experience to AGF and previously served as CEO of the Arizona Hospital and Healthcare Association. Prior to assuming that role, she was AzHHA's senior vice president of public affairs and led the association's state and federal advocacy efforts for 19 years. Liles began her career working on the research staff of the Arizona House of Representatives and holds a bachelor's degree in political science from Northern Arizona University. In December 2014, she earned a master's degree from Arizona State University's Walter Cronkite School of Journalism and Mass Communication. Read the full press release here.
Impact of State Budget Cuts on K-12 School Financing
We were pleased to host an insightful presentation by Chuck Essigs,director of government relations for the Arizona Association of School Business Officials, and Mark Jornastaad, superintendent of Saddle Mountain Unified School District. The presentation provided an in-depth comprehensive look at current and future funding for K-12 schools as well as a firsthand account of the effects of the budget. To view the entire program, watch it on our YouTube channel here.

STEM vs. STEAM: How Funders Can Approach Adding the Arts to STEM Funding

AGF members gathered for an informative panel discussion that presented the benefits of adding the arts to STEM education, how current education models with arts integration work and how these programs are being evaluated. Panelists discussed how the intersection of the arts with STEM education can enhance student engagement and learning and promote creative thinking and innovation that will benefit our communities far beyond the classroom.

Panelists included Jenny Millinger, director of strategic initiatives for Childsplay; Rusty Foley, executive director for Arizona Citizens for the Arts; and Kelly Balthazor, community relations manager for Republic Media. Laura McBride, corporate senior giving specialist for Arizona Public Service, moderated the discussion. Participants left this program feeling better equipped to consider funding STEM education and how to present it to other decision-makers within their organizations. You can view the program in its entirety here.

AGF board of directors welcomes Stella Galaviz

Arizona Grantmakers Forum is pleased to announce that Stella Galaviz has been elected to serve on the AGF board of directors. Galaviz is a program manager at the Flinn Foundation and replaces outgoing board member Cathy McGonigle, who retires from the Flinn Foundation this month.

The Exponent Philanthropy CONNECT Conference

Arizona Grantmakers Forum has partnered with Exponent Philanthropy to bring The Exponent Philanthropy CONNECT Conference to Chandler. The CONNECT Conference will be the nation's largest gathering of leanly staffed philanthropists in 2015. It offers an intimate and interactive learning opportunity where funders can dive deep into important trends and mission-critical topics. AGF members may attend at a special member rate. Register here.
---
Flinn Foundation executive's retirement prompts new leadership appointments
After more than five years in a key role at the Flinn Foundation, Executive Vice President Cathy McGonigle has announced her retirement. McGonigle's departure on June 26 will trigger three additional leadership changes at the foundation. Read more here.

Arizona Humanities adds new board members

Arizona Humanities is pleased to announce the addition of three new members to the board of directors. The new members are: Dr. Lydia Bruenig, Albert Monreal Quihuis and Nadine White. Read more here.

ASU Lodestar Center receives grant from Freeport-McMoRan Foundation

Recently, the ASU Lodestar Center was awarded a $170,000 grant from Freeport-McMoRan Foundation to continue capacity building efforts. Read more here.
---
Alliance of Arizona Nonprofits welcomes new CEO
On June 15, the Alliance of Arizona Nonprofits welcomed Kristen Wilson as their new CEO. Wilson served as the chief operating officer for the Arizona Association of Small Businesses, the largest trade association in the state of Arizona. You can learn more and read the full press release here.
---
Upcoming Community Events/Webinars
Get to Know GGO: An introduction to
Guide to Grants Online - Webinar (Alliance of Arizona Nonprofits)

June 30 | 1 p.m.

Reimbursement for Your Nonprofits Indirect Costs - Webinar


(Alliance of Arizona Nonprofits)

July 16 | 10 a.m.

Exponent Philanthropy CONNECT Conference

October 5-7

Questions? E-mail support@azgrantmakers.org