AGF President and CEO Laurie Liles speaks at KidsCare news conference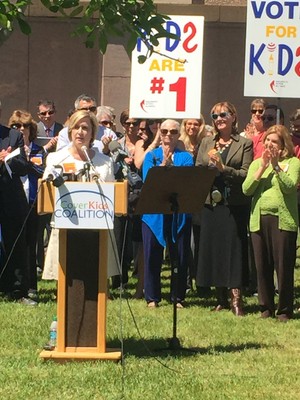 Arizona Grantmakers Forum and its president and CEO Laurie Liles recently joined the Cover Kids Coalition, a broad alliance of parents, pediaticians, nurses, businesses, school board members and faith and women's groups across the state, to call on lawmakers to lift the enrollment freeze on KidsCare in the state budget plan at the Capitol.

Liles was one of six coalition members who spoke at the news conference on April 11. She said AGF members invest their resources to improve the quality of life for all Arizonans, including children, but that philanthropy cannot go it alone.

"We need to partner with Gov. Ducey and lawmakers on evidence-based strategies that move the needle for kids," Liles said.

KidsCare has been closed to new enrollment since 2010. The cost to the state budget will be zero because Arizona is eligible for 100 percent federal funding. Arizona is currently the only state in the country without a Children's Health Insurance Program and has the third highest rate of uninsured children in the nation.

At the rally, Liles said AGF applauds the 47 representatives who showed foresight in voting to reinstate KidsCare.

"These lawmakers know—and we agree—that our state's economic future depends on a healthy, well-educated workforce," she said.

Gina Azadeh joins AGF as bookkeeper and administrative assistant


Arizona Grantmakers Forum welcomes Gina Azadeh as bookkeeper and adminstrative assistant. Gina is responsible for day-to-day financial administration and administrative support. Reporting to AGF's president and CEO, this part-time position plays an essential role in achieving AGF's strategic three-year plan.

Gina has a bachelor's degree in accounting from University of Nevada and a master's in business administration from Arizona State University. She has work experience in accounting and volunteered for local government in Arizona. Since 2010, she has been volunteering as a tax preparer with AARP Foundation Tax-Aide program. She also is an artist and speaks fluent Persian. Gina lives in Phoenix with her rescue tuxedo cat, Sir Henry.
---
Member News

Nina Mason Pulliam Charitable Trust gives $100,000 to save animal sanctuary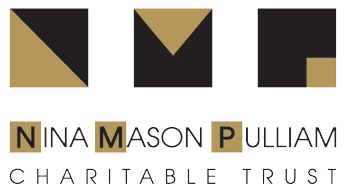 In a recent Arizona Republic column, Gene D'Adamo, CEO of Nina Mason Pulliam Charitable Trust, and Pulliam trustees explain why they gave $100,000 to support the Southwest Wildlife Conservation Center. The animal sanctuary is facing hardship after a neighboring resident complained about animal noise and dust. Read the column here.

Helios Education Foundation launches College Knowing & Going initiative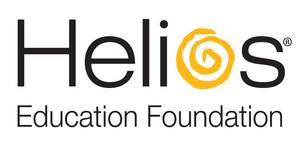 Only 37 percent of Arizona's adult population has an associate degree or higher, with that number dropping in half for the Latino populations. Recognizing the need to close this gap, Helios Education Foundation announced a $5.1 million investment in its new College Knowing & Going initiative, a college and career readiness program supporting 18 Arizona school districts, many of which represent low-income, Latino students. Read More

Jewish Community Foundation recruiting teens for youth philanthropy board



Online applications are available now through May 10 for the Jewish Community Foundation of Greater Phoenix's Youth Philanthropy Board. The board is comprised of high school students who are ready to engage in philanthropy, advocacy, leadership and service learning. Read More

UMOM opens Parsons Village in Sunnyslope area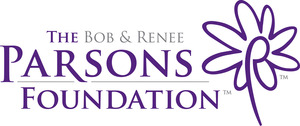 The grand opening of Parsons Village, UMOM's newest affordable housing community in Phoenix, was April 5 at Casa de Paz Sahuaro Apartments in Sunnyslope. Guests and residents attended a reception in the 5,000-square-foot community center followed by the ribbon cutting and a tour. The Bob & Renee Parsons Foundation and Arizona Department of Housing invested in this project. Read More

Flinn Foundation releases expanded data on bioscience in Arizona



Expanded data on Arizona's status in the biosciences regarding jobs, wages, research funding, venture capital and other measures is now available. Mitch Horowitz of TEConomy Partners presented this data at the Flinn Foundation's annual Bioscience Roadmap Progress Update last month. It includes a deeper dive into the most important metrics of our state's progress in the biosciences, as well as examples of best practices from around the country to sustain competitiveness.

Teresa's Fund initiative for domestic shelters reaches traffic milestone



DomesticShelters.org, operated by Teresa's Fund, launched in August 2014 to make it faster and easier for domestic violence survivors to get help. This month, the website hit a milestone of reaching 1 million visitors. Read more

---
Community & Nonprofit Updates

Arizonans raise at least $2.6 million for nonprofits on Arizona Gives Day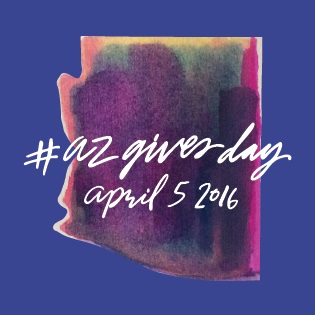 Hosted by the Alliance of Arizona Nonprofits and Arizona Grantmakers Forum and presented by FirstBank, Arizona Gives Day 2016 raised a record-breaking $2.6 million for nonprofits across the state. Now in its fourth year, Arizona Gives Day is a grassroots, statewide day of giving that invites Arizonans to donate to their favorite causes during a 24-hour period. Participating nonprofits included large and small organizations focused on animal welfare, the arts, child welfare, human rights and more. This year, there were 21,129 total donations from 16,450 donors. The average donation was $114. The amount raised is a 30 percent increase over 2015, a percentage that is likely to grow as the total is tallied to include matching grants and other offline donations. Read more

Mark your calendars: Arizona's Special Election is May 17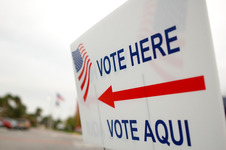 Arizona voters must decide two ballot measures in the special election on May 17. Prop. 123 allows the state to boost distribution from the State Land Trust Permanent Endowment Fund from 2.5 percent to 6.9 percent to benefit Arizona schools, colleges and other beneficiary institutions through fiscal year 2025. Prop. 124 allows the state to adjust certain benefits for public safety retirees, including the replacement of the current permanent benefit increase structure with a cost of living adjustment on inflation, capped at 2 percent per year. Learn more
---

Questions? E-mail support@azgrantmakers.org
NewsNotes is a
bi-monthly email newsletter designed to keep the Arizona community updated on local and national developments in the philanthropic sector.
Please feel free to forward this publication.

Sign up to receive this newsletter.
---
In This Issue

AGF News

Member News

Community & Nonprofit Updates

Upcoming Events & Webinars
---
Connect with us!

Get real-time noteworthy news and AGF updates through our social media accounts.

---
AGF Resources
Visit our website to find local and national resources for both grantmakers and
grantseekers.

FAQs on Philanthropy

Grantmaker Resources

Grantseeker Resources

AGF Publications
---
AGF Team
Laurie Liles
President and
Chief Executive Officer

Kelli Solomkin
Director of Education and Member Engagement

Kim Garbacz
Communications and Member Engagement Manager
Gina Azadeh
Bookkeeper and Administrative Assistant
---