October 30, 2018

Funny story. When my very first novel, Songbird, was published, I showed an advance copy to my then-four-year-old son Ryan. He studied the cover and commented, "They got your name wrong." I thought it precocious that he could read so well at age four, and that he'd noticed the book was published under my maiden name instead of James. But then he added: "It should say: Written By Mom." How cute is that?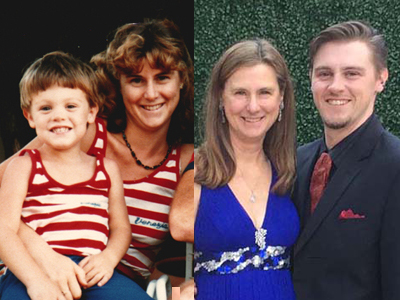 Me and Ryan (age 4) ... and today
Fast forward 30+ years, and Ryan and I are publishing our second novel together. So many readers begged us to
write a sequel to
Forbidden
-- and we listened.
Embolden
, book 2 in the Forbidden series, launches today! Ryan and I wrote every word of these books together, a true melding of creative visions. We hope you love the result.
If you haven't yet read
Forbidden
—the HarperTeen book
USA TODAY called
"A YA novel that hits all the right notes ... this should be added to your TBR"
—
and want to get caught up on the excitement, this is the perfect time to grab a copy.
Forbidden
is a Kindle Monthly Deal right now, on sale
through 11/5
for only 1.99.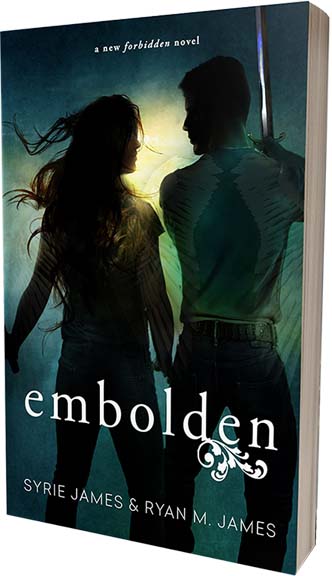 The world is trying to tear them apart.
Will they stand together and fight back?
After a season of psychic visions and super-powered drama, Claire Brennan and her angel-gone-AWOL boyfriend Alec MacKenzie are trying to lead a normal life, attending Emerson Academy and hanging out with their friends.
But vengeful enemies, the city's new Watcher, and even the school play threaten to break them apart. Not to mention Claire's surprising second power, which could sabotage the trust of everyone she holds dear. And just when they need to stick together, they finally get a lead on where Claire's missing father might be.
The threats, which come not only from without but also from within, will test the strength of Alec and Claire's relationship. Is the love they share enough to keep them safe? If they want to stay together … can they learn to fight together?
ADVANCE PRAISE FOR EMBOLDEN:
"5 stars! … Like the first time, I devoured it again in one sitting and cherished the tandem of Alec and Claire … I felt like I was watching a movie with superb scriptwriting … Now I am biting my nails in anticipation on what comes next." –
NightlyReading
"I read
Forbidden
and
Embolden
in three days. Absolutely loved them both! I love Syrie James so as soon as I saw her name I had to read it. Thank you for a great story. 4 stars!" –
Bloom Magic
"Filled with teenage drama, scary but charming villains, friendships tested, paranormal powers, and romance. 5 out of 5 stars."
Ms. Martin Teach Media
"Truly a spectacle … will keep readers on the edge of their seats … Readers will find themselves in the front row of this roller-coaster ride of emotions and get a first-hand feel of this unique take on Angels. The story will grab readers by the wrist and lead them to a plot of mystery, adventure, and magic." –
Jean Book Nerd

Ten Reasons to Read EMBOLDEN
By Syrie James and Ryan M. James

1.
The romance
. (You'll be riveted, we promise.)
2.
The revelations
. Claire's second power is awesome—but also dangerous, and she's been forbidden to use it. (Good luck with that.)
3.
The mystery
. You'll finally find out where Claire's father is … and why … and (just maybe) if he needs to be rescued….
4.
The humor
. Claire's Grigori grandmother, Helena, is a major character and she's snarky, powerful, and fabulous.
5.
The drama
. Jealousies between various people in the school play (including Claire's longtime crush Neil) threaten to tear Alec and Claire—and their friends—apart.
6.
The action
. Alec struggles (in secret) to stop the bad guys … and is totally badass.
7.
The new Claire.
She's stronger. Bolder. And becomes pretty badass herself.
8.
The new villains
. They will intimidate you … and maybe charm your socks off at the same time.
9.
The new threat
. A new Watcher is here to find Alec and keep tabs on Claire (as if things weren't difficult enough).
10.
The great advance reviews!

CHECK OUT AN EXCLUSIVE EXCERPT FROM EMBOLDEN
AT USA TODAY'S HAPPY EVER AFTER BLOG

AMAZON GIFT CARD GIVEAWAY

Celebrate
Embolden's
launch day with a visit to
Jean Book Nerd
where we're giving away an Amazon gift card.
You'll also find an
exclusive interview
with me and Ryan.

We wrote Embolden for you, our readers, and hope you enjoy every page of it. Remember: if you want to read books 1 and 2 back-to-back, grab
Forbidden
now while it's downpriced on Kindle (through 11/5) for just 1.99.
Happy reading!
Syrie

ABOUT THE AUTHORS
Syrie James is the bestselling author of 12 critically acclaimed novels translated into 18 languages. Her books have been Library Journal Editor's Picks and won numerous awards including the Audiobook Association Audie for Romance. Syrie is a member of the WGA, RWA, and JASNA, and has addressed audiences across the U.S., Canada, and England. Her Dare to Defy series of historical romances is now available from Avon.

Ryan M. James is a performance director, lead editor, and co-writer for the video game industry, recently being honored with a Writer's Guild of America award for his work on Uncharted 4: A Thief's End. By night, he conjures stories for print, screen, and web, including an independent feature, a handful of short films, and the machinima webseries A Clone Apart.