A Message From Our Executive Director

We are now in the summer and St. James Infirmary is now in transition. We are hoping to move to a new location on November 1 of this year. We are expanding our street outreach with our mobile van in the late evenings and on weekends. Our goal is to provide the best medical and social services to sex workers and their families. I am in awe of the necessary, tough, and meaningful work that happens every single day at SJI.

SJI exist to provide free, compassionate, and non-judgmental healthcare and social services for Sex Workers (current or former) of all genders and sexual orientations while preventing occupational illnesses and injuries through a comprehensive continuum of services. Our clinic night is Wednesday, 6pm to 9pm,and the Stride Transgender clinic is Thursday, 1pm to 4pm. Our needle exchange program is on Thursday and Friday evenings, 5pm to 8pm.

There are many factors which affect the working conditions and experiences for all Sex Workers including the political and economic climate, poverty and homelessness, stigmatization, violence, as well as the overwhelming intricacies of the legal, public and social systems. It is the philosophy of St. James Infirmary to build upon existing skills and strengths in order to allow individuals to determine their own goals.

Finally, personally, I want to thank you, the community, for supporting SJI's mission during both placid and more nuanced times. We appreciate your support these past 19 years and we need you now more than ever as we transition.

Please support St. James Infirmary with your donations. If your company has a matching program, please contact them on behalf of SJI. Your love and support will be used to grow and expand the services of all our programs.

My very best,
Toni Newman,
Executive Director



:: A Message From Our Deputy Director ::
Hi everyone! As I continue to settle into my new role here at SJI, I am perpetually in awe of the incredible people who come through our doors each day- as staff, as participants, as donors and as volunteers.
As Deputy Director, I am honored to get to represent St. James to our participants, our funders, the media, and policy makers. As many of you undoubtedly know, sex workers are facing an unprecedented onslaught of legislation that seeks to further marginalize and criminalize everyone in the sex industry, whether they are there by choice or not. Ironically, policy makers' insistence on labeling all sex work as 'trafficking' actually creates the exact conditions that make exploitation possible.
In the face of this assault, St. James remains committed to fighting for the safety, health, dignity and well-being of ALL sex workers. Our mobile outreach and HIV testing team is breaking new records each month. Our Wednesday night clinic continues to provide medical, holistic and other services along with food, community, and clothing. Our STRIDE clinic ensures that trans and gender non-conforming sex workers get the specialized medical services they deserve, and our needle exchange continues to ensure that people who inject drugs have clean needles to do so.
While the core programs of St. James will always be fundamental to our existence, are also stepping up to ensure that sex workers' voices are heard throughout the halls of power. This summer, we will be representing US sex workers at the International AIDS Conference in Amsterdam, are participating in a policy summit on the decriminalization of sex work, contributed to the crafting of a national sex workers bill of rights, and are creating spaces for sex workers to tell their stories and help the public better understand that our livelihoods, safety and autonomy are not negotiable.
Pike Long, MPH,
Deputy Director
:: Message from Our HIV Services Manager ::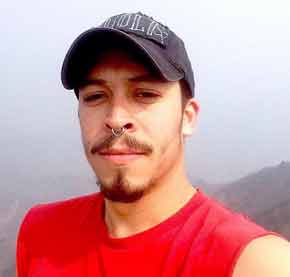 Cary Escovedo, HIV Services Manager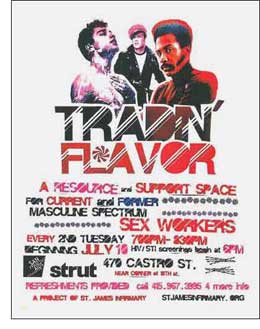 TRADIN' FLAVOR
470 Castro Street Tuesday,
July 10 6pm-8:30pm Every 2nd Tuesday of the month @ STRUT (3rd Floor)
St. James Infirmary and Strut are partnering to bring the flagship peer-run clinic program for sex workers to the Castro. Drop-in services include priority STI screening and treatment, HIV testing and PrEP enrollment, peer counseling, linkage to care, case management, acupuncture, free food and more.
Rentboys, escorts, massage workers, strippers, porn performers, gogo dancers, gay for pay, cam guys, and hustlers inquire every 2nd Tuesday of the month at STRUT (470 Castro Street, 3rd floor).
Sexual health screenings and counseling begin at 6, food served at 7. This is a safe place to hang out, meet friends and get your health needs met in a convenient location with priority screening.
Sexual health screenings and counseling begin at 6, food served at 7. This is a safe place to hang out, meet friends and get your health needs met in a convenient location with priority screening.
**NOTE: the flyer says masculine-spectrum, but we aren't the gender police and we won't turn you away if that's not how you ID. For questions email cary.escovedo@stjamesinfirmary.org or call (415) 967-3995.
**Accessibility: elevator located to the left of the entrance with access to three floors. Unisex restrooms on 2nd & 3rd floor. In a clinical setting we ask all participants to help maintain a scent-free environment. 470 Castro Street is located one half-block south of Market Street, with access to the Castro underground MUNI station, the F train line above ground and the 24 bus route on Castro street.
:: CALIFORNIA ENACTS SAFETY FOR SEX WORKERS POLICIES ::
California Enacts State Law Inspired by Local Prioritizing Safety for Sex Worker Policies
On June 13, Governor Brown signed AB 2243 authored by Assembly Member Laura Friedman (43rd District), which would create historic protections for sex workers who report witnessing or experiencing violence. The law was inspired by San Francisco's "Prioritizing Safety for Sex Worker" policies, which emerged from the Sex Work and Trafficking Policy Impact Committee of the Mayor's Task Force on Anti-Human Trafficking, which is staffed by the Department on the Status of Women. AB 2243 amends the Evidence Code to prevent evidence that a person engaged in prostitution be used against them in a prostitution case if they were a victim of or witness to a violent crime at the time. A 2009 study from the University of California, San Francisco and St. James Infirmary, found that over 60% of sex workers face some form of assault while engaged in sex work. Laws like AB 2243 create a safe path for sex workers to report violence against them.
:: San Francisco AIDS Walk ::
:: Up Your Alley Street Fair 2018 ::
St. James Infirmary will be operating a Juice booth at Up Your Alley Street Fair 2018 SUNDAY, July 29, 2018, FROM 11:00 AM TO 6:00 PM

Folsom Street Between 9th & 10th and Between Harrison & Howard.

We will need volunteers to help run the booth, Please email toni.newman@stjamesinfirmary.org to sign up and be a volunteer at the fair.