Help us meet our match! North Texas Giving Day is September 17!
North Texas Giving Day is an online giving event for people in North Texas to come together and raise as much money possible for local nonprofits in the 16 county region around DFW. In just six years, North Texas Giving Day has helped raised more than $86 million for over 1,580 North Texas nonprofits.
This year, Dallas Afterschool is pleased to announce an anonymous donor has graciously extended an offer to match all North Texas Giving Day donations, dollar for dollar, up to $25,000. Your gift will help North Texas youth expand their educational hours, encourage active learning after the school day ends and make after school better for over 9,000 Dallas students. Consider doubling your impact by helping at-risk youth stay safe during out of school time by giving online September 17th. Help us reach our $25,000 goal!

Find Afterschool Dallas Launches to Rave Reviews
FindAfterschoolDallas.com is a one-of-a-kind new search tool created by Dallas Afterschool and powered by Dallas Women's Foundation, which helps families find reliable before and after school child care programs in Dallas County.
The vision for the tool was realized through a grant of $100,000 from the Child Care Access Fund at Dallas Women's Foundation and provides families with the ability to search from more than 500 after school, before school and summer child care programs in Dallas County. Programs can be searched by zip code, program type and grade level, in English and Spanish. Dallas Afterschool is extending their commitment of equipping programs to reach high quality by offering listed sites free staff professional development workshops quarterly. Be sure to check out FindAfterschoolDallas.com for your out of school time child care needs!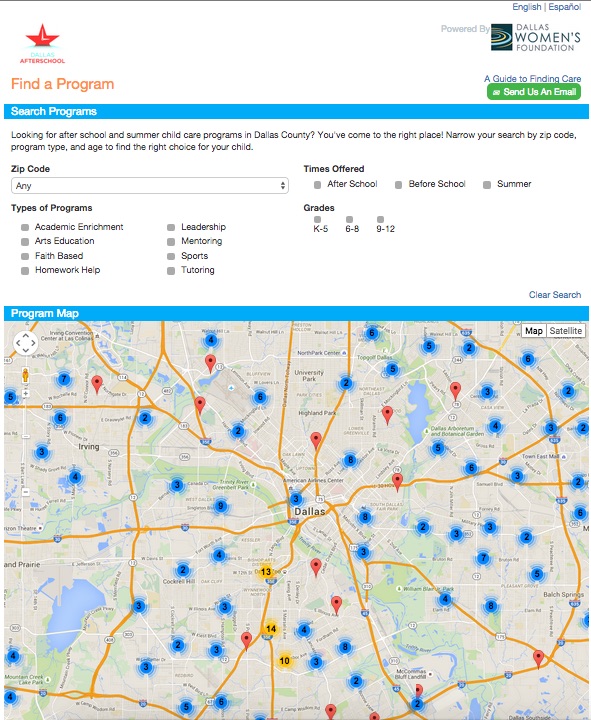 Thousands Attend the Mayor's Back to School Fair
Over 30,000 people visited the Mayor's Back to School Fair on August 7, and the Dallas Afterschool team was on site to help parents explore their child care options. With iPads on hand to demo the new FindDallasAfterschool.com website, parents searched for programs that fit their child care needs, with many finding sites in their neighborhoods that they didn't even know existed. To help spread the word about FindDallasAfterschool.com, the DAS team also passed out information fliers in English and Spanish.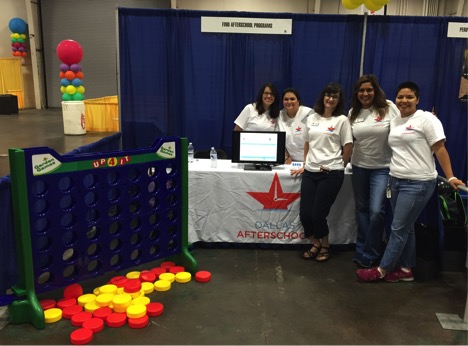 Executives in Action Grant Partners with DAS
We are pleased to announce that Dallas Afterschool has received an Executives In Action (EIA) service grant in June. EIA partners North Texas nonprofit grant recipients with seasoned executives in the midst of shifting careers with specialized skill sets. The goal of the grant partnerships is that a transformational impact will be made on the organization, the members it serves, the executive volunteers and the community as a whole to help address business management.
Through this grant, EIA will equip Dallas Afterschool in setting up the logistics and fulfillment process for a new social venture, Wonder KitsTM, with a projected reach of over 10,000 students in North Texas afterschool and summer programs by next year. Wonder Kits are active learning resources that create fun, hands-on learning experiences for up to 25 students. Wonder KitsTM are currently only available to Dallas Afterschool partner sites as a complimentary part of the Program Quality Initiative. With EIA's help, Wonder KitsTM will be made available to childcare providers throughout the United States.