Give a Gift That Will Last a Lifetime This Holiday Season
Did you know that in Dallas County over 97,000 children are left alone between the hours of 3 and 6pm? This number of students would more than fill AT&T Stadium, with children overflowing onto the field.
Through your fully tax-deductible gift, you are equipping Dallas Afterschool to improve the quality of afterschool and summer programs for these under resourced children in Dallas, providing them a safe place to learn, imagine and grow when school is out.
Make a difference in the lives of over 9,000 underserved children served by our partner sites by making your gift online HERE or mailing your contribution to:
Dallas Afterschool
2902 Swiss Avenue
Dallas, TX 75204
*Please note, all gifts mailed must be postmarked no later than December 31, 2015 to qualify for the year's charitable tax deduction.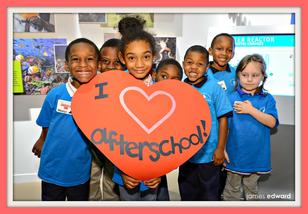 Over 1,800 Students Now Served by 16 Certified High Quality Sites
We are pleased to announce 16 programs have now been certified as high quality sites.
These programs mastered 116 indicators of quality in categories covering Environment & Climate; Relationships; Youth Participation & Engagement; Parent, Family & Community Partnerships; Administration and Organization; Programming and Activities; Staff & Professional Development; Day Time & Afterschool Linkage; Measuring Outcomes & Evaluation; and Program Sustainability and Growth.
Congratulations to the following sites:
Family Place- 3rd and up
Family Place- K-2nd
Jubilee Park
Momentous Institute
Readers 2 Leaders
Rockwall ISD R.O.C.K. at Amy Parks-Heath Elementary School
Rockwall ISD R.O.C.K. at Celina Hays Elementary School
Rockwall ISD R.O.C.K. at Doris Cullins-Lake Point Elementary School Rockwall ISD R.O.C.K. at Dorothy Smith Pullen Elementary School Rockwall ISD R.O.C.K. at Grace Hartman Elementary School
Rockwall ISD R.O.C.K. at Nebbie Williams Elementary School
Rockwall ISD R.O.C.K. at Ouida Springer Elementary School
Rockwall ISD R.O.C.K. at Sharon Shannon Elementary School
Rockwall ISD R.O.C.K. at Virginia Reinhardt Elementary School
Rockwall ISD R.O.C.K. at Doris Jones Elementary School
Trinity River Mission