News From the Bakery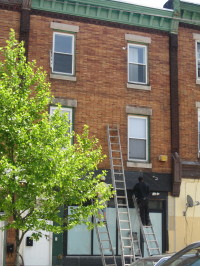 Pictured. FWB storefront, the plywood came down and the prep work for the facade started.


Feedback

Thank you so much for the cranberry walnut and whole wheat levain loaves that I took to a housewarming party. They were a big hit. Everyone loves your bread! K.E. in West Philly

mazel tov on max! Would you agree that the miracle of a baby surpasses even the miracle of bread? [definitely] G.M.. in West Philly

Please be careful not to squash the challah with your delicious babkah. Thank you! D.A. in West Philly

Welcome to the world, Baby Challahman!!!. M.A. in Center City

This Week's Specials: Olive Rosemary Levain, Whole Spelt Levain.

Products available every week:

Croissant: plain, raisin, chocolate, almond, and goat cheese
Chocolate Spelt Babka
Bagels: plain, poppy, everything, and sesame
Challah: egg and whole wheat
Breads: multigrain, pan levain, baguette

Getting Closer. We took the plywood down from the front windows to prepare work on the storefront facade. We still have the windows covered, from the inside, but I still feel pretty exposed....having the glass separation between our baking and the public will be a big change for Four Worlds Bakery. Just many small jobs left on the inside; and, of course, a myriad of City red tape and inspections. We still plan to move by the end of the month and open the store later this summer.

Starbucks in West Philly? The University of the Sciences is planning to put in a Starbucks at 42nd and Woodland, just 4 blocks from where we are moving Four Worlds Bakery. The University needs a zoning variance to do this and they are seeking community input on their plans through the Spruce Hill Community Association. There is a meeting this Tuesday at 6:30 pm at 257 S. 45th Street, near 45th and Spruce. As I understand the process, after this meeting, the Spruce Hill Zoning board will issue an opinion on whether the Association supports the zoning variance.

This is the time to tell the University what you think about their plans. Do you want a Starbucks in West Philly? This is a great opportunity to vocalize your support for local businesses, including Four Worlds Bakery.

I have prepared a detailed position statement on what I think of their plans. Basically, I am opposed to it, but I don't think it will likely not affect Four Worlds Bakery significantly Click here to link to my blog post on the subject.

Get on the Email list. You can get on the email list automatically by visiting the web site at www.fourworldsbakery.com. So feel free to forward this email using the Forward to a Friend function at the bottom of this email.
Ordering.
Ordering. To order, go to the most current online order form after you determine which day you want order for

***You can now get tax deduction receipts for Donations you give to provide bread for Hungry Philadelphians; see details on any order form below:

Wednesday (Bakery pickup only) http://www.tfaforms.com/139734. Order by Monday.

Thursday (Bakery, Center City, South Philly/Hawthornes, and Upper Darby) http://www.tfaforms.com/139733. Order by Tuesday.

Friday (Bakery, West Philly (Walton Ave), Penn Campus (Cream and Sugar) Mt. Airy, Pennypack Farm in Horsham) http://www.tfaforms.com/40616. Order by Wednesday.

Order deadlines, pickup locations, ordering instructions, and payment instructions. If this is your first time ordering, please read the instructions on the web page here.
Levain and General Information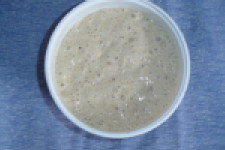 People have different interpretations on what "sourdough" or "Levain" means; I use these terms interchangably. Sourdough, or Levain, breads as I make them do not usually taste very sour, but I use a fermented, thus sour yeast culture to leaven the bread (as pictured on the right). This means I use only trace amounts, if any, of commercially manufactured yeast in the breads that are described as *sourdough or Levain. I grow the yeast naturally from a starter that was born in 1993 at Elat Chayyim, a retreat center in the Catskill Mountains of New York State. The results are a vast diversity of yeasts that inhabit the culture and, through the fermentation process, provide a complexity of flavors to the breads that is truly captivating. Sourdough also has nutritional advantages and you can read about it at this entry on Challahman's Bread Blog

Note: All whole grains are organic, and the whole wheat, whole spelt, and rye is freshly milled on-site at Four Worlds Bakery. Freshly milled whole grains offers nutritional and flavor advantages over whole grains that spent alot of time in transport. See this entry on Challahman's Bread Blog for more detailed information and sources.


Thank you for supporting Four Worlds Bakery.

Blessings,

Challahman
challahman@fourworldsbakery.com