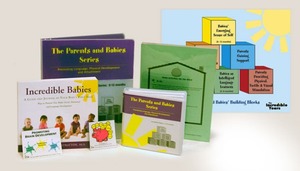 The Parents and Babies Program will be available soon in USB format! The USB may be selected in new program sets, or you can swap out your DVD set for a USB upgrade.

The USB option is an easy way to keep all vignettes in one place, with added functionality!

Healthy Lifestyle Incredible Years® Program Developer Carolyn Webster-Stratton recently released an article on how Group Leaders using the Incredible Years parent programs can help families establish positive health habits through program sessions.

Read the full article "Using the Incredible Years Parent Program to Help Parents Promote Children's Healthy Life Style and Well-Being" in our research library!
Article of the Month: UK TCM Program Study


The Incredible Years® Teacher Classroom Management program was recently evaluated in 80 UK schools serving 2075 children!

Read the full article, "

The effectiveness and cost-effectiveness of the

Incredible Years® Teacher Classroom Management programme in primary school children: results of the STARS cluster randomised controlled trial

" and others on our Research Article Library!


Seattle Workshops

We have space available in our upcoming workshops! Download training information and registration forms on our


Upcoming Training Workshops

page.

Basic Parent Group Leader and Home Coaching Training
October 16–19

Baby Parent Group Leader Training


November 8–9
Connect with us!





The Incredible Years, Inc. - Copyright 2017 | Contact Us