Hello Incredible Friend,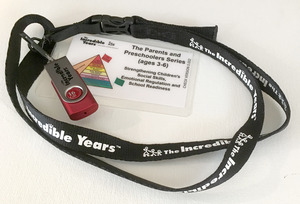 The wait is over - Preschool Basic is now available in USB format!
To order a new program set, select the USB option on our order form. If you already have the DVD version and would like to upgrade, you may return your DVD set in exchange for a USB (applicable to new, 9-disc version of Preschool Basic only). Email us to learn more!

Spotlight: Invest in Kids Invest in Kids brings research-based, proven programs into communities across
Colorado and is committed to improving the health and well-being of young
children in the state. Its efforts focus on the specific needs of children in
low-income families, with the goal of seeing every child in Colorado thrive. During the 2016-2017 academic year in Colorado, three components of IY were delivered in schools and community-based settings to 7,945 children and 541 parents across 22 counties with the support of Invest in Kids (IIK):

Preschool Basic Parent Program
Teacher Classroom Management Program
Classroom Dinosaur Program

We're excited by Invest in Kids' success with Incredible Years® programs! Read more about Invest in Kids, including their full report on program outcomes, on our blog.


2017 Mentor Meeting

Thirty-six IY Mentors from Norway, Denmark, England, Ireland, Wales, Portugal, New Zealand, and the United States met at beautiful Islandwood on Bainbridge Island, a short ferry ride away from Seattle, WA.

This year's meeting focused on Promoting Connections: Thoughts, Feelings, and Behaviors. Several IY Mentors and Dr. Carolyn Webster-Stratton presented IY research. View their presentations on our Research page, and Dr. Webter-Stratton's blog recap.

Seattle Workshops

Are you looking for training before the end of the year? We'd love to have you join us in Seattle for our upcoming workshops. Spaces are filling quickly!

Basic Parent Group Leader and Home Coaching Training
October 17-20, 2017
Basic Parent Group Leader Training
November 6-8, 2017
Baby Parent Group Leader Training
November 9-10, 2017

To learn more about these trainings, visit our Upcoming Training Workshops page. To register, download the training brochure!


It's time to find a costume for Wally, Molly, and Dina...


Happy Halloween from the Seattle IY Team!


Connect with us!





The Incredible Years, Inc. - Copyright 2017 | Contact Us