Hello Incredible Friend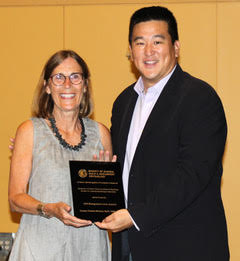 ,
Incredible Years® Program Developer Carolyn Webster-Stratton recently traveled to San Francisco, California to receive the

Distinguished Career Award from the Society of Clinical Child and Adolescent Psychology
from the American Psychological Association (APA). We are excited to share the news of this "incredible" achievement honoring Carolyn's work and dedication!

Spotlight: Invest in Kids Invest in Kids has raised $10M in private philanthropy support over 16 years providing IY to 80,000 children and parents by supporting hundreds of teachers, paraprofessionals and parent program facilitators throughout Colorado. Earlier this year, Colorado included IY in the state budget as a direct line item for the first time. This public-private partnership is core to IIK's vision for scaling and sustaining evidence-based programs.

Colorado has received national recognition including the July 2018 Results For America, "Invest in What Works: State Standards of Excellence" a roadmap for how state governments can consistently and effectively use data and evidence to achieve better results for their residents, which features Colorado (and Washington) as states recognized for leading the way. Read our guest blog post by IIK to learn more about their recent award and recognition!

Invest in Kids has also published their annual outcomes report for the state of Colorado for 2017-2018. Take a look at their report!
Article of the Month:
KEITH AND WENDY FINAL OUTCOMES

A randomized control trial study of the Incredible Years Teacher Classroom Management program with kindergarten through third graders has found positive impacts on student social behavioral and academic outcomes.

Results showed improved student emotional regulation, prosocial behavior, and social competence. To see all results from the study, view the full article, "The Incredible Years Teacher Classroom Management Program: Outcomes from a Group Randomized Trial"

Check out our Research Article Library for more!


Upcoming Workshops

We have space available in our upcoming workshops! Download training information and registration forms on our

Upcoming Training Workshops

page.

Baby Parent Group Leader Training


November 15-16



Classroom Dina Child Group Leader Training
November 27–29
Venue: Jackson, TN


Connect with us!





The Incredible Years, Inc. - Copyright 2017 | Contact Us