Happy New Year! We hope that the holidays were relaxing and refreshed you for 2018.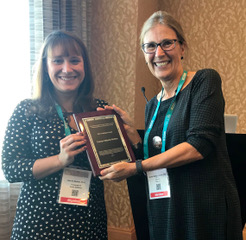 Dr. Carolyn Webster-Stratton recently attended the Association for Behavioral and Cognitive Therapies (ABCT) 51st annual convention in San Diego, where she received the Parenting and Families Special Interest Group Trailblazer Award, 2017.
The SIG honored Dr. Webster-Stratton, a Trailblazer in the field of parenting and families research. Dr. Webster-Stratton shared her career reflections with the membership and discussed her views on the future of parenting research in her speech, "38 Incredible Years: The Development and Innovation of the Incredible Years Programs ~ Where do we go from here to support families and teachers?"

Spotlight:

Prevent Child Abuse NC

Prevent Child Abuse works with agencies across North Carolina to support evidence based programs, including the IY Preschool Basic Parent Program and School Age Basic Parent Program. From June 2016 to July 2017, they implemented 88 IY groups with 817 families.

A recent evaluation on the effects of these IY Parent programs showed positive outcomes from parents, who reported decreases in problematic behaviors, harsh and inconsistent discipline, and increases in positive parenting.

We're excited by Prevent Child Abuse's commitment and success with IY programs!

Download the full report

to read more.




Article of the Month: Preschool Basic Program RCT



The Incredible Years® Preschool Basic Parenting Program for parents of children aged three to six years was recently implemented and evaluated in Birmingham, UK. Researchers sought to test whether the prevention model of the program would improve children's behavior and social relationships at home and with other children and parenting competence.

Notable results include a reduced intensity of problems in children in the treatment group compared with the control group. There were also significant effects of the intervention on the measure of parenting competence at follow-up.

Read the full article, "The effectiveness of the Incredible Years pre-school parenting programme in the United Kingdom: a pragmatic randomised controlled trial" and head over to our Research Library for more great articles!


Seattle Workshops
Delivering the Incredible Years® Parenting Programs In Groups or in Individualized Home Visiting Format
January 23-26
SPACE AVAILABLE - REGISTER HERE!

This 4-day training helps nurses, social workers, psychologists, pediatricians and other professionals who provide coaching and guidance on healthy child development to learn how to offer evidence-based Incredible Years Toddler, Preschool and early School Age Parent Programs in a group or individualized format.

The group approach helps families build social and support networks as well as learn age-appropriate behavior management strategies. The home visiting IY model helps professionals know how to tailor the program for individual family and child needs and coach parent-child interactions in the home. It allows for involvement of all family members. The group or individual format can be used separately or in combination with each other.

Visit our Article Library for a chapter describing the IY home coaching model.

These programs have undergone rigorous randomized control group studies and have proven their ability to promote most positive, responsive parenting and to reduce child behavior problems and promote children's social competence and emotional regulation.


Connect with us!





The Incredible Years, Inc. - Copyright 2017 | Contact Us