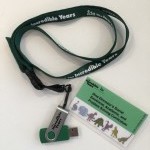 Hello Incredible Friend,

Did you know that our Preschool Basic USBs have closed captioning for the hearing impaired?

USBs are now available for the English and Spanish Preschool Basic Parenting program, English Parents and Babies program, and English Classroom and Small Group Dinosaur Child Training programs!

Spotlight: Ministry of Parenting The Ministry of Parenting, located in Essex, United Kingdom and led by Incredible Years® Mentor Jeannie Gordon, is celebrating its 10-year anniversary!

The Ministry of Parenting supports families and individuals through information, guidance, group programmes, workshops, home-coaching and professional trainings. They have run an IY School Age group every term for 10 years - now starting to offer the ASD program. Congratulations to Jeannie and the MOP team - check out their presentation!
2018 Mentor Meeting
Tailoring the Incredible Years Programs to Fit

Many of the IY mentors gathered this month in Forcalquier, France for the 18th Annual Mentor Meeting to discuss new research and ways to tailor or personalize IY programs to family and school context and children's developmental level and diagnoses. Participants also shared video clips of their interventions and coaching processes. Keep an eye out for

our blog post on this year's Mentor Meeting - coming soon!


Article of the Month:
Recognizing Group Leader Joyce Javier

Joyce Javier, MD, MPH, Assistant Professor of Clinical Pediatrics and a researcher working with IY programs, has recently been recognized as one of World's Most Influential Filipinas by Global Advocacy Organization. Read more about Joyce and her award in this recent article by Southern California Clinical and Translational Science Institute!


Seattle Workshops


We have space available in our upcoming workshops!



Baby Parent Group Leader Training
November 15–16

Classroom Dina Child Group Leader Training
November 27–29
Venue: Jackson, TN

Download training information and registration forms and view the full 2019 schedule on our

Upcoming Training Workshops

page.

Happy Halloween from Dina Dinosaur!

Miss something?

You can find archived newsletters

on our site.

Connect with us!



The Incredible Years, Inc. - Copyright 2017 | Contact Us