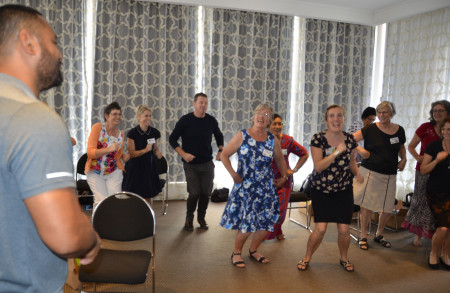 Program Developer Dr. Carolyn Webster-Stratton just trained group leaders in New Zealand in the Incredible Years® Autism and Language Delays programs for teachers and parents! For the Parent Autism Program, 20 accredited IY basic parent group leaders and 4 IY parent mentors were trained; for the Teacher Autism Program 16 accredited IY teacher group leaders and 2 IY teacher mentors learned how to use this program as a supplement to the IY Teacher Classroom Management Program

.



Read more about the training and roll-out of these programs in NZ on our blog!

Spotlight: Incredible Beginnings® in Brinnington, England Incredible Years Trainer Caroline White and mentor-in-training Joanne Singleton have brought the Incredible Beginnings curriculum to teachers and child care providers in Brinnington, England, and have shared their positive outcomes with us. Impressive changes in participants' practice and significant impact on children's development and behaviour were seen. Read more about the results on our blog!


Coming Soon...

Spanish-speaking group leaders: are you in need of additional copies of our Bebés Increíbles book? Now through April 1st, use promo code SPANISH to get copies at $14.00 USD (regularly priced at $18.95).



We'll be releasing a Spanish version USB for the Preschool Basic Parenting Program soon! Call or email for details.





Seattle Workshops
We have space available in our upcoming workshops! Download training information and registration forms on our Upcoming Training Workshops page.

Basic Parent Group Leader Training
March 19–21


*LIMITED SPACE AVAILABLE



Baby Parent Group Leader Training
March 22–23


*LIMITED SPACE AVAILABLE



Autism Program Parent Group Leader Training PLUS Helping Preschool Children with Autism Program Group Leader Training
April 17–20

Small Group Dina Child Group Leader Training
May 15–17


Connect with us!





The Incredible Years, Inc. - Copyright 2017 | Contact Us