NEW In-Sight 7000: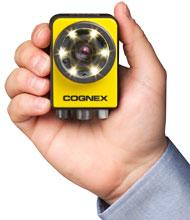 The Fully Integrated Entry Level Vision System
In-Sight 7000 is ready to use right out of the box!
In-Sight® 7000 is an entry level vision system developed specifically for inspection tasks where vision sensors are too limited and a standard vision system may not be cost effective. Every aspect of the In-Sight 7000 has been designed to make deploying a vision system easier than ever before.
In-Sight 7000 offers maximum flexibility for users:
Integrated autofocus - For production situations requiring regular part changes, or applications that require the vision system to be placed in hard-to-reach spaces.

Integrated illumination - In-Sight 7000 offers integrated, field-replaceable white lighting as well as four specific color lights to highlight particular parts or features.

No additional power required - Power and control specialized lighting directly and eliminate the need for external power supplies.

Seamless communication - Cognex Connect™ offers the widest range of built-in communication protocols. The In-Sight 7000 features built-in Ethernet, RS-232 Serial and multiple discrete IOs. The system can communicate directly to a PLC or robot controller and manage multiple smart cameras remotely from a networked PC or HMI.

get more information ...
---
Want to keep up with industrial technology?

Make a BREAK for it...
Sign up for our onsite mini clinics during one of your breaks. We'll bring the donuts or bagels!

In 30 minutes or less, we'll provide a hands-on clinic.

Choose your 30 minute hands-on mini clinic – or choose all 3!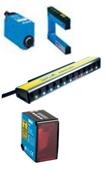 SICK Registration Sensors for applications that battle traditional sensors

SICK Miniature Light Curtain uses identical twin sticks and No 3rd box!

SICK Measurement Sensors 200-20,000mm range in the newest, low-cost measurement sensor





---

Siemens Solid State
Soft Starters
For protection of motors and reduced mechanical stress

These electronic soft starters protect machine's mechanical power-transmitting elements during start-up through reduction of the starting torque and efficiently guard the network against excessive inrush peaks through reduced power input: the electronic soft starter 3RW30. Switchover current or torque peaks typical of star-delta starters are reliably excluded.


Advantages:
Optimum adjustment to the drive application through separate potentiometers for starting voltage (40…100%) and start-up time up to 24 sec.
Minimum power loss through integrated bypass contacts after start-up completion
Up to 70% space savings in the control cabinet compared to star-delta combination
Reduced mounting costs and wiring through simple 4-wire motor supply line
get more information ...
---

New Line of Security Devices for Industrial Networks
Secure remote connectivity for industrial machines and plants
Phoenix Contact's new family of firewall, router and VPN products – enable a machine builder, utility owner or end user to provide network sercurity, remote connectivity and other "IT" functions to the industrial network. By securing a connection between the industrial/automation network and the IT or office network, the mGuard transfers IT functions to control cabinet or the DIN rail. The VPN allows for remote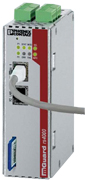 troubleshooting and machine assistance without having to travel for an on-site support visit.
The new mGuard line, with improved hardware capabilities and easier configuration options makes supporting customers and adding IT and security functions to your network easier.
mGuard RS 2000/4000 Features:
Better temperature specs (-20 to +60C)
SD memory card reader: making it easier to manage configuration files
24V output and embedded LED to notify VPN tunnel connection
NAT Routing (National Address Translation)
User Firewall
get more inf
o
rmation ...
---

SITOP lite
Cost-effective basic power supply

The new range of power supplies is designed for standard requirements in industrial environments and offers all important functions at a favorable price, without compromising quality and the proverbial SITOP reliability. The wide input voltage range with manual switchover supports connection to a wide range of 1-phase supply systems.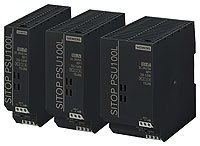 Thanks to the narrow width, the primary switched mode regulators require little space on the DIN rail, and the good efficiency results in low thermal losses in the control cabinet. Short-circuit and overload protection as well as UL approval for export ensure problem-free use.

24 V/2.5 A, 5 A and 10 A for industrial applications with standard requirements
1-phase wide input voltage range with manual switch over
High degree of efficiency
Parallel connection possible
Cooling through natural convection
---

SITOP compact
The slim power supply unit for control boxes
Thanks to the extremely space-saving slim design, the new power supply series for the lower performance range is especially suited to distributed applications in control boxes or in small control cabinets. The switched-mode power supplies are characterized by their low power throughout over the entire load range. The losses are extremely low even during idling which make them perfect for machines and plants which are frequently in stand-by mode.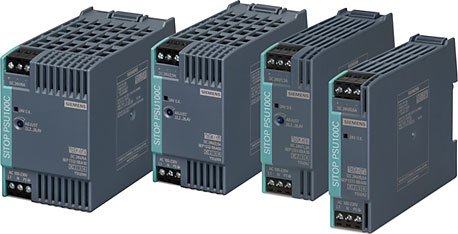 The SITOP PSU100C power supplies have a wide range input for AC and DC networks; plug-in terminals facilitate the electrical connection.
24 V / 0.6, 1.3, 2.5 and 4 A, 12 V / 2 and 6.5 A
Wide input voltage range: 85 V to 264 V AC or 110 V to 300 V DC
High efficiency provides up to 28 % energy savings in comparison with similar units
Low energy consumption during no-load operation or stand-by. Energy savings of up to 53 % are possible
Adjustable output voltage
Plug-in terminals
get more information ...