NEWSLETTER
HIGHLIGHTS:

Sister Donna's
Reflection

Wisdom Body Wednesday Series

Staff Spotlight

Nourishment for Body & Soul

Reflective Benediction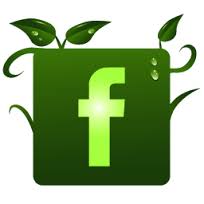 Well of Mercy is committed to reaching geographically and culturally diverse communities of all ages.

Since we started posting regularly on our Facebook page we have gained FANS all over the world!

From Australia, to Brazil, Kenya to Iran and Puerto Rico to the Phillipines; Well is capturing the interests of a wide and varied audience.

Please take a moment to visit our FaceBook page & LIKE US, follow us to see what's happening at our retreat center. Invite your friends too!




NOURISHMENT FOR BODY & SOUL

Favorite Guest Recipes cooked with heart from Well Staff: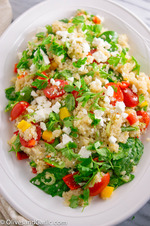 CONFETTI QUINOA SALAD MADE EASY

½ C quinoa, uncooked
1 C water
¼ tsp salt
5 oz frozen non-GMO edamame (if you want to eliminate the soy, add some other green thing, like frozen peas or lima beans)
½ C grape tomatoes, cut in ½
½ C Earth Fare Olive Oil & Balsamic Vinaigrette (or equivalent salad dressing of your choice)
2 Tbsp red onion, chopped
¼ C crumbled Feta cheese
2 Tbsp chopped parsley or cilantro
½ yellow bell pepper, chopped
1 carrot, grated (opt.)
1 Tbsp dill weed (fresh or dry-opt.)

Rinse quinoa with cold water, according to directions. If you don't have a small-hole strainer, cover with cold water, swish around till it gets soapy, and drain as well as you can. Do a few times.

In small saucepan, bring quinoa, water and salt to a boil. Reduce heat and cook for 15-20 min., or until quinoa is tender (looks like little Saturns). Drain, if needed, and allow to cool.

Cook edamame in water until tender, about 5-10 min. Drain and cool.

Toss cooled quinoa and edamame in bowl with remaining ingredients.
Makes 4-6 servings.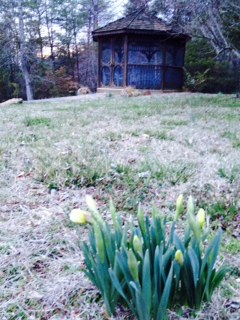 BOOK A
RETREAT

Well of Mercy offers spiritual companionship, emotional support, respectful hospitality and quiet sanctuary for adults in need of a temporary respite from daily demands, expectations and stresses or those who may simply wish to move apart for a time of prayer, rest and renewal.

We are dedicated to serving the individual.

Individuals and Couples please
Contact Well of Mercy and be sure to include your phone number to place a request for your retreat today!

Phone during regular business hours:
Wed.-Sat. 10am-5pm
704-539-5449

REFLECTIVE BENEDICTION

Ephemeral

Each of us,
A flake tumbling through the storm
A single clap in a roaring ovation
A television's flicker in the flesh.

This life,
Too important an illusion to take seriously
When it's already serious enough,
Yet too heavy a weight to ignore.

Time moves on,
Ignorant of our tears and struggles;
But like riding a speeding train
We enjoy the journey despite the fear.

by David Bankson
Welcome to REFLECTIONS
Spring & Summer 2015, Edition 7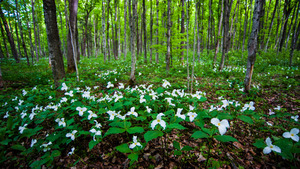 Spring has finally arrived, thankfully! Over the past few weeks I have taken little trips into the surrounding woods on property to see what wildflowers might be emerging.

Amongst an astounding variety, I have sighted one of the first plants to come up in spring, May Apple, which carpets the forest floor. There are Dwarf Crested Irises in pale blue with golden crests, Tiarella commonly known as foam flowers with their masses of tiny spidery flowers atop short stalks, they look like foam on a stick. I've also spotted wild edible Trout Lilies as well as the "trinity flower" Trillium to name a few.

There is one flower that demands more vigilance than those already mentioned. It is the Bloodroot, a plant famous for its medicinal properties. I love the way its deeply-scalloped leaf unfurls around a small stalk with one delicate white flower. Their bloom lasts but a single day. If you want to see it, you need to check daily for its arrival. One day, I happened to take a look just as the bloom was wide open.

I was sharing my excitement at spotting a large colony of bloodroot this year with Charlene. She appeared a bit pensive and remarked, "Hmmm, what would I want my life to look like if my life span lasted for only a single day?" Charlene's question elicited a few quiet, reflective moments from those nearby. I knew this was a question I would further explore as part of the new life springing forth in myself.

Appropriately so, I thought this would be a good and worthy reflection for our upcoming newsletter. So, as spring gives way into summer, you may ask yourself, how would you want to live if your life was only one day long?

If you want to share your insights with me, I would love to hear from you!

- Sister Donna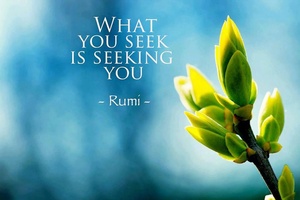 WISDOM BODY WEDNESDAY SERIES
Spiritual Enrichment for Individual Retreatants

On the First Wednesday of each month Well of Mercy sponsors programs dedicated to enhancing our individual guest's experience, furthering our ministry mission of hospitality and healing.

Wisdom Body Wednesday workshops feature subjects related to health and wellbeing of body, mind, and spirit.

Program offerings include topics like centering prayer, soul writing, movement, dream work, creative arts, healthy weight loss and a food as medicine cooking class.





Generally workshops range from a half day for $45, to a full day with lunch included for $55.

Guests are encouraged to spend the night for a full Well experience, with a suggested donation of $85 per person including three meals.

Enroll in a Wisdom Body Wednesday, classes available now through January 2016 !!!
Register ONLINE Here!

Please contact the office to reserve an overnight stay. Phone during regular business hours:
Wed.-Sat. 10am-5pm
704-539-5449

Updates posted regularly on Well's FACEBOOK page, or visit our website, or bookmark & save the online registration link for workshop updates and new listings.




SPOTLIGHT ON STAFF
On July 1st, Charlene Watkins, will become Well of Mercy's first Executive Director. As part of her past 15 year journey with Well, Charlene has participated in the ministry first as a guest, then as a volunteer board member and cook, and recently a staff position as Director of Operations.

According to Charlene, "It's all happened the way it's supposed to. There was no agenda or plan, just a series of choices without expectations."

Charlene was on a path for a full retirement at Wake Forest University, when she made the decision to step away from her plan due to a persistent internal calling to serve Well of Mercy in a greater capacity. At the encouragement of the Sisters, she followed the promptings of her heart which led her deeper into service.

With over 30 years of administrative experience from WFU, Charlene places emphasis on team building and collaboration. "It's important to me that each and every staff person knows their role and that their contributions are significant and are equitable." Charlene believes everyone should be treated the same, thus this energy of inclusiveness will be felt among the guests.

She is committed to sustaining Well of Mercy's mission as a ministry of hospitality and healing just as Sister Donna and Sister Brigid originally envisioned. "My intention is to compassionately preserve a sacred space for all guests while balancing each individual's needs."

Charlene embraces change when called for, but only when it mirrors the original intentions of Well of Mercy. Recent contributions include the creation of Wisdom Body Wednesday workshops, which offer spiritual enrichment for individuals, furthering the healing energy of Well.

At 64, Charlene spends half the week at her home in Winston Salem with her companion Gracie, a cute little white and silver Shih Tzu, and the other half of the week at Well of Mercy. Her oldest child, Erin, a social director at a senior living center, lives with her husband and their two young children in Roanoke VA. John, her son, lives nearby, is self employed and soon to be married in the fall.

Charlene marvels at the path that led her to this place in her life, and is content to be a part of the unfolding of God's vision for Well of Mercy.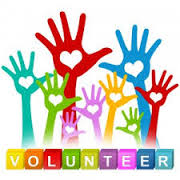 CAN YOU HELP?

Well of Mercy will celebrate their 20th Anniversary in 2017.

In preparation for the milestone event, a volunteer anniversary committee was established and is actively seeking volunteers it assist in the planning process. Please contact committee chair & board member Martha Harper.

Well of Mercy relies on the time, talents and treasures of many people!! If you are interested in volunteering at or on behalf of Well of Mercy please contact our volunteer coordinator Marion.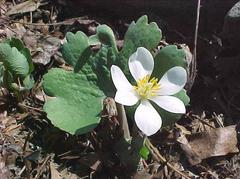 ~ May you find joy in the ephemeral experiences of spring's awakening ~

Well of Mercy Staff