Too few people understand a really good sandwich.
Happy Monday, Simply Vegans!

Happy No Meat March! And, per the request of one simply vegan member, welcome to the sandwich edition of the newsletter!

This week's chef challenge: Radical Reuben
The French Onion Soup wasn't a big seller, so we'll see if you like sandwiches better. This recipe is a homemade version of the same sandwich at The Chicago Diner.

If seitan isn't your thing, there are a lot of recipes for Tempeh Reuben. I particularly like this one from The Vegan Stoner, because it has awesome pictures. (Tempting Tempeh!)


This week's baketivism: Creme filled chocolate orange cupcakes


This weekend was a landmark event - the first all vegan cupcake wars on the Food Network! I couldn't find the winning recipe, but this is the recipe that won very first vegan cupcake wars champion, Chloe Coscarelli, her title.
Bite Size Veganism: Sandwich tips
So you can't eat your turkey and cheese sandwich for lunch anymore, and you don't know how to replace it? We're here to help! The following suggestions are pulled from Vegan Lunch Box and categorized by me. The bolded names are main ingredients, the "add" section suggests what to pair with those ingredients, and the "examples" section gives you examples from Vegan Lunch Box. Let us know if you discover your own winning combination!

1. Nut butter: peanut, almond, soynut, hazelnut, cashew, sunflower seed, etc.
ADD: fruit spread or jam; fresh fruit like apple, kiwi, or banana; dried fruit like (rehydrated) dates or figs, coconut, raisins; cinnamon-sugar; grated carrot; chocolate or carob chips, nutella
EXAMPLES: peanut butter with grated carrot and mung bean sprouts; sunflower seed butter with raisins and cinnamon sugar

Top pick: tie between peanut butter with grated carrot and mung bean sprouts and almond butter with kiwi fruit

2. Vegan cream cheese
ADD: chopped nuts like cashews, pistachios, roasted almonds, macadamia, etc; fruit spread or jam; cucumber, sprouts, onion, lettuce, avocado, tomato; dill or mint; fresh fruit like apple, kiwi, banana, or pineapple
EXAMPLES: vegan cream cheese with strawberry jam and cashews; tea sandwiches with vcc, sliced cucumbers, dill or mint; vcc with tofurkey and cranberry sauce; herb and chive flavored cream cheese with sprouts, red onion, lettuce, and tomato

Top pick: tofurkey and cranberry sauce (Thanksgiving every day!)

3. Soy, seitan, and veggie meats: seitan, baked or smoked tofu, tofu dog, pepperoni, deli slices, imitation tuna, veggie burger patties, "chicken," fried tempeh, vegan bacon, tofu scramble, etc.
ADD: condiments like ketchup, mustard, Vegenaise; sauces and dressings like barbeque sauce, thousand island dressing, green goddess dressing, ranch dressing, peanut sauce; vegan cheese; lettuce, tomato, avocado, other greens, pickles, onion.
EXAMPLES: golden fried tofu with peanut sauce and baby spinach; imitation tuna with black pepper, chopped celery, onion, and pickle

Top pick: golden fried tofu with peanut sauce and baby spinach or the tempeh/seitan reuben listed above

4. Vegetables: greens like kale, watercress, spinach, romaine, boston, endive, escarole; fresh vegetables like avocado, sprouts, tomato, beets, grated carrot, radishes; roasted or grilled vegetables like red peppers, sweet potatoes, portobello mushrooms, zucchini or squash, carmelized onions; canned vegetables like artichoke hearts, olives, capers.
EXAMPLES: avocado, sprouts, lettuce, and tomato; mixed green salad with salad dressing; roasted red peppers, marinated artichoke hearts, and olive tapenade; grilled portobello mushrooms with carmelized onions and a drizzle of balsamic vinegar

Top pick: like there's any competition - grilled portobello mushrooms with carmelized onions and a drizzle of balsamic vinegar! (my heart belongs to grilled portobellos)

5. Beans and legumes: dark or light kidney, navy or cannelini, baked, black, black eyed peas, chickpeas, refried, falafel
ADD: chopped pickle; salsa
EXAMPLES: refried beans with salsa; falafel with hummus, tahini, and lettuce

Top pick: falafel with hummus, tahini, and lettuce

6. Hummus and other spreads; misc: hummus, hummus with garlic or roasted red pepper, baba ganoush, vegemite or marmite, other vegan pates; apple, pumpkin, or pear butter
ADD: cucumber, black olives; roasted vegetables; anything from the vegetable category

Still don't have enough sandwich ideas?
- The 7 Best Vegan Sandwiches offers options like grilled daiya, philly no-steak, and banh mi.
- Metafilter has some good suggestions.
- Vegetarian Times recommends some tantalizing choices like quick walnut pate with pears and arugula, portobello and spinach tartines with roasted garlic spread, and dark chocolate and banana panini.
- America's Top 10 Sandwiches Veganized has recipes for decadent, greasy, fried, and, let's be real, drunk food like crispy drunken chicken, cheesy mac and rib, and lasagna bolognese (in sandwich form!)
- 50 Vegan Sandwiches gives you a bunch of ideas with no recipe required. How about the wafflewich, the radial bagel, or the tahini dream?

Gluten free friends, some of these are beyond our reach, but many can be paired with salad greens like spinach, grains like rice or quinoa, or gluten free crackers/bread.

This is why:
(Thanks to
Ben West
for all the links not otherwise cited!)
For the animals
The 26 happiest animals in the world!
We love hens and we love Animal Place
Goats can develop accents! (Thanks, Gina!)


For the planet

Tongue parasites to people of earth: thank you for your overfishing

For your health

Vegan for a better sex life
Pork's link to cirrhosis, and other health concerns
Do vegans burn more calories?


Meow! Vegan lynx:

70 year old vegan who might be the most amazing person on earth
Why you should eat citrus fruit and broccoli, but not ready to eat fish products.


Ag gag me with a spoon:
Learn all about the recently passed bill threatening animal welfare, human health, and civil liberties.
Utah op-ed against proposed ag-gag bill
Questions? Comments? Things you'd like up on the website or in next week's email? Let me know!

Your partner in veganism,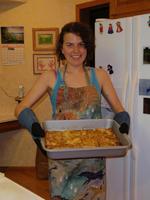 Hannah
Know someone who could use some vegan in their life? Forward this message to a friend!