A Message From Our Treasurer Casey Stone:
Dear Friends of KTC Jacksonville,
Our fundraising campaign for our Dharma center to have its own home is well under way. On the sacred days of Chotrul Duchen, the Buddha's Days of Miracles, we received auspicious news that the founder of our Center, Ven. Khenpo Karthar Rinpoche, heard about our fundraising campaign! Rinpoche was very happy to hear about our efforts and he offered a $1000 donation. We are beyond grateful to have Rinpoche's blessings and the support of everyone that has donated thus far!
For over 30 years, KTC Jacksonville has been the face of Tibetan Buddhism in Jacksonville and the North Florida area. We have welcomed all those interested in studying the teachings of the Buddha and the practices of authentic Buddhist meditation regardless of ethnic background, gender identity, sexual orientation, or age. We offer North Florida a space to study and practice a pure and unbroken tradition of compassion, loving-kindness, and wisdom as taught by the Karma Kagyu Lineage of Tibetan Buddhism, which traces directly back to Buddha.
Karma Thegsum Choling Jacksonville will always be more than a building. It is a community committed to Dharma activity to benefit sentient beings by cultivating compassion and loving-kindness. Thousands have come into contact with meditation and Buddhism because of KTC Jacksonville. In addition to our weekly practice schedule, we frequently bring authentic Buddhist teachers to the Jacksonville area for seminars and retreats to deepen our understanding of the Dharma and meditation. We also serve our local community through outreach such as doing supply drives for LGBT homeless youth and animal rescue groups. We frequently receive visits from local university students and are asked to visit classrooms. Our Board of Directors are invited to Interfaith events to represent Buddhism. But today we need your help more than ever if we are to fulfill the vision of a permanent home for KTC Jacksonville. A permanent home we can call our own will help us expand our activity and benefit the community even more. Your support will increase our capacity to offer even more programs and activities that will benefit the North Florida community and elsewhere.
Our mission at KTC Jacksonville is to teach meditation to anyone that walks into our Center and to study, contemplate, and practice the Buddha's teachings. Because of the hard work of great teachers like Khenpo Karthar Rinpoche, we have connected with the Dharma and it has changed our lives. Our lives have become more meaningful. The teachings of the Buddha and meditation has helped us develop a calmer mind, a deeper understanding of ourselves, and has helped us cultivate compassion that brings us closer to others. Let's come together for this great cause so that these precious teachings can help change the lives of others as well. Buddhism can only thrive in the West when we actively support our monasteries and centers that cultivate the pure, authentic Buddhadharma. A permanent home for the Center will ensure the future of Dharma in Jacksonville for future generations to come. If you have felt connected to or felt KTC Jacksonville has touched your life in some way, I ask that you consider giving to make this dream come true.
We are all interconnected. Your support is a powerful way of benefiting sentient beings because you are supporting the development of compassion and wisdom. In the world we live in today, we need places like KTC Jacksonville. It truly takes everyone's efforts to create this authentic place of study and practice. Please consider being a part of this mission today by making a donation. Any amount brings us closer to having a permanent Center! You can give today at the link below:
Karma Thegsum Choling is a registered 501(c)(3) nonprofit organization in the State of Florida. Your donations are tax deductible. Also, at my personal expense, if you make a donation of $150 or more I will mail you two sets of Tibetan prayer flags! Thank you!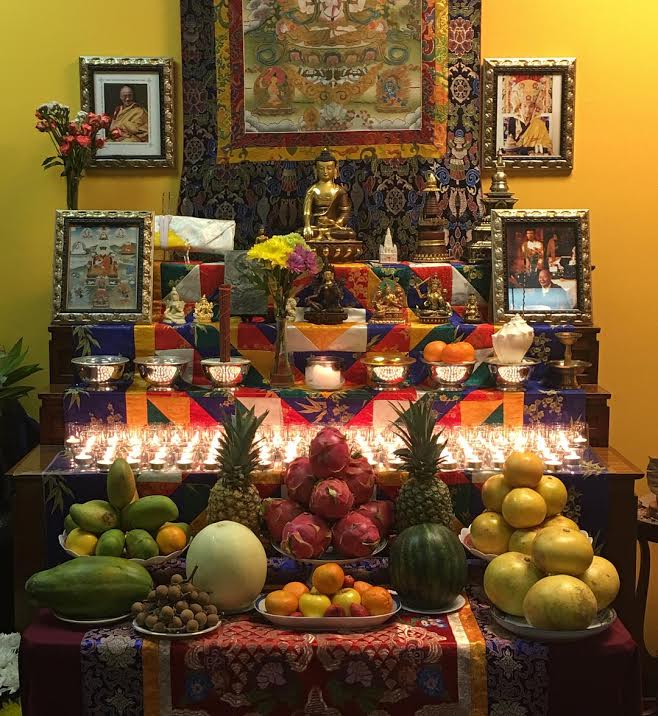 Karma Thegsum Chöling Jacksonville
1258 South McDuff Avenue • Jacksonville, Florida 32205