Summer Solstice E-newsletter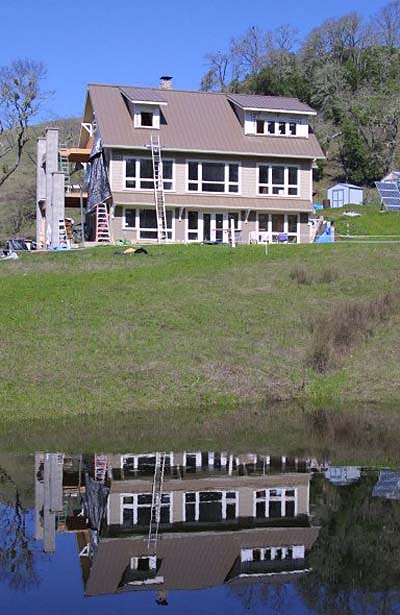 Sun Plans celebrates its 10 year anniversary this month!
It is time to reflect on the past and future of sun-inspired house design and renew the commitment to continue providing sun-inspired architectural design by addressing the following within this current e-newsletter:
Something Old
- review of existing house designs
Something New
- introduction of new house designs
Something Borrowed
- favorite articles by others
Something Blue
- increasing use of PV panels
This Summer Solstice e-newsletter also includes:
- Sun Plans' clients featured in the news!
- Updated Comment and Review page from customers
- New house plans from Sun Plans
- Insight from our architect regarding home designs
(Above, Paul and Virginia's Roseburg Cottage in Oregon was one of our early internet-based home design projects. Just this week we sold a set of these plans to a client currently living in Africa who will be constructing it in the U.S. We update older designs to our current in-house checklist if they are more than a couple of years old and still prepare the Custom Energy Specs too for your climate!)

---
Mission and Goals of Sun-Inspired Home Design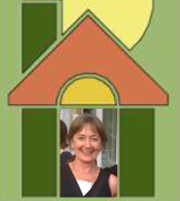 Architect Debbie Coleman has been designing passive solar homes since the 1980's while living in various climate locations inside and outside of the United States. June 2012 represents a milestone in the establishment of Sun Plans whose mission is to offer:
Internet-based passive solar home design services for clients throughout North America.
Thanks to many of you (the E-newsletter is increasingly read by those who are past clients and current friends), Sun Plans has been able to carry out this mission for the past 10 years.
Some of these sun-inspired designs are then posted to the internet for review and possible purchase by others who may not have the time and patience to work through creating a new or adapting an existing Sun Plan. It can take quite a bit of of time and mental energy to both design and then build a home. Sun Plans' goal is to:
Provide cost-effective planning and architectural services in the selecting, adapting or creating of a passive solar home design.
You can read more About Us here.
---
Sun Plans' Clients Spread the Word about Passive Solar

The original version of these home designs were created about 10 years ago. The basic design principles still work today.
Recently, more than one Sun Plans' client has notified us that they've shared their story with their local media outlets. Not only did they share with their communities, but the articles are also posted online for everyone interested in building a sun-inspired house to read!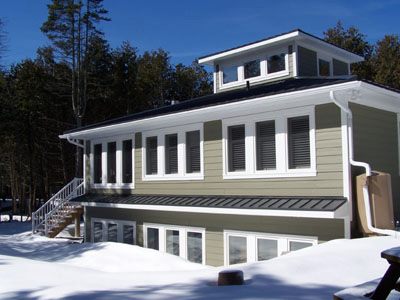 Green Building & Sustainable Strategies
had this to say about Sandy and Bill's Atrium 3 home in Canada:
"The two-storey atrium provides natural light and ventilation that eliminates the need for air conditioning."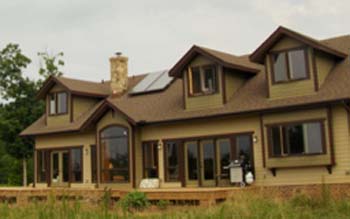 In regards to Nicole and Bill's Solstice home, Going Green quoted the home owners in North Carolina:
"We wanted to build an energy-efficient house. That was the main focus....We're not drawing heavily from the energy grid. It just seemed to be a responsible way to go about building a house."
Read more of the article here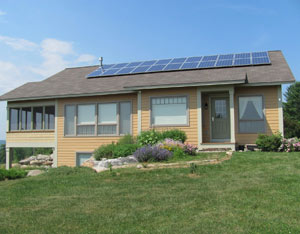 Mother Earth News
sent a photographer out to Ruth and Doug's Prairie Dog 3 house. They plan to feature the home in a fall issue of the printed magazine. They also plan to run an updated variation of this online interview with Debbie Coleman, Architect, in the printed magazine this fall.
If you want to keep up with news like this and more from Sun Plans and sun-inspired home owners,

follow us on Facebook.
---
Shade-Inspired House Design
You might like to revisit the 2011 Summer Equinox E-newsletter where we discussed staying cool!

Click here to access the full June 2011 newsletter.
---
Four New Plans to Consider Adapting to Your Needs!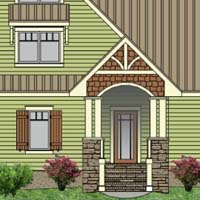 Sunny Dreams 2
George and Stacy in Kentucky wanted their 2616 s.f. one and one-half story home with a walk-out basement to blend in with their horse farm. We changed the outside to have horizontal lap siding and added a metal roof. Several other simplifications to the exterior included reduced use of stone and a simpler back porch. The front of the home faces east.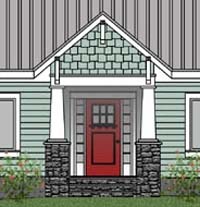 Mountain View 4
Matthew and Melissa in Nova Scotia wanted their 1901 s.f. one story home to be simple to build. We reversed the layout to fit on their land, added a cold-climate slab foundation, and tweaked the dining, kitchen an living to fit their requests while dressing up the front entry to add a hint of craftsman style. The front of the home faces north.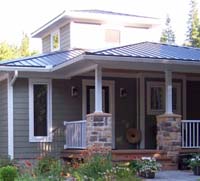 Atrium 3
Sandy and Bill in Ontario (see article above) built their 1352 s.f. one story home with a walk-out basement with a delightful corner sunroom! It is in the process of becoming the first LEED certified homes in the area. (We will surely have news of that later.) The front of the home faces northwest.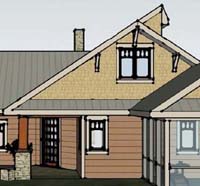 RISE
Rita and Sean (RI+SE) in West Virginia wanted a cool house in more ways than one! Their 2148 s.f. one story home with a loft is designed to maximize passive cooling with a large clerestory that allows in light and lets out hot air. Since they hope to live mainly off their site-generated energy from PV (photovoltaic) panels, minimizing energy consumption was a high priority so we also provided extra heating and air conditioning design services.
Click here to see our full list of house plans
where the above are marked NEW!
And if you order our relatively new
E-book version of

The Sun-Inspired House
, fliers for these new designs are included as are all the designs on the web site.
---
Optional Sun Plans Services - 3D and HVAC Design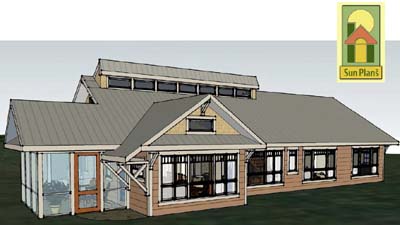 The RISE home owners chose to take advantage of two of our many optional services to help plan their home.
3D-
Since it was important for them to see how the complex clerestory would look, they chose the 3D services.
HVAC
- Since they wanted to make sure that their home's HVAC (heating, ventilation and air conditioning) was not over-sized, they chose the design services that help right-size the heating and cooling system. With the correct attention to construction details and increased amounts of insulation that they could use a mini-split heat pump system and keep their PV system small.
In addition to the services mentioned above that occur while we are designing the home, we also offer services to help in the beginning when you are still trying to choose between an existing design and a new plan, or even later if you need assistance during construction.
Review the Consulting Services Offered by Sun Plans.
---
Right-sizing Heating and Air Conditioning Systems

This is one of our favorite articles. It is written by David Butler who frequently work with us to right-size the HVAC systems of the sun-inspired, high performance homes. A home can only consume low amounts of energy when the HVAC design and attention to insulation and sealing are considered as part of the entire passive solar design. With the increasing us of PV panels, right-sizing the HVAC becomes even more important.
Read The Elephant in the Room Article

---
Reviews from Home Owners and Builders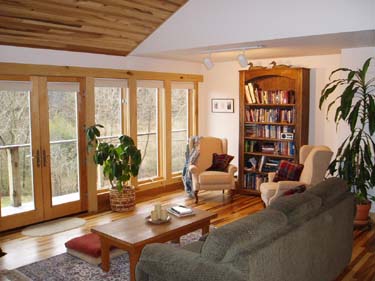 In a spurt of Spring cleaning, we've revamped a few of our pages. We love hearing from our previous clients on how their sun-inspired houses are performing and we want to share their insights with you!

Click here to read the Reviews page
---
Thank you for considering a sun-inspired house design!

I am very thankful for our busy 2012. While the sales of pre-designed plans has been substantially slower than pre-2008, our custom work is busier and our clients are increasingly positive and enjoyable to work with! When you love your work as much as I do and spend so much time with the home owners (even though the email contact may far exceed the phone and/or face to face time), that is important. I can't help but ponder how the changing pattern is affecting Sun Plans:


Fewer house plans posted

- Since we sell very few pre-designed plans, and it takes at least one plan sale to break even with our time investment, we've decided to spend less time adding new plans. Still, when we provide plan selection consulting or start a new design with reviewing the customer's requests, we can always show other designs that may be close in specifications even though it is not on the website. They/you can still have the benefit of a saving some time and costs with an existing design.
Financially conservative clients

- The customers that can afford to build now seem to be financing more of the home themselves. The money has more than likely resulted from from frugalness and hard-earned savings. They want to be sure the home is right-sized and includes all the things they want, but nothing more and they certainly don't want to pay more than is necessary to heat and cool it. They know that with spending a bit more upfront in the planning (and the design is just one part of the planning) they can reap the longer term benefits.
The last home

- Most of our customers plan for this to be their last home. Their entire lives they have lived in homes designed by and built by others. They now want to be intimately involved in the creation of the home where they hope to spend the rest of their lives. Creating or Adapting a home for their own lifestyle is an extension of the desire to be responsible for their their own future and dreams.
Thanks to past, current and future sun-inspired home owners for providing us with the opportunity to assist you with the birth of your home ideas that are already planted in your heart and in your mind. We love to help develop your ideas into a responsible adult home that needs minimum maintenance and energy from outside sources!
- Debbie and the Sun Plans Staff
Happy Summer Solstice!
Sun Plans Inc.
Debra Coleman, Architect, AIA
interest08@sunplans.com
www.sunplans.com
Sun-Inspired Design:
the gold lining of green building