Spring Equinox and Planning a Sun-inspired Home!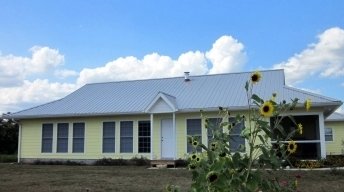 As the daylight hours begin to exceed the night hours this week (in the northern hemisphere), leave the cold weather behind and spring into the warm season with Sun Plans!
Whether building a home in a cold or warm climate, a passive solar home is a good idea since passive cooling is an integral part of the sun-inspired design process by the Sun Plans Architect.
Especially if construction is planned to start during 2012, begin the planning process sooner rather than later. With the economy turning around, Sun Plans already has a busy schedule for the first half of the year.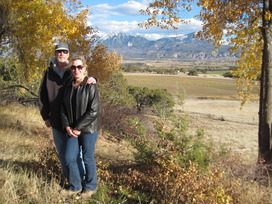 This Spring Equinox e-newsletter includes:
Examples Site Analyses

Site Analysis and Select-A-SunPlan
Return of the Buy 1 Get 1 Free Special!
Ben Franklin home owners give thanks
Thanks from our Architect
(Photo above sent of our
Jersey Scape
design)
---
Planning a Sun-Inspired Home Begins with the Site Analysis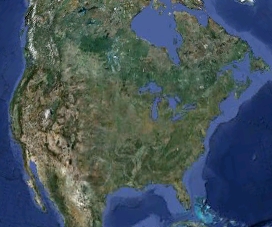 Below are examples of site analysis planning. Sun Plans uses a combination of professional surveys, simple plot plans, Google Earth, 3D SketchUp, 2D CAD and hand sketches. The best site solution considers the land slope and views, home owner wish lists and budget, and passive heating and cooling.
---
On the Bay in Washington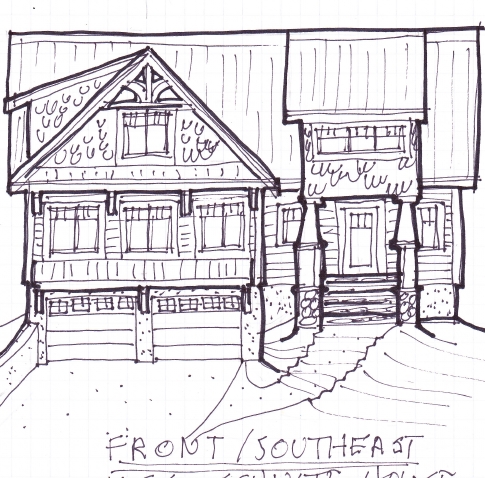 Frank and Ginger's house sits at a 45 degree angle to true south. They want to utilize part of the existing foundation, but increase the interior space, incorporate passive solar and take advantage of some fantastic views of the mountains and the bay.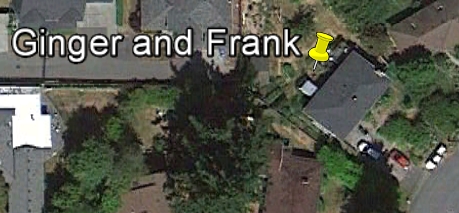 Google Earth helped us get a feel for the neighborhood. It supplemented the photos that they sent of the existing home. Each family member had their requested favorite views to incorporate.
---
On the Lake in North Carolina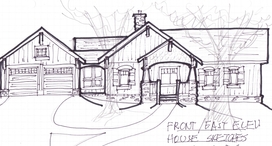 Cathy has a relatively steep lot on a large lake with expansive western views. She wants to be able to get her kayaks and dogs efficiently in and out of the various levels of the home.
The surveyor sent a detailed site plan with contour lines and the location of the largest trees. We could confirm in Google Earth the approximate canopy of the large trees that need to be designed around.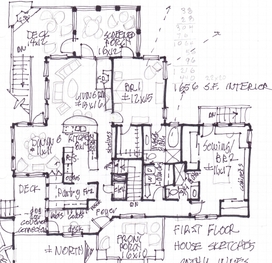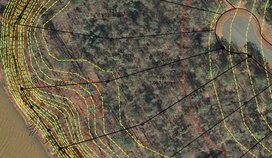 ---
In the Mountains in Colorado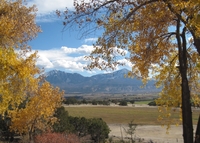 David and Lura have a mountain chain to the southeast and some wonderful cottonwood trees near the house site. They requested a site visit to make sure that their house would be properly sited for these features.
A massing study in Google SketchUp showed how the home would work best with a split level entry and the detached garage that they are planning on constructing first.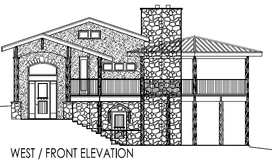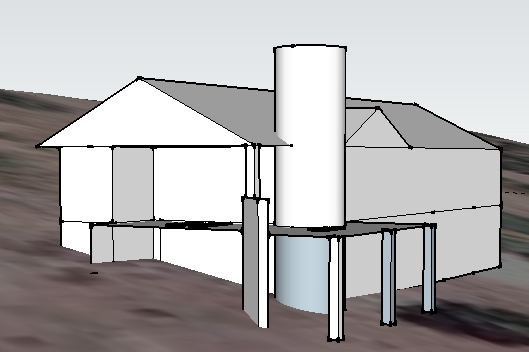 ---
On the Gulf in Mississippi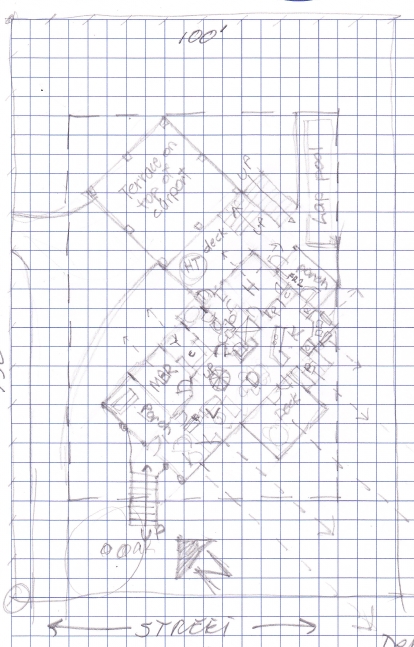 Karen and Howard's previous home was removed by Hurricane Katrina. They sent us descriptions of the features not visible in the photos along with a wish list of workshops, patios, lap pool, gardens, and music pavilion/carport to surround the home's exterior.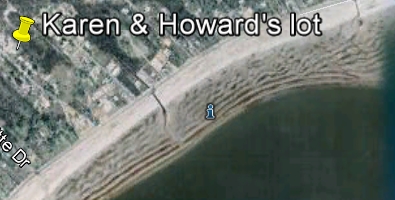 Google Earth aerial photos (taken after the hurricane) allowed us to see how a home facing due south could be integrated on a site that has the streets at 45 degree angles to south. A follow up site visit further confirmed that the home sketched would indeed work on their 1/3 acre lot.
---
Near the Coast in Nova Scotia, Canada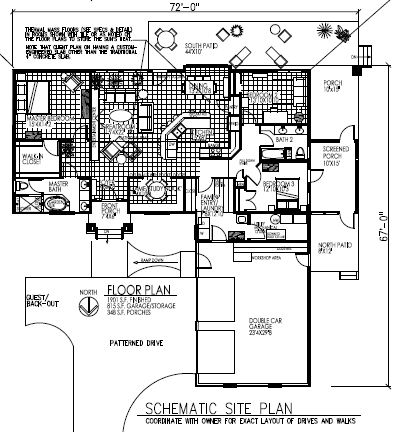 To fit their land, Matthew and Melissa needed the Mountain View 2 design to be reversed. They desired the foundation to be changed from crawlspace to a concrete slab on grade which is an efficient method to maximize thermal mass.
We typically will recommend cold-climate slab construction details for passive solar homes where having a basement is not practical or not desired.
Matthew and Melissa had recently completed a passive solar home-building course in Nova Scotia and learned about some special slab details which they asked to be incorporated.
Often as part of the Adapt-A-SunPlan process, changes are made to reflect local construction preferences. (With the CAD files for sale from Sun Plans, local design professionals can make those changes too. Sun Plans still prepares the Custom Energy Specs and can coordinate with the local design professional.)
---
In the Mountains in Tennessee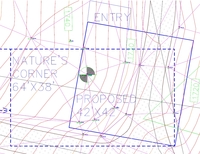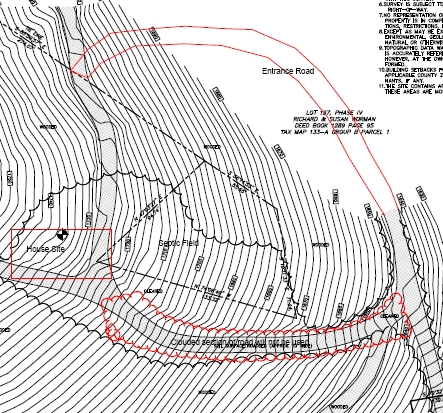 One of the steepest lots we have had the privilege of designing for is in the hills of the Blue Ridge Mountains. Overlaying a pre-designed house plan on the land showed that footprint would not work well and that a creating a new design would be the most economical alternative to fit their new home to the land.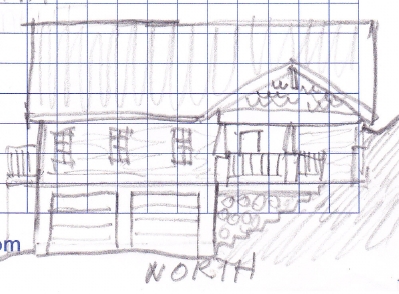 Rick and Susan sent us a detailed survey of the house site portion of their land as well as an overlay of it on Google Earth to show why they were changing the access roads into the property and therefore change the way that the house would "face." A quick thumbnail sketch by Sun Plans suggested a look for the new front of the home.
---
Site Analysis and Selecting-A-SunPlan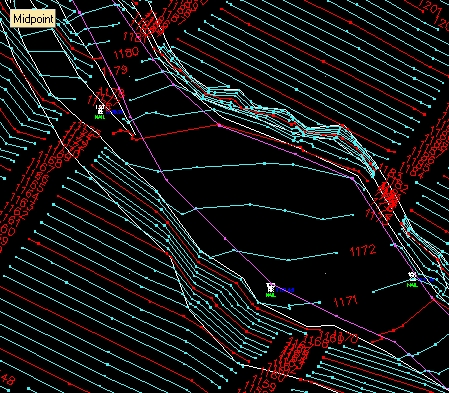 Cheryle and David requested assistance with selecting between the Roseburg Cottage and French Cowgirl 3. They sent a CAD file of their land survey showing the topography.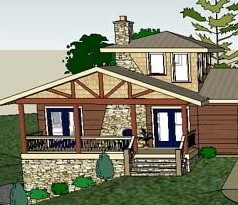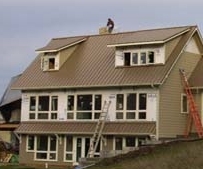 Choosing between one of more plans falls under Select-A-SunPlan consulting. Adapt-A-SunPlan is for after a plan has been chosen; however, increasingly, clients are sending in the more comprehensive Create-A-SunPlan questionnaire (whose review is only $100 more and prompts for much more information about your home's wish list) and then ask our architect to choose a house plan that best fits their needs. Plans that are not on the web site then can then be considered too. Often parts of one or more designs can be used to help save on the architectural fees or to allow for spending on other desired architectural services that Sun Plans offers.
Click here to view Sun Plans Consulting Services
---
Buy 1 Get 1 Free Review Set Special!


Like Cheryle and David, other customers also are considering more than one sun-inspired design. In order to make it a little easier for those undecided customers who would like to review two plans, we have brought back our most popular special
until April 1st!
To take advantage of this Special:
Buy one of our sun-inspired
Review Sets
and reply to the automated email that you will receive after your purchase with your choice of a second Review Set
of equal or lesser value
and we will send it to you free of charge. (As usual, you have the choice of having 11x17 paper sets US mailed, or PDF computer files e-mailed. And the cost can still be credited to orders of Construction Prints or CAD Files from Sun Plans.)
Click here to visit our Secure Online Store
---
Site Planning thanks from a happy home owner!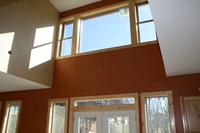 Hi Debbie,
We just moved into our new home (Ben Franklin - modified). The day they started digging I was in the hospital in labor (almost a year ago). We discovered they didn't orientate the house quite right and you were very helpful! You told us how to adjust our overhangs to make it work. I just wanted to say thanks!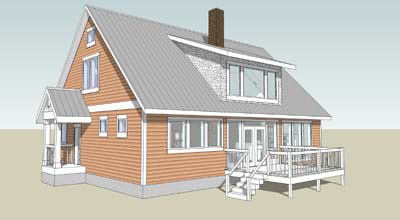 I've attached a few pictures that were taken several months ago (before the masonry stove was put in). I'll send a few more current ones once I take them.
"
Trina & Joe
, March 2012
(The back, sunny south side is shown to the right.
)
Click here to view details on the Ben Franklin design
---
Thank you for considering a sun-inspired house design!

After preparing this e-newsletter, I can't help but smile and give thanks for how fortunate we are to be working with such thoughtful clients. It was just 8 months ago that business was slow and we wondered if there would be enough customers and clients to keep Sun Plans open in 2012. So now we are especially thankful to our Adapt-A-SunPlan and Create-A-SunPlan clients that make up the majority of our architectural business.
Sun Plans is a very small, hands-on company that does not even try to compete with the house plan companies that sell hundreds of designs focusing primarily on exterior style. In 2012 we only averaged one pre-designed plan sale a month yet it takes a tremendous amount of time to post them on the internet and answer hundreds of customer service questions about them.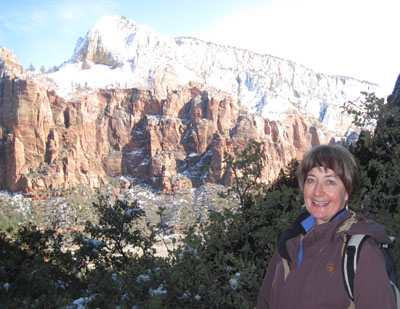 Again, I give thanks to past, current and future sun-inspired home owners for giving me the opportunity to help you design your home and create a place that you will enjoy living in for perhaps the rest of your life!
I believe that a strong connection to the outdoors is important for mental health. Since we cannot always be outside, we might as well try to bring the outdoors in with carefully placed windows that capture inspiring views!
Happy Spring Equinox!
Sun Plans Inc.
Debra Coleman, Architect, AIA
interest08@sunplans.com
www.sunplans.com
Sun-Inspired Design:
the gold lining of green building