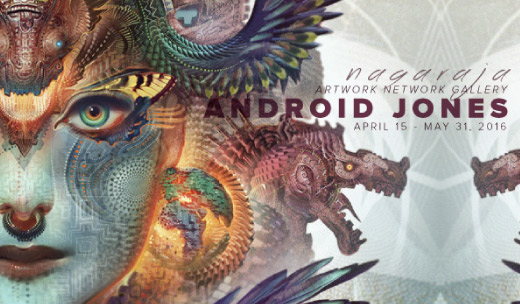 At the Gallery: Android Jones - "Nagaraja"
Our new exhibit, titled Nagaraja, is a collection of works by Android Jones inspired by Vedic Mythology. Original sketches, hand embellished works, and several never before seen images will be on display and available for purchase. Spirituality is a topic Jones revisits often in his work: "I have seen things in this life that I am incapable of translating into words. In my practice I have visited realms where the imagination ends, and the terrifying beauty of infinity unfolds over and over again… Honestly I don't know why I make this art, or what compels me to keep creating it; it's a mystery I intend to pursue for the rest of my life, and each image brings me closer to the Ultimate Truth."

Nagaraja opens to the public THIS WEEK on Friday, April 15, 2016 at 5:00pm, and the artwork will remain on display until May 31, 2016. The Artwork Network Gallery is located at 878 Santa Fe Drive, and is open Monday - Friday, 9am - 5pm, and Saturday 12 - 4pm, with special hours for First & Third Friday Artwalks.

Find out more about the "Nagaraja" exhibit.