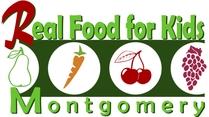 BOE Candidates Respond to Questionnaire - Voting for At-Large Seat on BOE Began Yesterday
The Whole Child Coalition, a group of Montgomery County citizens who work for non-profit and community organizations and local businesses (including Lindsey Parsons, Co-Director of Real Food for Kids - Montgomery) and other community activists interested in educating the whole child, recently sent a
questionnaire
to all school board candidates covering a wide variety of topics, including school food. Responses from the five candidates who answered can be read at the link above.
All school board races are non-partisan and voting for the at-large seat will take place during the primaries, for which early voting started on June 12 and election day is June 24. All other races for school board will be determined in the general election. There are 4 contested seats on the school board. Please read the
questionnaire
responses, and go out and vote in this election!
RFKM to Keep up Pressure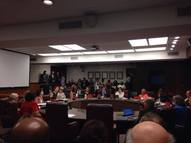 Despite announcements by Marla Caplon, MCPS Director of Food and Nutrition Services, and requests by BOE members on June 3 addressing issues from the RFKM petition, we will continue to put pressure on the board members to see our requests become policy in MCPS. In the meeting, Caplon announced her intention to gradually remove foods with artificial colors from MCPS, as well as plans for a template for principals in the coming school year to share information with parents regarding a la carte options at each school. In addition, at the request of BOE member Philip Kaufman, Caplon agreed to conduct a trial of water coolers and cups at several schools.
While RFKM applauds these positive moves forward, we question any delay in removing food dyes, given their toxicity and connection with attention deficit problems in children. Examples of products with these dyes include Welch's Fruit Snacks, Dorito's, Cheetos, and candy cookies. Given the non-existent nutritional benefits of these products, RFKM believes that they should be eliminated as soon as stocks run out. We also believe work should begin immediately on lowering the sugar content of food served in MCPS. Over 40 items served in MCPS have added sugars, and the sugar content of meals greatly exceeds AHA recommendations, in some cases by a factor of three.
In addition, RFKM continues to insist on the necessity of including all a la carte items that are not part of reimbursable meals on the school lunch menus in order to be completely transparent about their offerings. Given the assurance from the beginning of the last school board meeting that feedback to our testimonies would be given within three months, we will continue to put pressure on BOE members in the interim in hopes that they will change the MCPS Wellness Policy to reflect our requests.

RFKM Intern Lobbies to Stop a Rollback of School Lunch Standards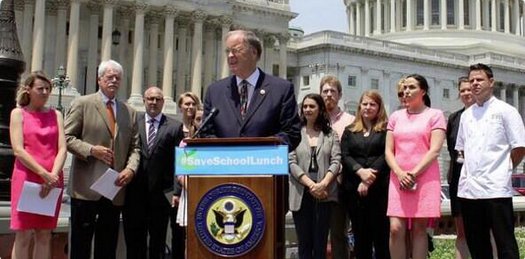 Wednesday, RFKM intern Nick Gregory (second to right of speaker), joined national advocates to lobby House Republicans to
maintain school lunch standards.
On May 29th, The House Appropriations Committee voted to allow schools to change the new school meal standards if they showed an operating loss due to new stricter standards on whole grains and other recent changes. A final vote has been delayed until next week. Please sign this
petition
to stop this rollback of healthy changes for our kids.
Attend BENK PTSA Meeting to Advocate for Changes to School Food
PTA/PTSA Members from the Blair, Einstein, Northwood, and Kennedy Clusters are invited to meet with MCCPTA Officers in order to:
Discuss issues of concern to PTA/PTSA members

(like school nutrition)

Learn what MCCPTA is doing to help BENK parents and students

Vote on important BENK area issues

Network with other parents and PTA/PTSA officers in the area.
Where: Einstein High School, Room 130, 11135 Newport Mill Rd., Kensington, MD 20895
When: Thursday, June 19, 2014
Time: 7:00pm
If every RFKM member gave $25, we would cover our budget for the year,
please support us!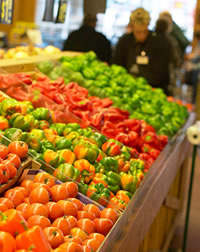 Cooking up Change
The
Healthy Schools Campaign's Cooking up Change
final competition took place again on June 9 in Washington, DC. RFKM interns Aviah Wilson and Carol Conroy joined national advocates and teams from schools around the country to taste student-developed and prepared, scratched-cooked school lunch recipes. The recipes from this and previous year's competitions continue to prove that there is a way to prepare healthy and great-tasting school lunches under the financial constraints of the National School Lunch Program. Lily, Gustavo, and Josue with their "Kickin' Taco, Zesta Fiesta Salad and Yummy Tummy Bananas" from Valley High School, Orange County, CA took first prize in the competition this year.
Articles of Interest
Petition to Continue

While RFKM did submit its petition to MCPS on June 3, because signatures continue to come in and we have no guarantees that our requests will be answered, we have decided to leave it open to continue to draw in more supporters. So if you missed signing it,
please do now
!
RFKM and the Washington Spirit
Mark your calendar for two fun nights with the Washington Spirit, Maryland's professional women's soccer team: Wednesday, July 2 and Wednesday, July 30. RFKM will have a table at these two 'Spirit Cares' nights at the Maryland Soccerplex Stadium in Boyds, MD. Call (240) 780-8582 for tickets or
order online
. Use promo code "RFKM" to get a $5 discount.
As a teacher in MOCO public schools, I see the negative effect this so-called food has on students daily. Many of these students count on these meals as their only food for the day and sugar and chemicals aren't fitting for creating a positive learning environment.
-MCPS Teacher