s
tatewide petition advocating seven different bills that will come before the Maryland General Assembly this session and will help bring healthy changes to the food environment in all of Maryland's public schools. Thanks to RFKM's advocacy work on behalf of the coalition, we have sponsors in the House of Delegates for all of our bills and sponsors in the Senate for 6 out of 7. We have also found multiple co-sponsors for various bills in both houses, including many members of the committees who will hear the bills.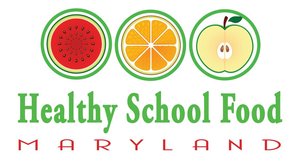 By signing this petition, you support the proposed legislation to improve nutrition and transparency standards that we have been advocating for since RFKM began. We need your help to get the word out around Maryland and increase our chances of these bills becoming law. Please sign this petition and share with friends and family members in the state. The more signatures we have, the closer we are to securing a healthy school food environment for all students in Maryland!
---
Spotlight on Schools
On Saturday January 24, RFKM held a very successful School Advocacy Training
with representatives from 5 different
elementary schools, 1 middle school, and 1 high school.
We are still looking for enthusiastic supporters to
help out with a number of schools, so if you'd like to get more
involved, please contact us.
We heard the good news that Blair High School recently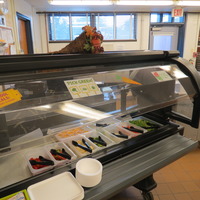 had 2 salad bars installed. Salad bars are a great way to introduce kids to a variety of fresh fruits and vegetables.
While some MCPS schools have them, we're hoping that eventually all schools will. Let us know if your school has one, and if not, we can give you some tips on how to start the process to get one.
---
You Can Monitor Your Child's School Meals
Do you suffer from the mysteriously vanishing lunch account balance? Could be the easy access to junky snacks in MCPS cafeterias. Doritos, Cheetos, cookies, chocolate milk, ice cream, slushies,

etc. are available in the majority of secondary and elementary school cafeterias. While some schools have taken steps to reduce options to a few healthier choices, most still offer a wide array of snacks which compete with your child's ability to eat a healthy lunch. As a parent, there is something you can do: take action!!!
Contact your cafeteria manager and request that your child's lunch account be blocked from purchasing a la carte snacks (call or visit in person if email is not available). Some schools will also allow you to put "White Milk Only" on the account if you want to restrict your child's purchase of chocolate milk. (Each 8 oz. serving of chocolate milk - sold in MCPS at almost 5 times the rate of white milk - contains 2.5 tsps. of added high fructose corn syrup.) A quick review of a la carte offerings in MCPS shows that the majority contain at least one of the "Dirty Dozen" most dangerous food additives as described in the Environmental Working Group's recent report.

You may need to explain to your child why lunch is a time for healthy eating, and that snacks and treats are available at home. No one said that good parenting would make you popular!
---
MCPS Opens New Central Cooking/Food Distribution Facility
The new central food distribution, preparation and testing facility for MCPS has been built and is now up and running as part of Montgomery County's Smart Growth Initiative (SGI). Within this building is the latest technology and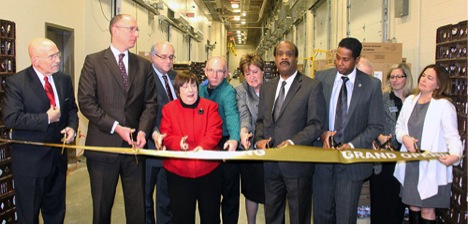 equipment available to prepare food for students. We hope that with the opening of this new facility, we will see more scratch-cooked entree items available in MCPS cafeterias.

---
Alternative Valentine's Day Gift
Want to help support RFKM? Ask your Valentine to donate to RFKM rather than buy you candy or flowers
and we'll send an acknowledgment to the recipient!

Please write "Valentine" and include the name and email of recipient who will receive the acknowledgment under "Comments /Designation".



Donate Alternative Valentine Here
Get Your Ticket for Our Screening of "Fed Up"

Watch the Trailer

RFKM will be screening the film "Fed Up" on Friday, March 6, at 7:00 p.m. in the Discovery Communications building in downtown Silver Spring. You won't want to miss this compelling documentary about sugar, processed food, and the crisis of obesity and diabetes in our youth today. Following the screening, local celebrity Aviva Goldfarb, founder of the Six O'Clock Scramble, will lead a Q&A, along with Lindsey Parsons and Karen Devitt, RFKM Co-founders. Attendees are invited to a wine and hors d'oeuvres reception afterwards featuring State Delegates David Moon, Jeff Waldstreicher and Will Smith, who are currently sponsoring bills for our coalition "Healthy School Food Maryland" and Montgomery County Council President George Leventhal (who has recently joined RFKM's Advisory Board). Seating is limited and all tickets must be purchased in advance, so get your ticket now. We are also looking for sponsors for this event. If you have your own business and would like to promote it, shoot us an email and we'll let you know about sponsorship opportunities.

---
Big Food Dominates SNA's Latest Conference
A must-read for anyone interested in improving school food, this article describes the recent School Nutrition Industry Conference, where "school nutrition directors and industry representatives [came] together to build successful partnerships to better serve the nation's children". The choice of keynote speakers was telling: the president of Cinnabon and the former president of Coca-Cola, North American Foodservice, among others. This kind of heavy industry influence explains why almost every secondary school in MCPS has vending machines selling G2, a Pepsi product full of harmful chemicals* posing as a health drink for athletes.

*artificial flavor, red dye #40, blue dye #1, yellow dye #5, sucralose, acesulfame potassium.
---

Articles, Opportunities, and Videos of Interest

RFKM is Looking for Swim Team Parents. It's not too early to start thinking about summer swim team season. RFKM is doing some advocacy and fundraising work with MCSL swim teams. Let us know if you'd like to be involved!

Get your sleeping bags ready...
to protest MCPS bell times (video created by MCPS students). Sign the petition and join the sleep-in to show your support for academic
achievement with a better night's rest. Details: February 9, 3:30 - 5:00 p.m.,
MCPS Administrative Offices, Carver Educational Services Bldg., 850 Hungerford Drive (use North Entrance off of Mannakee Street). Bring blankets or sleeping bags and signs: "Hearts and minds, not dollars and dimes" "Start School Later" "Save our Sleep" or add your own! If you are able to send messages to your local listserv's to drum up more support (be they MCPS, community, sports, etc.) please email fcgoodall@gmail.com.

Skip Sugar Day (Feb. 4) Puts A Focus On Healthy Eating

Help Reduce Junk Food Marketing to Kids
---
Special thanks to our sponsor: