News From the Vineyard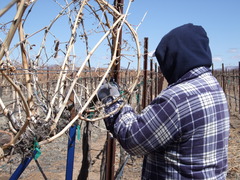 Pruning
Most of our attention in the vineyard this time of year is getting the vines properly pruned before bud-break in late March and early April. The primary goal is the production levels that we are looking for in the Fall. We want to balance the canopy growth to the fruit production to maximize fruit quality.
Since the fruit will be developed from the buds on last year''s growth, how much of that growth that is left on the vine will determine the fruit yield for the vintage. One of the techniques we have used the last 3 years is called long-pruning, or leaving extra fruitful buds on each vine as a hedge against frost damage in the Spring. The buds do not all break-out at the same time, so extra buds can still be available for fruit production in the case of a frost event. If it doesn't get cold enough to damage the new plant tissue, then there will be a need after frost season to thin out the excess shoots. Again, balance and fruit quality are what we want in order to maximize wine quality!
Water Use
A lot of people are surprised that we water the vineyard all through the Winter. Over the years we have learned that the vines need to continue to grow the root structure and build carbohydrates in the plant tissue to not only be ready for the new season, but also be healthy when stressed by cold weather.
If the plant is dry, it will be in a weak/stressed state and may sustain damage during temperatures below 20 degrees, which are common in our mountain foothill location. Extreme winter events can kill the vine outright, so keeping the vines watered and healthy through the Winter is critical.
Frost Protection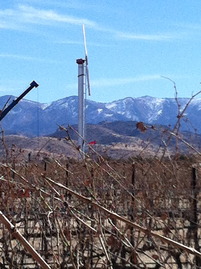 In addition to our "long-pruning" practices, we also have some active frost protection strategies. The December 2013 issue of Wine Business Monthly featured Keeling Schaefer Vineyards and our frost efforts, including our frost fans, long-pruning and other active efforts to avoid damage to our fruit crop.

Last week, the service crew was at KSV, conducting the annual maintenance on our two Orchard-Rite frost fans. Just an oil change for the Ford V-10 engine that runs the fan and an inspection and lube of the fan and its components. Interestingly, the fan at the Home Place vineyard has only 52 hours after two seasons of use. At that rate, it should last a long time!

News From the Cellar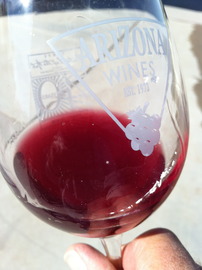 Blending
Even though most of our wines are bottled with a varietal label, all of our wines are blended, by clone, by barrel and with the addition of another varietal to improve certain qualities of the finished wine.
Blending really is one of the most subjective things we do in the wine-making process. Rather than create a panel of experts, Rod and Jan have tried to simplify the process down to a real-world effort that includes testing all of our various trials with food. Typically, we will select 3 sample blends to trial at the end of the day and then taste the samples with dinner, usually a dish prepared by Jan expressly to see how the wines stack-up with a possible food pairing.
Once the final blend is selected, Rod and our cellar assistant, Brian Heath, will pull the barrels and do the actual blending. There are times, especially when we are adding another variety to the final blend, that we will make adjustments right at the tank. If we are adding Syrah to our Two Reds Grenache for example, we like to "sneak-up" on the final blend by adding the Syrah in increments. Once the Syrah is added, we can't get it back out of the blend, but we can always add more!
Bottling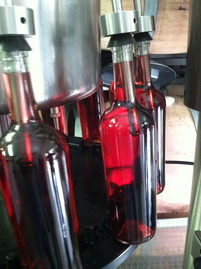 Once the final blend is selected, its time to get the wine ready to be bottled. Decisions are necessary for each wine. Will we fine or filter? How much SO2 will be added? In general, the wines we sell in the marketplace need to be reasonably stable. Once the wine is sold to our distributor and then to the retailer, we lose control over how the wine is stored, so the wine needs to be able to withstand a variety of conditions and still retain its great flavors and character.
Most of our specialty wines however, are not fined or filtered and the SO2 levels are pretty low, usually less than 25ppm. Since we sell these wines only to our Wine Clubs and at our Tasting Room, we can risk avoiding the processes that might reduce the quality of these wines.
Over the past month, we have been working on the following and many of these wines will be released in April. As always, our Wine Club will get a pre-release opportunity to purchase these new wines in the March shipment or at the Bud-Break Celebration at the vineyard on March 22.
2013 Puzzle Vine Picpoul Blanc
--96 cases, 86% Picpoul, 14% Viognier, crisp with lemon and grapefruit notes-$18
2013 Rock Creek Rose of Grenache
--105 cases, 100% Grenache, very dry and crisp, watermelon with an "onion skin" color-$14
2012 Trailblazer 877 Syrah
--127 cases, 84% 877-ENTAV clone, Home Place Vineyard Syrah, 16% Grenache--$18
2012 Keeling Brothers Shiraz
--168 cases, 100% Davis 2 clone, Rock Creek Vineyard, Australian style, 100% new American oak barrels-$32
2012 Shaefer Boys Mourvedre
--72 cases, 100% Mourvedre, 450-ENTAV clone, Rock Creek Vineyard, 1/3 new American oak--$32
2012 Little Block Petite Sirah
--48 cases, 100% PS, 100% new American oak, Rockpile clone, Rock Creek Vineyard--$32
2012 Home Place Reserve Syrah
--72 cases, Davis 2 clone, Rock Creek Vineyard, 100% new French oak-$38
News from The Arizona Capitol

Along with Peggy Fiandaca of Lawrence Dunham and Eric Glomski of Page Springs, Rod has been working on behalf of the wine industry to pass new legislation that will greatly expand the opportunities for Arizona wineries and vineyards. Our bill is
SB1397
and it is a consensus bill between the liquor control department and other industry stakeholders.
If you would like to support this effort, we are asking all our friends to send their legislator an email in support of the bill. You can find more information about who your legislators are and how to contact them at:
http://www.azleg.gov/
Spring Events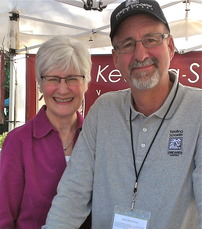 In addition to the club events listed above right, we have several open-to-the-public events this Spring you may want to check out!
Friday, Saturday, Sunday March 27-29 Tempe Festival of the Arts on Mill Avenue

Saturday, Sunday April 12/13 SE Arizona Wine Growers Festival, Kief-Joshua in Sonoita

Saturday, Sunday May 10/11 Sierra Vista Wine Festival at the Elks Club

Saturday, Sunday, May 17/18 Willcox Wine Country Festival in Railroad Park

Wine Dinners and Tastings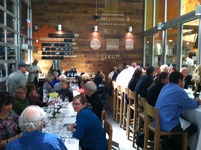 Jan and Rod are working with the chefs to pair-up our wines with a great dinner at the following locations:
Tuesday, March 11 Whole Foods, Chandler
Thursday, March 20 Golf Club at Estrella, Avondale

Thursday, March 27 Whole Foods, Mayo, Scottsdale

Wednesday, April 9 Tommy Bahama, Kierland Commons, Phoenix/Scottsdale

Look for an email about these dinner opportunities soon!
Keeling Schaefer In Your Neighborhood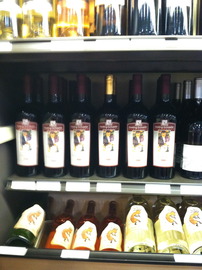 Five of our current releases are in distribution to a retailer or restaurant near you! They include the Best Friends Viognier, Two Reds Grenache, Farmers Mourvedre, Partners Rhone Blend and Three Sisters Syrah.
Phoenix and Tucson Metro Areas:
Total Wine
Whole Foods
AJ''s Fine Foods
Smaller Shops:
Art of Wine, Made in Arizona-Sedona
Von Hanson''s Meats-Chandler
Plaza Liquors-Tucson
High Desert Market-Bisbee
Restaurants:
Hanny's, Bianco's-Phoenix
FnB-Scottsdale
Enchantment Resort, Cowboy Club-Sedona
Pastiche, Maynards, Hotel Congress-Tucson
Cafe Roka-Bisbee