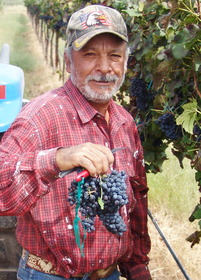 2012 Vintage Report:
Picpoul Blanc
-- (1.06 tons-Rock Creek) We planted Picpoul Blanc (a white wine nicknamed "lip stinger" in France) a few years ago, but have never been able to harvest any real production from the vines. This year, we will be able to make between 50 & 60 cases of Picpoul Blanc. When Rod and I first smelled this wine at harvest, we thought "lemon zest" and then we tasted it -- and thought apple juice. Rod is not putting this wine through malolactic fermentation ... so it will be available quickly and now that the sugar has been fermented into alcohol, we think it will be crisp & acidic with that "apple" thing still going for it ... but now more a granny smith apple!
Viognier
-- (4.46 tons-Rock Creek) Following quickly behind the Picpoul Blanc will be about 230 cases of our 2012 Best Friends Viognier. The Viognier is going through malolactic fermentation and battonage, so it is slightly behind the Picpoul Blanc, but promises to be every bit as good as our "89"
Wine Spectator
-rated '09 Best Friends Viognier!
Grenache Rose'
-- (2.55 tons-Rock Creek) We are also extremely pleased with our 2012 Rock Creek Rose, 100% Grenache, which we will be able to bottle quickly and, hopefully, have available for an early Spring 2013 release.
Grenache
-- (12.43 tons Rock Creek, 7.86 Home Place) For those fans of our Two Reds Grenache, the Grenache this year tastes very much like our '07 crop, which was so very successful in the marketplace, and we plan to make our Two Reds the same way as the much-loved '07 vintage. There will plenty left over to form the base of our 2012 Partners GSM blend, which will be made this year without the addition of the Petite Sirah, much like the 07 that was rated 88 by
Wine Spectator
.
Petite Sirah
-- (1.49 tons Rock Creek) As it turns out the Petite Sirah is so outstanding on its own ... the vines are the "Rockpile" clone from California and are a unique planting here in Arizona ... and we have enough of this varietal to make 50-60 cases of what we hope will be a welcome addition to our repertoire of wines.
Mourvedre
-- (8.93 tons Rock Creek) For those fans of our Schaefer Boys Mourvedre and Farmers Rhone blend, the Mourvedre crop was incredible, very ripe with good fruit condition, much like the 08 crop, and the wine promises to be some of the best Mourvedre we have ever made!
Syrah
-- ( 10.41 tons Rock Creek, 19.23 Home Place) The 2012 Syrah harvest was, in a much over-used word, but still an accurate description, awesome! We are planning to bottle the 2012 Three Sisters Syrah sometime in the May-June time period, then follow-up with the Keeling Brothers Shiraz when the wine is ready. All of the Syrah came off the vines ripe and juicy with lots of the Keeling Schaefer nose!

Along with all the activity of making wine from nearly 70 tons of grapes this harvest, we are about ready to bottle our 2009 Home Place Reserve Syrah and our 2010 Home Place Reserve Syrah -- which many of you have sampled in the barrels over the last year. Should be fun to taste the '07, '08, '09 and '10 vintages at the Tasting Room in the future!
As if we did not have enough to do, we agreed to ferment and press the fruit from Coronado Vineyards this season. An additional 19.7 tons of exceptional Syrah, Cabernet, Sangiovese and Riesling from the estate vineyard at Coronado that will be cellared at their facility. Jacque and Mark Cook are great to work with and a lot of their excitement and enthusiasm have rubbed-off on us!
As most of you already know, our 2011 wine was damaged by smoke taint from the Horseshoe 2 Fire in May and June of 2011. After a year of working to salvage the vintage we have decided none of this vintage will be bottled by Keeling Schaefer. After 3 years of Spring frost damage and the loss from the fire, you can see why we are excited by the 2012 harvest!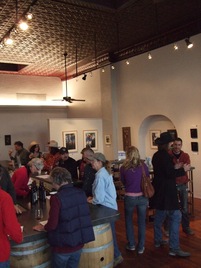 Located in the 1917 Willcox Bank and Trust building, 154 N Railroad Avenue in historic downtown Willcox. Open Thursday-Sunday, 11-5. 520-766-0600
Enjoy the restored historic ambiance of our Tasting Room along with great local art from Trust, the Gallery.