Dr. Phillip Douglas, M.Ed. Interdisciplinary Studies '00, serves as a staff-level Program Manager/Talent Manage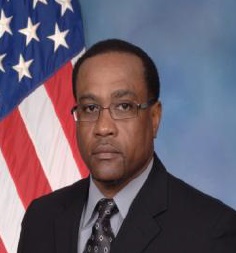 ment Specialist specialized in administration of the Installation Management Command (IMCOM) Workforce Developmental Programs. In addition he participates in the management, execution, evaluation, and coordination of competitive professional development programs to accomplish strategic goals and objectives.
Russell Thomas Arms, Jr., M.Ed. Interdisciplinary Studies '94, and Julie Chase, M.Ed. Interdisciplinary Studies '93, were named 2013 Emerson Excellence in Teaching honorees.
Pam Reilly, the 2014 Illinois Teacher of the Year, recently spoke with NLU about her time at the university and the honor of being named teacher of the year.
Click here
to read the interview.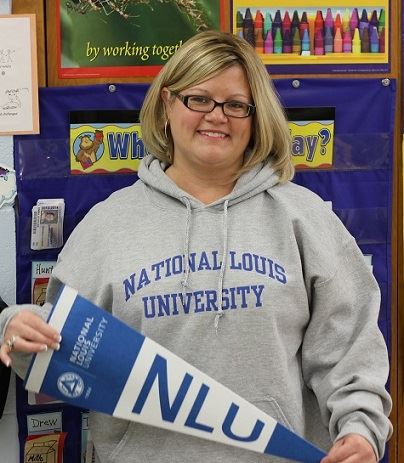 AMERICAN EXPRESS $50 GIFT CARD WINNER
Congratulations to Chris Wenzel '97 on winning a $50 American Express gift card for updating her contact information through our
alumni website.
Be sure to
update your information
with us for a chance to win a $50 gift card in December.
NLU Quick Links
Give to NLU
Update Your Information
Alumni Events
Career Development
Hot Jobs
Get NLU Gear
Alumni & Friends Support Our Veterans
On November 13 alumni & friends of NLU gathered for dinner in Washington, D.C. in support of NLU's Veteran's Program. Read more about the NLU Veterans Program here
.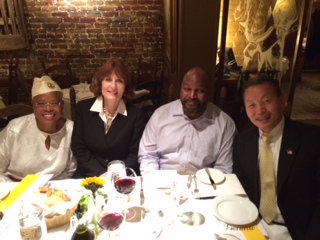 Save The Date
Beyond These Times: Reimagining School. Join us Monday, January 13, 2014,
at 6 p.m. at Chicago Shakespeare Theater as we welcome Dr. Yong Zhao as the next speaker in our series.
Dr. Zhao will host a conversation about the importance of creativity and innovation in the schools of the future.
Check Out The New NLU Blog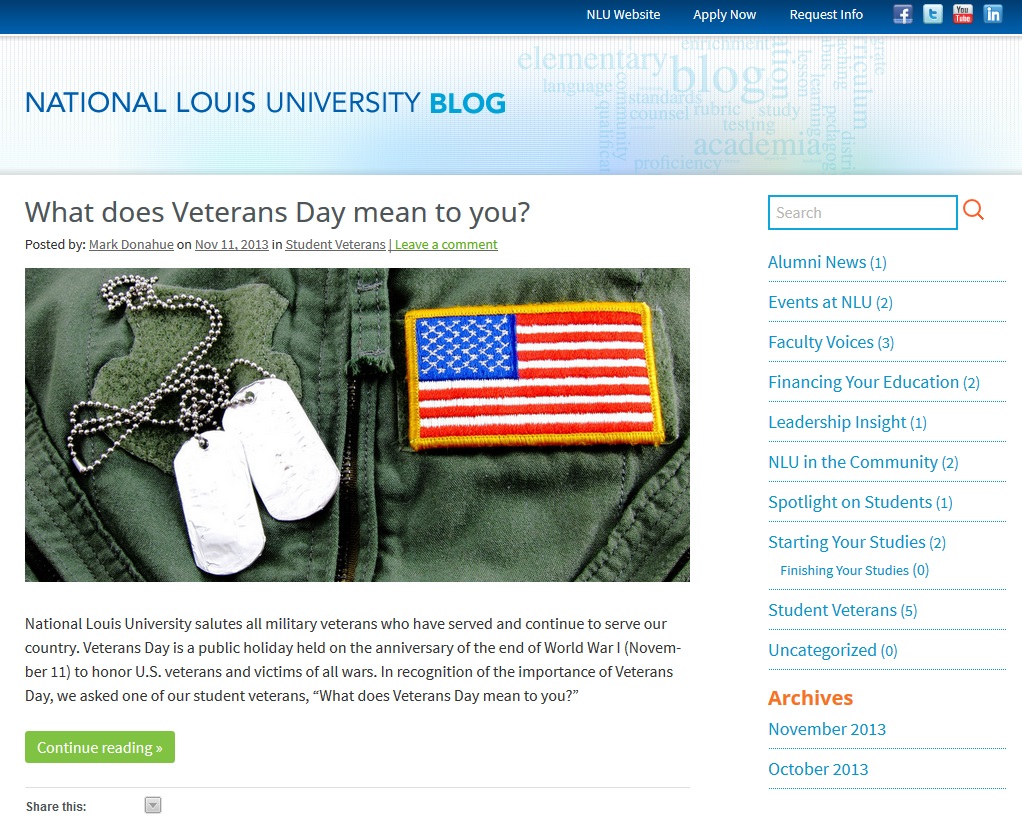 This month, National Louis University launched the new NLU blog. Our new blog will feature news and updates about everything going on around campus. Be sure to visit blog.nl.edu and keep up with everything going on at NLU!
Click here to view the latest "Hot Jobs" from the NLU Career Development Office.
Position Title - Child Care Director
Employer - Bright Horizons
www.brighthorizons.com
Location - Chicago, IL
Qualifications - Bachelor's degree preferred; High School diploma/GED required, 3-5 years of management/leadership experience, and combination of infant, toddler or preschool teaching experience. You must be well versed in NAEYC accreditation and licensing standards.
To apply, visit the NLU Portal at my.nl.edu and click on eRecruiting.
If you did not have a chance to attend our TEDx Talks event on September 28, you can view all the presentations by clicking on the speakers' names below.


NLU Kicks Off 'Toys For Tots' Drive
NLU President Nivine Megahed joined members of

N
LU's Student Veterans Association to open the 2013 Toys for Tots drive for kids in need. Toy donations can be dropped off at the 2nd floor lobby of the NLU Chicago campus through December 13th. Donations are also being accepted at our Lisle and Wheeling campuses.
NCE
Professor Gains N
ew Insight


On Trip To
Mongolia
Ask the average American about Mongolia and you might not get much beyond Geng
his Khan — if you're lucky. You could've counted NLU professor Kristin Lems in this large group not in the know until October 1, when she traveled to Mongolia as part of a project to hel
p teachers of English language learners in this exciting setting. Read More.

Registration Is Now Open For Scene 2
Of The NLU Career Academy
Scene 2: The Critics
January 28, 2014
5:30 p.m. - 7 p.m.
Topic: Over 40 and Hired
For seasoned professionals navigating challenges of career change and potential age bias in today's job market, CTC addresses head-on the "dinosaur in the room," providing tips, strategies and real li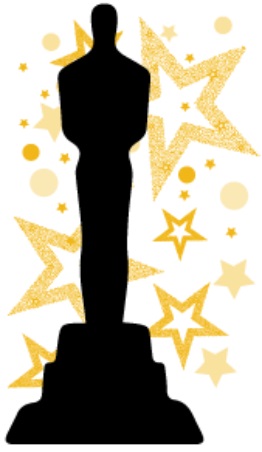 fe examples to give the competitive edge to those in career transition. Covering use of informational interviews, positioning and outreach critical to all job seekers, you will hear insights that will help all in transition better position themselves for greater distinction and success! Click here to register.

Karen Jordan Williams, MA, is the Manager of Learning and Development at Cook County Health and Hospitals System, and will be the guest speaker for this event. Karen was was a coach at Lee Hecht Harrison, taught at DePaul University, and has worked in training and development at a range of corporations, such as Waste Management.
Educators Come Out For


NLU's Common Core Event
National Louis University's Edna Bazik, Ph.D. provided invaluable insight into Illinois' adoption of the Common Core State Standards for Math on Saturday, November 16 at NLU's Chicago campus. According to Dr. Bazik, the most important issues in Mathematics Education focus on implementing the Common Core State Standards for Mathematics. You can view the video by clicking here or on the link below.