You are cordially invited to meet A Studio in the Woods' newest resident artist, Katie Holten, and learn more about her residency project. Katie is the fourth of five artists selected as part of our 2011-12 Ebb & Flow: Dialogues between art and water series which explores the ecological challenges exemplified in Southern Louisiana.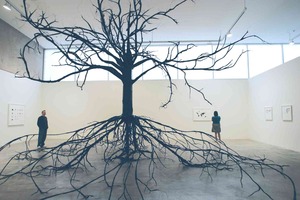 Excavated Tree (Flowering Dogwood), 2007, duct tape, cardboard, PVC, steel and wire.
Excavated Tree was constructed from waste material collected at the Contemporary Art Museum St. Louis (CAMSTL). It represents a life-size replica of a flowering dogwood, a tree native to Missouri. Installation view of solo exhibition at the CAMSTL. Photo: Mike Schuh, courtesy CAMSTL.


Please join us for dinner at
A Studio in the Woods
Thursday, January 12 at 6:30pm
Click here for map and directions: http://asitw.org/about_map.htm
Please note that parking is limited, save on gas and carpool with a friend!

This is a potluck, we will provide the main dish but ask that everyone pitch in a little something - drinks, salad, appetizer, dessert...
Please RSVP and let us know what you plan to bring.

Katie Holten (Dublin, 1975) is a visual artist motivated by cultural, political, and social circumstances.

In 2003 she represented Ireland at the 50th Venice Biennale.

She will be artist in residence at A Studio in the Woods from January 5 – February 16, 2012. During her residency she will investigate, through the specific condition of New Orleans and the Mississippi River Delta, mankind's relationship with the natural world "in the Anthropocene." The Anthropocene defines Earth's most recent geologic time period as being human-influenced, or anthropogenic, based on overwhelming global evidence that atmospheric, geologic, hydrologic, biospheric and other earth system processes are now altered by humans. Building upon the critically acclaimed public artwork prototype she created in Tree Museum (New York, 2009), Holten plans to research the historical, current, and projected ecosystem of New Orleans and the Mississippi river delta, through site visits and engagement with local communities and express these scientific and ecological investigations through drawings and sculpture. She is in discussion with the

New Orleans Museum of Art

to establish the framework for a site-specific work to be created for the museum in 2012-2013. http://www.katieholten.com

Ebb & Flow is a 6-week residency based on the premise that Southern Louisiana can be seen as a microcosm of the global environment, manifesting both the challenges and possibilities inherent in human interaction with urban and natural ecosystems. A Studio in the Woods, located in the Louisiana wetlands, has observed firsthand the dynamic nature of this rapidly changing territory which in turn affects the entire northern hemisphere. We envision this as a powerful context for the exploration of critical thinking, the development of new ideas and strategies, and using the creative process as a catalyst for social change.

The water we experience is not just hydrogen and oxygen but is the intersection of water as a physical, economic, legal, spiritual, cultural and artistic thing. Those factors, and perhaps others, make up the third component of water, a component which this Studio in the Woods residency seeks to explore and express.
- Mark Davis, Tulane Institute on Water Resources Law & Policy

The residencies awarded for the 2011-2012 cycle are:

Katie Holten's (Ireland, visual artist, January 5 - February 15, 2012)
Benjamin Morris (New Orleans, poet, September 26 - November 5, 2011)
Rebecca Snedeker (New Orleans, writer, September 1 - 23, 2011)
Roy Staab (Wisconsin, visual artist, November 8 - December 19, 2011)
TBA (February 24 - April 5, 2012)

Ebb & Flow Residencies are sponsored in part thanks to generous support of the National Endowment for the Arts, The RosaMary Foundation and The Surdna Foundation. This program is supported by a grant from the Louisiana Division of the Arts, Office of Cultural Development, Department of Culture, Recreation and Tourism, in cooperation with the Louisiana State Arts Council. The grant is administered through the Arts Council of New Orleans.


:: :: :: :: ::

A Studio in the Woods is dedicated to providing a protected wooded retreat where visual, literary and performing artists can work uninterrupted. We appreciate your support as we honor 10 years in service of this mission. You too can support all of A Studio in the Woods' programs by clicking HERE.





---