Click to view this email in a browser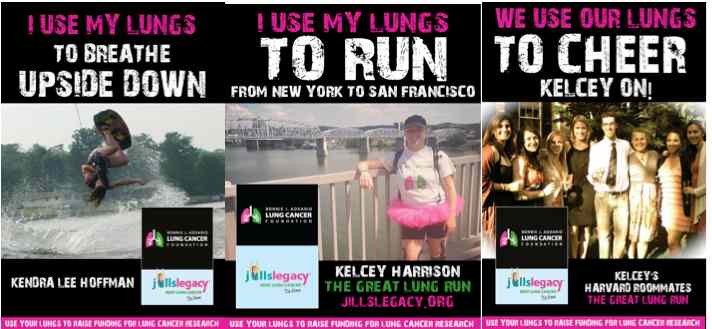 THE GREAT LUNG RUN UPDATE
35 days and 9 States Later


Kelcey is using her lungs to run from New York City to San Francisco, averaging more than 30 miles a day.

Kelcey's cross country journey, "The Great Lung Run," kicked off in New York City's Times Square on July 30.

Now, just over 35 days later and 9 states in, Kelcey continues her journey to raise money and awareness for Lung Cancer averaging 35 miles a day.
Since Kelcey's takeoff, The Great Lung Run Team has doubled in size! The photo above (middle) shows Jill's Legacy Board Member—"Great Lung Run Coordinator"—Sydney Ford getting ready to go meet Kelcey on the road in Illinois. Sydney is all set to follow Kelcey every step of the way, in a donated car, until she arrives safely in San Francisco. Be sure to wish them both luck on our
Facebook page!
Follow Kelcey in Real Time on Facebook and Twitter to Find Out How She's Doing and Leave Encouraging Messages

---