2015 So Far...

PUP has already helped a total of 208 dogs and cats find forever
homes in 2015.
To see our available dogs and cats, click
here
!
Click here to find out more about how to become a part of this great organization.
---
Support PUP! Buy a 2016 PUPStars Calendar Now!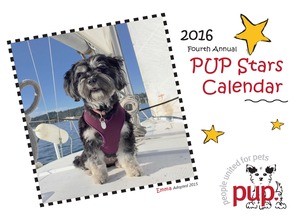 PUP is happy to present some of our shining stars in our 2016 Calendar! Thanks to our adopters, our Calendar features dozens of photos of pets adopted from PUP and their heart-warming stories.

Calendars are $12.00 + $2.75 for shipping. Shipping costs are waived when purchasing three or more.

Calendars can be purchased at adoption events, by mail, or via PayPal:

Events: Please see our website for locations and times.

By mail: Please indicate the number of calendars you want and include your mailing address. Mail check to:

PUP
P.O. Box 1691
Issaquah, WA 98027
By PayPal: Click the PayPal button below to order 1–2 calendars
Click the PayPal button below to order 3+ calendars

---
Calling All Happy Tails!

Your dog has a special place in our hearts! We love to hear from our adopters and see photos of PUP alumni. How has your dog or cat settled into your family? We'd like to know! Send us your Happy Tail! Whether you adopted last month or years ago, please send us a quick email at info@pupdogrescue.org.

---
How to Keep Your Dog Safe in the Cold Weather
It's time to think about how you will keep your pets safe and comfortable in the cold weather.

Stay Inside. Sure, it's the most obvious answer, but even the heartiest animal has their limit. Let them inside when it gets cold out.

Wipe Down. Clean and wipe your dog's paws, stomach, and legs after letting them out in the winter. Aside from this being generally hygienic, it can help prevent accidental ingestion of antifreeze, road salts, and other dangerous chemicals. HINT: This is a good tip any time of year, not just in the winter.

Water. Provide a lot of clean drinking water. Staying warm requires energy, so it is important to make sure your pet has plenty of water and...

Food. Providing a little extra in the wintertime, possibly even a higher protein diet, will help give your dog the energy they need to play all winter. IMPORTANT: Be sure to speak with your vet before changing your dog's diet.

Dry Time. Sometimes the wipe down just doesn't do the trick after playtime in the snow, so be sure to bathe your dog regularly. Completely dry your dog after a bath and before letting them out.

Coats x 2. If your dog has a long or thick coat, let it be in the winter. That is, do not shave it down or cut it extremely short. If you have a short-haired dog, consider getting them a shirt, sweater, hoodie, or coat.

Speak Up. If you see an animal either lost or in an unsafe condition this winter, do not hesitate to speak up! Use your phone to record pictures and videos of the situation and then immediately contact your local animal control or police department.
---
Happy Tails
PUP is pleased to bring you this Happy Tail this month from one happy adopter!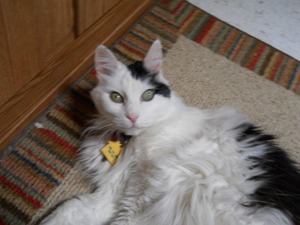 I
n May, my co-worker Holly, who fosters for PUP, sent out a photo of a beautiful 15-yr-old cat who had been in foster care for four years and needed a home. I'd had to put Leroy, my old guy (18 years) to sleep last fall, and my other cat Olivia seemed like she was a bit lonely, so I said I'd take Ella. She is now Bella, and has been with us for about six months. Evidently Olivia wasn't as keen on a new sibling as I thought, but they've been working things out, neutral zones are my lap, their food dishes, and my bed. Olivia, drama queen that she is, doesn't freak out when Bella looks at her like she used to, and enjoys taunting Bella as much as Bella likes following her around. Bella is a total lap cat, will spend hours there while Olivia sleeps on my chest. She has a funny chirping meow and is becoming more of a talker every day. She is a really sweet girl.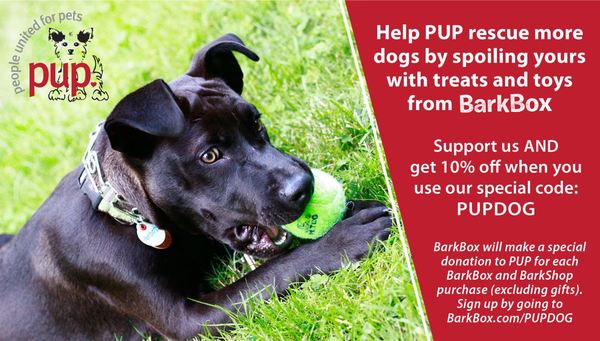 ---