2015 So Far...
PUP has already helped a total of
171
dogs and cats find forever
homes in 2015.
To see our available dogs and cats, click here!
Click here to find out more about how to become a part of this great organization.
---
Calling All Happy Tails!

Your dog has a special place in our hearts! We love to hear from our adopters and see photos of PUP alumni. How has your dog (or cat) settled into your family? We'd like to know! Send us your Happy Tail! Whether you adopted last month or years ago, please send us a quick email at info@pupdogrescue.org.

---
A Flight to Save
PUP
Lives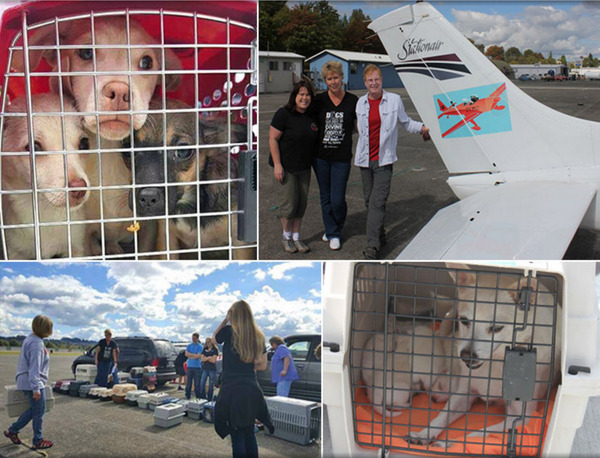 The Federal Aviation Administration (FAA) recently posted an article about a recent transport involving FAA employee and PUP volunteer Patty Pausch. The following is reprinted with FAA's permission.

Volunteers arrived at Renton Municipal Airport one recent Saturday to greet a Turbo Cessna 206 Stationair toting a furry cargo.

Among them stood Patricia "Patty" Pausch, who helped unload the new arrivals – a collection of 46 dogs, including Chihuahuas, terriers, bulldogs, dachshunds, German Shepherds and other breeds, along with four litters of puppies, stored in plastic crates – who had flown hundreds of miles on Sept. 26 from an animal shelter in northern California to their prospective new owners in Washington state.

"The shelter in Merced [Calif.] is so full, they don't have any rescues helping them in the next few weeks," Pausch said during a recent interview.

Without the transport, the collection of dogs faced possible euthanasia because of overcrowding. When notified about the need, Pausch joined other volunteers with People United for Pets, also known as PUP, to help organize the flight. The Washington-based nonprofit organization has rescued over 3,000 dogs and cats over the past decade and transferred them to new homes.

The nonprofit has grown to about 100 volunteers, said PUP Executive Director Laura Tonkin, who founded the organization in 2006 after she began communicating with Chihuahua rescue groups. During her research on Chihuahua breeders, she learned that thousands of dogs were being euthanized in overcrowded animal shelters in California.

"It's about space," Tonkin said. "They don't have the room to contain the animals being surrendered to the shelter daily. If you don't make space in that shelter, you're going to have animals breaking with illness due to the stress of overcrowding. The shelters have to euthanize unless they get outside help from rescues and adoptions. There's no way around it."

Usually, the organization's volunteers transport dogs in monthly van trips from shelters in the San Joaquin Valley area and other cities north, including Mesquite, Texas to Washington, Tonkin said. Alternative plans for a flight were made last month since the overflowing Merced shelter could not receive immediate help from local rescue groups.

PUP coordinated the flight with Dog Is My Copilot, Inc., a Jackson Hole, Wyo.-based nonprofit organization that transports abandoned animals to their new owners. The group's co-founder, Peter Rork, an orthopedic surgeon and pilot, flew the plane carrying small dogs in crates. A handful of remaining dogs in California will be flown to Washington this month.

"This is the first time we literally took over a plane," Tonkin said with a laugh. "We've never taken close to 50 dogs on an airplane."

Pausch said after Rork's landing, he asked her if she was there to "ramp check" him – a reference to her FAA work duties – to which she light-heartedly replied, "Not today."

After their arrival in Renton, the dogs were taken to volunteer foster homes where they will start an "acclimation and decompression process" during which they will receive spay or neuter surgeries, vaccinations and any other necessary veterinary care, in addition to training, Tonkin said. New owners will later adopt the canines after they undergo a vetting process.

Pausch recalled the time she decided to foster a dog – described as a dachshund-mix – and discovered she was pregnant around Valentine's Day. She decided to name the dog "Valentine" before she gave birth to five puppies on Feb. 24. Valentine and the new litter lived for weeks in Pausch's townhouse with her other two dogs before families adopted the mother and puppies.

"I had eight dogs in my house for seven weeks," Pausch recalled. "The puppies looked like Jack Russells."

Pausch started volunteering with PUP because of the adoption of her two rescue dogs, both Chihuahua mixes, in 2010. She first adopted Emma and then Sarah five months later.

"I named my dogs what I would have named my kids," Pausch quipped.
Her husband, a fellow dog lover, has also participated in volunteer rescue activities, including offering a temporary home to other dogs in need.

"It's very humbling to be part of something so much bigger than myself," Pausch said. "Although we only occasionally foster dogs, it's very rewarding to assist PUP in any way I can."

---
PUP
Dog of the Week - Rambo!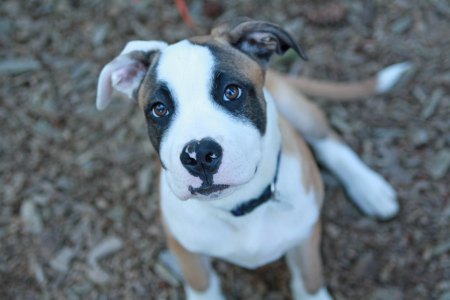 Rambo's Stats:

✸ Male American Bulldog mix
✸ Approximately 4 months old
✸ Approximately 32 lbs.​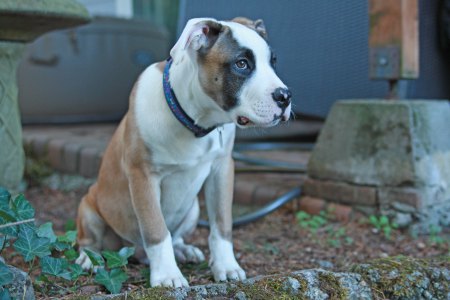 Rambo's History:
Rambo comes from an overcrowded shelter in California. PUP was asked to help and we are so glad we did!
Notes from Rambo's Foster:

Rambo is a fun-loving, handsome pup! He loves to play with his foster family's dogs and he is being taught the ropes of what is "acceptable" dog behavior.


---
Letters from Our Readers:
Mason's Birthday!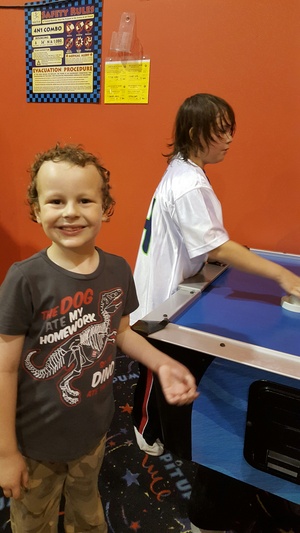 A Note From Sarah, One of our Foster Moms
"This year Mason turns 7 and he's chosen to forgo presents from friends and ask for donations for his birthday. Pretty amazing little guy, he blows me away every day with his love for others and animals. We were able to get 30 new toys for PUP dogs and some t-shirts to make toys. Everyone was so excited to donate. Mason was looking at toys telling his friends how many dogs would be happy. All around great time
.
-- Sarah and Mason"
---
Support PUP: Shop on AmazonSmile!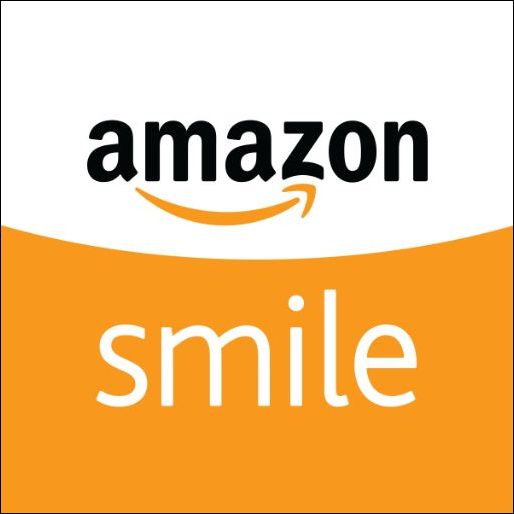 AmazonSmile is a simple and automatic way for you to support PUP every time you shop, at no cost to you. When you shop at AmazonSmile, you'll find the exact same low prices, vast selection and convenient shopping experience as Amazon.com, with the added bonus that Amazon will donate 0.5% of the price of eligible purchases to PUP.

AmazonSmile is the same Amazon you know. Same products, same prices, same service. You can even use the same account on Amazon.com and AmazonSmile!

Support PUP by starting your shopping at AmazonSmile today!

Don't forget to bookmark the AmazonSmile link to make it even easier to support PUP every time you shop on Amazon. ​
---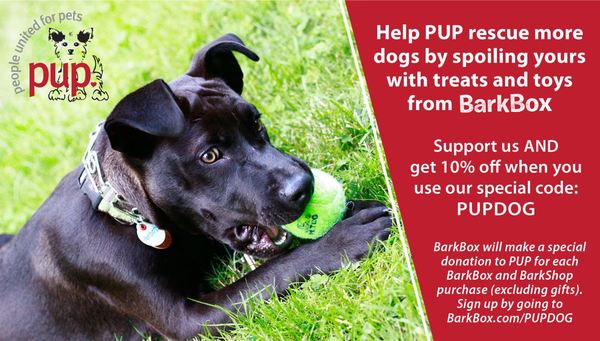 ---