---
Calling All Happy Tails!
Your dog has a special place in our hearts! We love to hear from our adopters and see photos of PUP alumni. How has your dog (or cat) settled into your family? We'd like to know! Send us your Happy Tail! Whether you adopted last month or years ago, please send us a quick email at info@pupdogrescue.org.
---
Letters from Our Readers:
A Happy Tail for Tina!
An update on Tina (formerly Valentine)!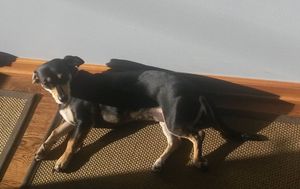 Tina has settled into our home really well. She likes her walks after breakfast and dinner, as well as her long walks on the weekend. Her longest walk so far has been 6.5 miles one Saturday to get a latte and a muffin. She spends the day while we are at work guarding her dog beds and the couch and also sleeps in the sun by the back door. Marauding squirrels haven't been a problem since she moved in. She has met and gets along with the other dogs owned by three of our sisters, plus the dogs we have met during our walks. She likes to sleep next to us as we read on the couch in the evenings. She is partial to Jane Austen and I suspect she wants to be spoiled just like Lady Bertram's pugs in Mansfield Park. Tina has been a great addition to our family.
---
Finn's Happy Tail!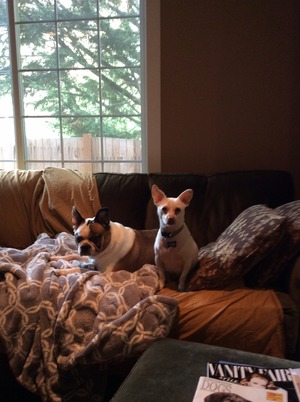 Finn (formerly Clemente) is doing great!!!

He and Winston are getting on very well, no squabbles so far, and are even sharing our laps.

Finn has learned how to use the pet door. He's very eager to please and has only had one accident. Thank you so much for the assistance of Connie as she is largely responsible for the easy transition with Winston. Even in the car ride home he curled up in the crate as close as possible to Winston and to us, which we thought was a good sign.



---

Support PUP: Shop on AmazonSmile!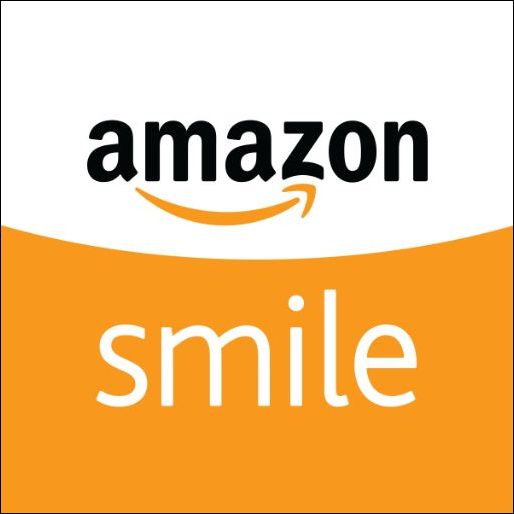 AmazonSmile is a simple and automatic way for you to support PUP every time you shop, at no cost to you. When you shop at AmazonSmile, you'll find the exact same low prices, vast selection and convenient shopping experience as Amazon.com, with the added bonus that Amazon will donate 0.5% of the price of eligible purchases to PUP.

AmazonSmile is the same Amazon you know. Same products, same prices, same service. You can even use the same account on Amazon.com and AmazonSmile!

Support PUP by starting your shopping at AmazonSmile today!

Don't forget to bookmark the AmazonSmile link to make it even easier to support PUP every time you shop on Amazon. ​

---