2015 So Far...
PUP has already helped a total of 24 dogs and cats find forever homes in 2015.
To see our available dogs and cats, click here!
Click here to find out more about how to become a part of this great organization.

---
Sweetums' Medical Fund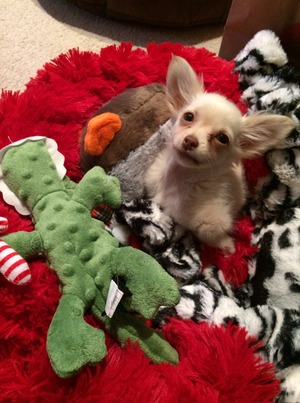 Meet Sweetums! She is a sweet, playful young puppy who has stolen the hearts of everyone here at PUP. She's docile and gentle, and she loves playing with her packmates! But on the morning of January 31, Sweetums' foster pack noticed changes in her behavior. She wasn't touching her food, and her mobility was impaired to the point of stumbling.

At PUP, we're serious about the health and welfare of all our rescues. After rushing her to the emergency room and many tests and an ultrasound later, Sweetums was diagnosed with a liver shunt, a condition that compromises the blood flow to and through the liver. The tests also revealed that she had both struvite and ammonium urate crystals in her bladder.

At PUP, we cover all the costs of fostering and sheltering the dogs we rescue: smaller costs like food and toys, and larger ones like spaying/neutering, vaccinating, dentals and any medical conditions our pups might have. And since PUP is a non-profit organization, our funding comes primarily from our generous donors and supporters.

After many sleepless nights and over $1400 in emergency room and veterinary charges, Sweetums' condition is somewhat stabilized, and she has been released back to her foster pack. She is on a special diet and we are consulting with a specialist to see if surgery is an option to get Sweetums back to health.

Though Sweetums is a small girl, the costs for keeping her in good health are not small. Help PUP fund the medical costs for her and other pups-in-need by donating today! Earn karma points, check off a New Year's resolution, or simply bring a smile to the faces of the families who will adopt these furry friends.

Your donation will help not only Sweetums, but so many other pups get the medical attention they need and deserve. Whatever your donation, everyone at PUP, our fosters and foster families, and our already-adopted pups and packs thank you for your generosity.

---
Dogs on the Inside, a movie
After working in prisons for years prior to starting PUP, Laura sees the benefits and value of a program such as this. Not only to the dogs, but also to the inmates, prisons, and our communities.
The film Dogs on the Inside follows a dedicated group of animal rescuers in the southeastern United States as they deliver a group of abandoned rescue dogs to a Massachusetts Correctional Facility. In an attempt to rebuild the dogs' confidence and prepare for a life outside, these inmates first learn to handle and care for a group of neglected strays. They then train the dogs to prepare them for placement in loving new homes.

Connected by their troubled pasts, the dogs learn to have faith in people again while the inmates are reminded of their humanity and capacity for love and empathy. We learn to appreciate the relationships between neglected and abused stray dogs and prison inmates, as they each work together toward their second chance at a better life: a forever home for the dogs and a productive life outside prison for the inmates.

In the words of Sgt. Regan-Jones from the North Central Correctional Institution, "The mission of the program was to save the dogs as well as the people. Watching these guys become more open to emotion and more patient, I think we've absolutely done the right thing here." The movie is a heartwarming story about the resiliency of a dog's trust and the generosity of the human spirit.
The film is available now on iTunes, Amazon Instant Video, Google Play, and dogsontheinside.com. Watch the trailer, 'Like' them on Facebook, and consider purchasing the movie.

PUP will receive a donation for every movie purchased!

---

Happy Tails: Cookie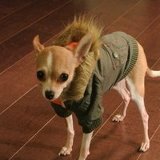 We have changed his name to Cookie (from Jose).

We got a winter coat for him. He looks brave, doesn't he? ;)

Thank you for your support, and we will keep in touch!