Support

PUP!

Buy a 2016

PUP

Stars Calendar Now!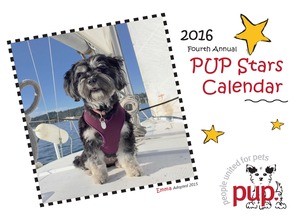 PUP is happy to present some of our shining stars in our 2016 Calendar! Thanks to our adopters, our Calendar features dozens of photos of pets adopted from PUP and their heart-warming stories.

Calendars are $12.00 + $2.75 for shipping. Shipping costs are waived when purchasing three or more.

Calendars can be purchased at adoption events, by mail, or via PayPal:

Events: Please see our website for locations and times.

By mail: Please indicate the number of calendars you want and include your mailing address. Mail check to:

PUP
P.O. Box 1691
Issaquah, WA 98027
By PayPal: Click the PayPal button below to order 1–2 calendars
Click the PayPal button below to order 3+ calendars

---
Happy Tails
PUP is pleased to bring you three Happy Tails this month from happy adopters!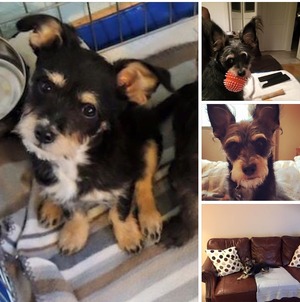 Geordie had his 1st Birthday yesterday! He's coming into his own and is
finding his big boy voice! He barks when someone comes to the door and when we play which for the first few weeks we wondered if he had it in him to bark at all!

He brings so much joy to me and my parents are so in love with him, so of course he gets spoiled! Please enjoy his birthday collage and share!
Audrey
-------------------------------------------------------------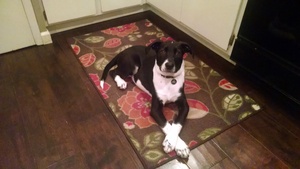 Hello! I just wanted to check in and let you know that Abigale is doing great! She is full of spunk and LOVES her walks! She is also able to sit, shake, stay and come. She has become friends with the puppy next door that is her same age and loves to play with him
J


We are so happy to have her as part of the family, thank you again!
Katy
-------------------------------------------------------------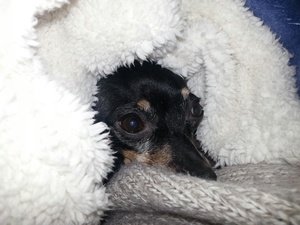 I adopted my sweet Davie Jones - formally Davy, six years ago. He was timid and scared all of the time. He is still wary of new people, but will check them out! He has several people that he is comfortable with and will even let them pick him up! He is my little cuddle bug. If I'm sitting down, he has to be on my lap. He loves to curl up next to me in bed at night....preferably under a blanket or stray pillow. He loves playing and hanging out with his big doggy brother, Rupert. He has changed so much over the last six years. If his foster mom were to see him now, she would not believe he is the same dog. Thank you for the work you do and for bringing Davie into my life!
---
Support PUP: Shop on AmazonSmile!