---
A Note from Laura Tonkin,
PUP
F
ounder/Director
It started with a phone call from one of our volunteers, Miriam, asking if we'd pull a dog out of Texas. We've been hearing for years how Texas
is
really hurting with the overpopulation issue. The Texas shelters
are
euthanizing large numbers of animals every day. Logistically, we had many questions. How would we pull the animals, get them tested, vaccinated, and vetted with their required health certificate? Where would we put them all until the transport's scheduled departure date? And how would we get them to Washington State?
I called Kim, founder of Rockey's Rescue, and asked if she'd like to join PUP in this transport. If we were going to pull from Texas, we weren't just going to pull one dog. We were going to pull many. With Kim on board and our fosters at the ready to sign up to foster each animal we pulled, we began the heartbreaking
task
of deciding who we would be saving from the two Texas shelters, Garland and Mesquite, and who we would have to leave behind.
We don't know the exact number of Texas rescuers
who
helped us with this endeavor, but there were many. They saw what was happening in their shelters every day, and knew they needed to help. They were pulling animals from the shelters, getting them to the vets, opening up their homes to foster them, and then getting them to the transport van to be moved home to Washington—all within 10 days.
During our work in Texas, we learned that one of the shelters we worked with didn't have to euthanize any animals on July 27th and 28th
due to our combined efforts. Still thinking about that brings tears to my eyes. Not only for those we saved, but also knowing it was only 2 days out of 365.
A heartfelt thanks to everyone who participated in the saving of so many lives…
---
Letters from Our Readers:
A Happy Tail for Hailie!
We recently received this update from Hailie's adopter: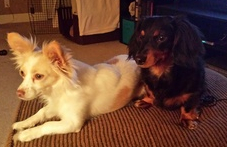 "We adopted Hailie from PUP. She has been a part of our family since Day 1. Wanted to let you know that she is doing great and we love her very much!--- Michelle, Wes and Sophie (Hailie's bestie)"
---
Bocce's Happy Tail!
"All's well with Mr. Bocce and our family! He is such a joy. We couldn't love him more if we tried!!! Bocce has won our hearts over. He has such a wonderful personality and all he wants is to love and please us! Thank you again Laura for giving us a chance to "parent" Bocce! We are so happy to have him. Love to you & PUP --- Alex & Sandi"​