SCHS Newsletter August 26, 2018
Dear BOBCAT Nation,
This Wednesday, August 29, is the first day of school and our opportunity to design the B.E.S.T. BOBCAT academic year yet. The day will begin at
7:30 a.m
. with a Pep Rally on the Athletic Field. Our ambition with the morning events is to accomplish the following:
1. Honor the Sage Creek High School Graduation Class of 2019.
2. Kickoff the school year with some fun and community building.
Students in 9th, 10th, and 11th grade will sit on the home side stands and 12th grade students will have seats on the athletic field.
I look forward to a successful academic year with our great BOBCAT Nation!
Sincerely,
Principal, Sage Creek High School
Stay Connected with Social Media
You Can Still Join PTSA!
Students and Parents can
join as a member of Parent, Teacher Student, Associaition (PTSA) online today
, to support the programs we provide!
Perks & Benefits of PTSA Membership
Driver's Ed Student Discounts
ACT/SAT Prep Class Discount
Discount to Travel Company (Team Alson Travel)
FREE Bobcat Benefits Card w/discounts to local merchants
SC Car Sticker & Reusable Tote Bag (w/package purchase)
FREE access to secure online SCHS School Directory
View a complete list of Membership Benefits at: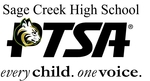 PTSA Benefits SCHS in Many Ways:
With the support of your membership dollars, PTSA provides imporant programs in the areas of College & Career Prep, Health & Safety, Family enrichment, and Parent-Staff Connection. Please visit us online at
sagecreekhs.carlsbadusd.net/ptsaprograms
Freshman Orientation - 8/28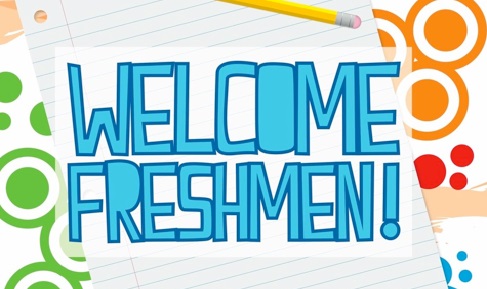 SCHS Link Crew invites all Incoming Bobcat Freshmen to:
Freshman Orientation (view flyer)
Tuesday, August 28
9:00 AM - 12:15 PM
Bobcat Arena
Freshmen will enjoy an interactive day where they will meet other freshman, get a campus tour learn strategies to help them find success in high school, and meet your Link Crew Leaders!
Welcome Back BBQ Lunch for Staff - 8/28
PTSA is Sponsoring a Welcome Back BBQ Lunch for all Staff on Tuesday, August 28th, to let the staff know how much we appreciate all of their hard work. We have the BEST BOBCAT staff!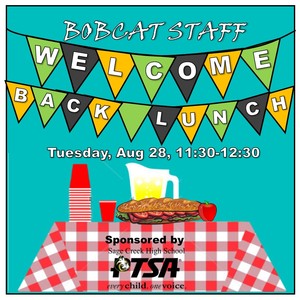 Senior Sunrise Hike - 5:15 AM Aug 29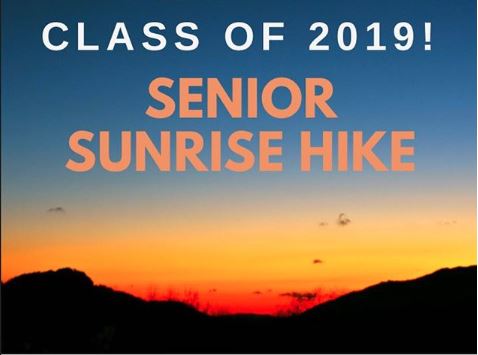 Seniors - On the first day of school, meet in the lower parking lot at 5:15 AM for the first Senior Event of the School Year!

We will hike up the Calavera Hills Preserve to watch the sun rise together as the Class of 2019.

After the hike, breakfast snacks will be provided (thanks to our awesome parent donations) before the assembly!

instagram.com/schsseniors19
Plan to Arrive 15 Minutes Early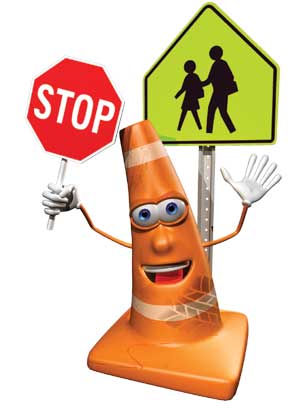 It is highly recommended that families allow for an additional 15 minutes to their commute times for the first week of school as families get acclimated to the drop-off & pick-up procedures.

CLICK HERE to review the drop-off traffic flow and ensure a safe and smooth commute to and from school.
Visual & Performing Arts Gala 9/14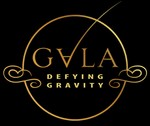 Enjoy "Defying Gravity" - A fundraising event for the Visual & Performing Arts (VAPA) Programs at SCHS
September 14 @ 7pm
SCHS Performing Arts Center
Tickets at sagecreekfoundation.org
$20 general admission
$40 VIP admission
VIP includes: red carpet entrance, photo op, backstage pass, appetizers and 2 tickets to a future VAPA event/performance
Attire is semi-formal to formal
Guests will experience innovative 2D and 3D student works of art, student choreographed pieces, jazz and orchestra performances, and contemporary theatre centered around around the theme of "Defying Gravity."
Help Needed for VAPA Gala
Parent volunteers are needed to assist with the Sept 14 "Defying Gravity" Visusal and Performing Arts Gala:
1 parent to assist with arranging baskets for the opportunity raffle (during Sept 12-13)
2 parents to oversee the ticket booth and refreshment tables (September 14 from 6-9pm).
Please contact Megan Herrick to volunteer: mherrick@carlsbadusd.net
Late Start Wednesdays - Mark Calendars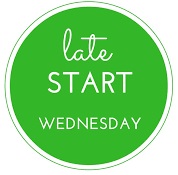 SCHS School Hours for




Monday, Tuesday, Thursday, & Friday are:




7:30 AM - 2:30 PM





*Almost every Wednesday is a late start at 8:30 AM.



The following Wednesdays are Non-Late Start days that begin at 7:30 AM:


8/29, 9/5, 10/3, 10/31, 11/14, 12/5, 1/30, 3/6, 5/29, 6/12



View & print the complete SCHS Calendar at sagecreekhs.carlsbadusd.net/Calendars
Upcoming September Events
9/3 Labor Day - No School
9/5 Non-late Start Wednesday
9/7 Back to School Dance (ASB-Sponsored)
9/11 Back to School Night 6PM Bobcat Arena
9/14 PAC Grand Opening Gala (SC Foundation Sponsored)
9/20 Senior Parent Night (Counseling Dept sponsored)
9/21 Big Night Athletics Fundraiser (SC Foundation Sponsored)
9/26 PTSA General Assoc Mtg & Superintendent Churchill Presentation
9/27 Lunchtime Career Chat (PTSA-sponsored)
CEF Golf Classic 9/21
The Carlsbad Educational Foundation (CEF) is teeing up for its 18th Annual Golf Classic on Friday, Sept. 21.

Get a foursome together to play a round of golf on behalf of SCHS at Omni La Costa Resort & Spa's Champions Course. The winners take home the Golden Cup – that's currently at Sage Creek High – for school display (and bragging rights). REGISTER HERE.

---

Not a golfer? The Golf Classic Opportunity Drawing is a way to partake with or without a tee-time.

Purchase a ticket for a chance to win one of five amazing prizes, including a one-week stay on Poipu Beach in Kauai, Hawaii – with a $2,000 VISA gift card for airfare or excursions!

The winning tickets are drawn the night of the Golf Classic – need not be present to win! PURCHASE TICKETS HERE

*100% of proceeds from the Golf Classic and Opportunity Drawing fund STEM and music programs in Carlsbad Unified School District!